Hopkins County Judge Robert Newsom shortly after 5 p.m. Aug. 28 reported that local emergency management officials have been notified of 2 new positive COVID-19 cases for Hopkins County. That bring the cumulative total of positive COVID-19 cases assigned to Hopkins County since March to 240, including 47 active cases.
There were no new recoveries reported on Friday. In fact, the last time Hopkins County Emergency Management officials reported any new recoveries was Aug. 17; 18 recoveries were reported that day.
Even after 11 days with no recoveries, nearly twice as many Hopkins County residents have recovered from COVID-19 in August than in July: 94 patients have recovered so far in August, compared to the 48 recoveries reported in July. Overall, that's 193 Hopkins County residents who have recovered from COVID-19 since mid-March, according to information reported by HCEM officials.
Four patients were reported to be in the COVID-19 unit at CHRISTUS Mother Frances Hospital-Sulphur Springs Aug. 28, the same number of patients as reported on Aug. 27.
Sulphur Springs Police Chief Jason Ricketson reported a total of 354 COVID-19 tests had been conducted at Hopkins County Regional Civic Center as of 5 p.m. Aug. 27, including 85 tests conducted on Aug. 27. Free COVID-19 testing will continue to be conducted at the Civic Center Saturday from 9 a.m. to 6 p.m. To register, go online to GoGetTested.com.
Ricketson said based on information he's received, the test results from the free testing at the Civic Center are "coming back pretty quick." Newsom said the few individuals that he knew of who were tested at the Civic Center received their results in 2 days.
No additional COVID-19 deaths were assigned to Hopkins County on the Texas Department of State Health Services dashboard on Aug. 28. However, the state on Aug. 27 reported two new deaths, for a total of 7 COVID-19 fatalities assigned to Hopkins County.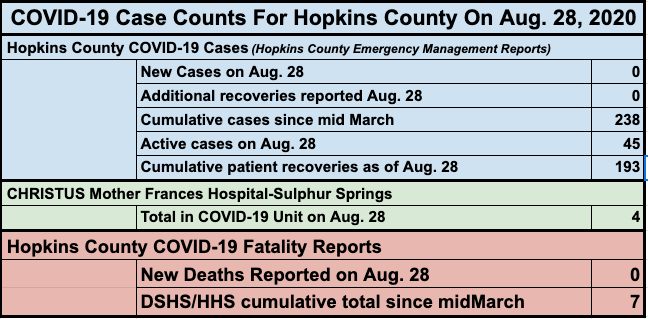 Judge Newsom said local officials still have no insight regarding the death reports the state is posting on it's COVID-19.
"Only 1 recorded from Hopkins County in our County Clerk's office is a COVID case," Newsom said of the death record.
Newsom and local emergency management officials said they are as frustrated as the public with the lack of and inconsistent information provided to local officials and in reports such as deaths reported by the state in the DSHS COVID-19 dashboard.
Until mid July, if a COVID-19 death was reported on the state website, county officials could investigate and, if unfounded, could contest the report.
According to the state, until July 27, COVID-19 deaths were reported publicly by local and regional health departments, after they received a notification and verified the death. Hopkins County does not have a county health department; the Commissioners Court reappointed Dr. IL Balkcom as Local Health Authority in March to act in place of the health department. Officials on at least three occasions prior to July 27 said they were never notified and had received no information as to where the state was getting the information posted about COVID-19 fatalities for Hopkins county.
In instances in which no deaths had been reported to HCEM officials prior to July 27, the LHA or regional TDEM or DSHS officials, enquiries could be made and reported COVID-19 fatalities could be contested.
Hopkins County officials on at least 4 occasions contested deaths. On one occasion the LHA knew the death was not a COVID-19 death, and the report was challenged; a second death report posted by the state within 48 hours was determined to have been a duplicate posting of the first erroneous case. Within about a week the deaths were removed from the DSHS COVID-19 dashboard.
Since the reports are taken from death certificates sent to the state Vital Statistics office and uploaded from there, county officials are not only NOT being notified about COVID-19 deaths assigned to the county, but can't obtain information to challenge the numbers posted on the dashboard either, HCEM officials said.
Within 3 days of the state switch to death certificates for reporting COVID-19 fatalities, an "automation error" in the new state reporting system reportedly resulted in more than 200 deaths being counted as COVID-19 fatalities that shouldn't have. System changes were reportedly made over that weekend, and the cases were reportedly removed from the overall state count.
State reports of COVID-19 deaths aren't the only state-reported COVID-19 numbers that have been challenged on behalf of Hopkins County throughout the more than 5 months of COVID-19 reporting. New daily cases counts reported for Hopkins County have also been challenged, after the Local Health Authority nurse discovered cases had been counted more than one time by the state, or if the address of a person who tested positive was questionable as being in Hopkins County. When proven to be in error, those counts were corrected.
Through midJuly, the County Trends dashboard (accessible in the Additional Data link on the DSHS COVID-19 dashboard as well as on the link on the DSHS Coronavirus main page) showed when errors had been made in state reporting of Fatalities by Date of Death or Daily New Confirmed Cases, by showing those cases as a negative number on the chart. All record of erroneous death cases have since been remove from the County Trends chart although the Daily New Confirmed Cases chart does show negative numbers to indicate 3 cases have been removed from the state count this month: 2 on Aug. 8 and 1 on Aug. 12.
The Aug. 28 Texas Health and Human Services assisted living report is another example of the inconsistencies in state reporting. The Aug. 28 report showed only 7 cumulative resident COVID-19 cases at Wesley House, 6 active and 1 recovered, which includes case reports through Aug. 14. (However, the reports for Aug. 21-27 reports, which reflect data for Aug. 6-13, showed the facility to have 8 cumulative resident cases, 6 active and 2 recovered.
The downloadable Excel document the assisted living facility data is reported on does include the following note of caution: "Data in this report reflect COVID-19 cases in residents and staff at licensed assisted living facilities, as self-reported by the provider to the Texas Health and Human Services Commission (HHSC) as of the date indicated. This data has been reviewed for data entry and transcription errors, but HHSC cannot verify the accuracy of the facility's report in its entirety. Data on residents after discharge from a facility also are not reflected. All data in this report are therefore provisional and subject to change and might be different than data a provider self-reports to other private, local, state, or federal entities due to the timing of reporting or other factors. HHSC investigates every assisted living facility that reports a COVID-positive case for compliance with health and safety regulations."
Rarely do the statistics reported to HCEM match the statistics being reported by the state on the DSHS COVID-19 dashboard.
Hopkins County officials have also reported receiving notification of 193 cumulative confirmed COVID-19 patient recoveries and 40 active cases, for a cumulative total of 240 Hopkins County residents who have tested positive COVID-19 cases since midMarch.
The DSHS Texas Case Counts dashboard for Aug. 28 shows 241 cumulative cases since March, 219 recoveries, 7 deaths and 14 active cases. While the deaths, recoveries and cases add up to the overall 240 case total reported to Hopkins County Emergency Management officials, that's still one shy of the state DSHS cumulative count for Hopkins County.
Newsom said since the county hasn't been officially notified of ANY COVID-19 deaths, local officials aren't sure how or if the deaths are being counted in the overall cumulative totals reported by the state.
"I'm a little bit concerned with the state. I'm not the only county judge in the state that is concerned the information we are getting is not very accurate," Newsom said.