While no new positive COVID-19 cases were reported in Hopkins County on Thursday, there were no recoveries either. Two additional deaths were assigned to Hopkins County by the state and three additional patients were reported to have been admitted to the COVID-19 unit at CHRISTUS Mother Frances Hospital-Sulphur Springs.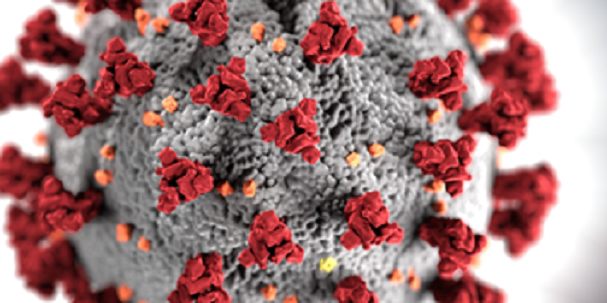 Texas Department of State Health Services on August 27 showed 7 fatalities assigned to Hopkins County based on cause of death listed on death certificates. The state had previously reported 5 Hopkins County COVID-19 fatalities: one each on July 17, July 23, Aug. 2, Aug. 4 and Aug. 17. In Thursday's reports, DSHS reported one additional Hopkins County death on Aug. 17 and one on Aug. 7.
Hopkins County Emergency Management officials reported there were four patients in the COVID-19 Unit at CMFH-SS, the number reported on August 3, August 5, August 8 and August 10.
There have been 86 new COVID-19 cases reported August 1-27, just three less than July's case total. So far, 94 recoveries have been reported in August, nearly twice as many as during the whole month of July, when only 48 Hopkins County residents were reported to have recovered from COVID-19. The last time officials reported any Hopkins County residents recovering from COVID-19 was August 17.
Cumulatively, 238 positive COVID-19 results have been reported for Hopkins County, including 193 patients who have recovered, since midMarch, Hopkins County Emergency Management officials have reported. That leaves only 45 active COVID-19 cases in Hopkins County.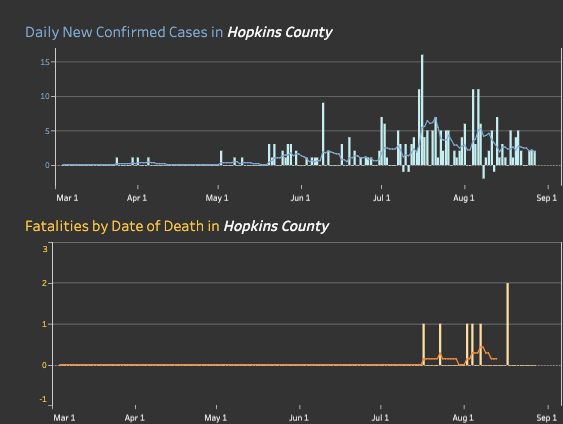 According to Texas Health and Human Services Commission, all three of the employees at Wesley House who tested positive for COVID-19 had recovered on Aug. 13.
There continued to be six active cases among residents at the facility and two resident recoveries at the facility on Aug. 13. The other assisted living facility in Sulphur Springs, Hopkins House, had reported no COVID-19 cases among either employees or residents through Aug. 13.
Texas Health and Human Services reported no active COVID-19 cases among the four licensed child care centers in Hopkins County as of Aug. 26. Annekes Preschool and Sulphur Springs Christian Preschool have each reported one employee who has tested positive for COVID-19 since midMarch. Little Texans Learning Center has had two employees test positive since March. His Kids Learning Center has had one enrolled student and one employee test positive for COVID-19 since March, according to the Aug. 27 HHSC child care center report.
This state report includes only data licensed child care centers, school-age programs, and before or after-school programs had self-reported to Texas Health and Human Services Commission as of Aug. 24.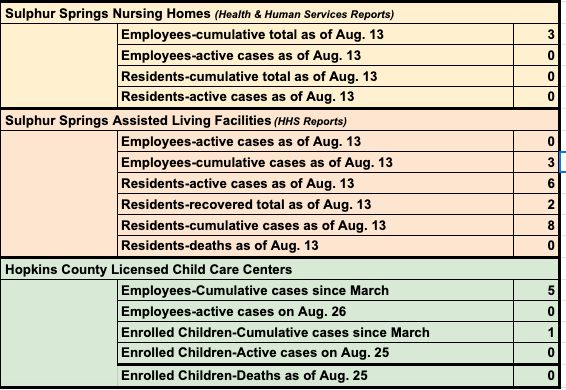 ---