The state-reported COVID-19 death assigned to Hopkins County on July 12 on the Texas Health and Human Services/Texas Department of State Health Services COVID-19 website has been confirmed to be an error, entered in error by the state, a member of the Hopkins County Emergency Management Team reported at 12:35 p.m. Monday, July 13.
The HCEMT officials, upon being made aware of the report, contacted state officials both July 12 and Monday morning, because they had not been notified that a COVID-19 death had occurred. At 12:35 p.m., local officials reported they'd just been notified by the state that the death assigned July 12 to Hopkins County was reported in error.
There have been no COVID-19 deaths among Hopkins County residents. The state COVID-19 dashboard, however, still reflects the error, and will likely continue to show it until HHS/DSHS' next reporting period.
This marks at least the 6th time state officials have had to correct COVID-19 case data from Hopkins County. On at least two occasions the Local Health Authority reported a case was counted twice; those cases were subtracted from Hopkins County's case count on the state website. This marks the fourth time that the state has reported a COVID-19 death, without notifying local officials before posting the data.
Hopkins County challenged one of state-reported COVID-19 death determinations as the patient had other health conditions leading death, although the patient was confirmed positive COVID-19. The second death, reported the same weekend, was reported by local emergency management officials to have been a duplicate of the first report. The third time a COVID-19 fatality was reported for Hopkins County it was removed from the state website after a few days and reported by local authorities to have been a "duplicate or error" as well.
The HCEMT officials said the numbers they report are released only after they have been confirmed by local and state authorities.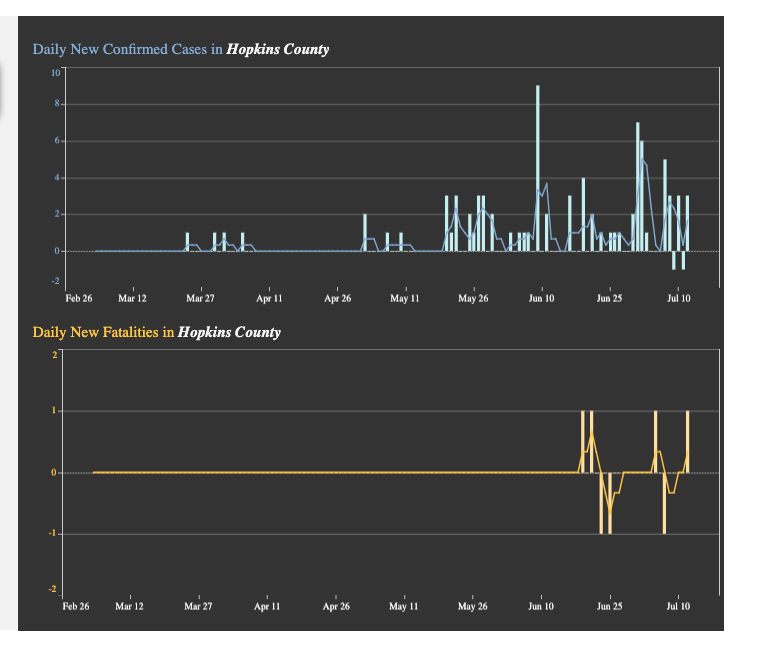 ---