All Local School Districts Cancel Classes Next Week; No Confirmed Coronavirus Reported In Hopkins County
Local government entities continue to make preparations to prevent potential spread of the coronavirus.
As of noon Saturday, no cases of COVID-19 had been reported in Hopkins County. While 51 cases of COVID-19 had been reported throughout the state Saturday, the nearest confirmed cases to Hopkins County, according to Texas Department of State Health Services and the CDC are in Gregg, Smith and Dallas area counties. Fifteen pediatric patients have died in Texas through Friday from the flu, according to the latest DSHS report.
Local officials continue to coordinate resources and efforts to be ready, should Sulphur Springs and Hopkins County have any coronavirus cases, and encourage residents to take hygienic precautions to help guard against the possibility of contracting an illness.
School Districts, UIL
All Hopkins County school districts (Como-Pickton CISD and, Cumby, Miller Grove, North Hopkins, Saltillo, Sulphur Bluff and Sulphur Springs ISDs), along with Yantis and Cooper ISDs, have extended spring break by a week, with students tentatively set to return to classes March 23.
A full list of Texas school district closings can be found on the TEA website.
The University Interscholastic League has suspended all UIL sanctioned contests March 16-29 as well due to the outbreak of COVID-19 in Texas. Changes and updates to upcoming UIL event schedules can be found in their respective sections on the UIL website.
College, University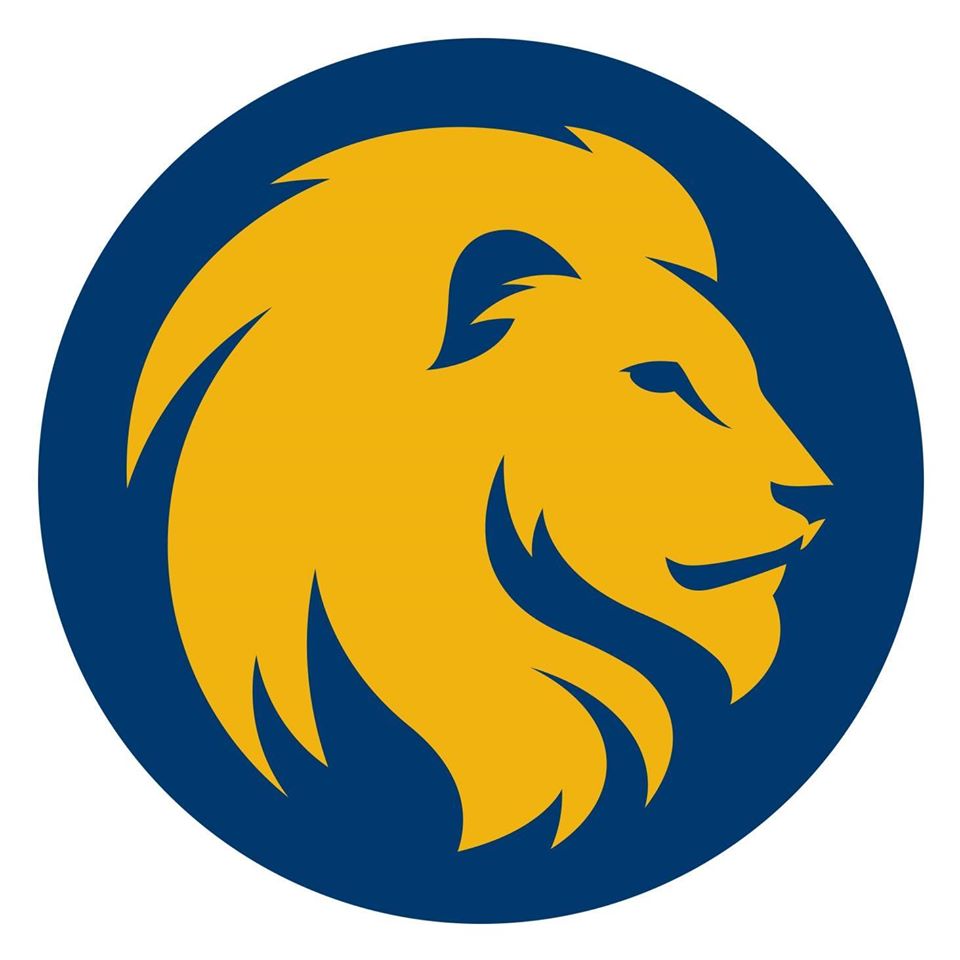 Texas A&M University-Commerce and Paris Junior College campuses will not have face-to-face classes next week either. TAMUC classes will resume in an online format on March 16. Online courses can be accessed from the myLeo Online learning management system using your CWID and password. For additional information about accessing myLeo Online, students should consult D2L FAQs or call 877-310-8174 for further questions.
On March 12, NCAA President Mark Emmert and the Board of Governors canceled the Division I men's and women's 2020 basketball tournaments, as well as all remaining winter and spring NCAA championships.
Paris Junior College is extending spring break an additional week for students. On Monday, March 23, PJC classes will resume, strictly in an online environment. PJC officials hope to resume face-to-face classes on April 6.
All full-time faculty and staff at PJC should report to campus on Monday, March 16. Part-time employees of PJC are not to report to work unless contacted and instructed to do so by their supervisor. Student workers are not expected to return to campus to work until Monday, April 6.
NJCAA suspend all spring competition beginning Saturday, March 14 through Friday, April 3 along with the postponement of basketball championships until April 20.
County,- Court, Jail
Due to COVID-19, preventive measures were put in plac Friday night at Hopkins County Jail to protect staff and inmates. On-site visitation is no longer being offers, in response to Governor Abbots order. NCIC, video visitation contractor, will provide two free offsite visits. For more information, contact the jail by phone, Hopkins County Sheriff's Office reports.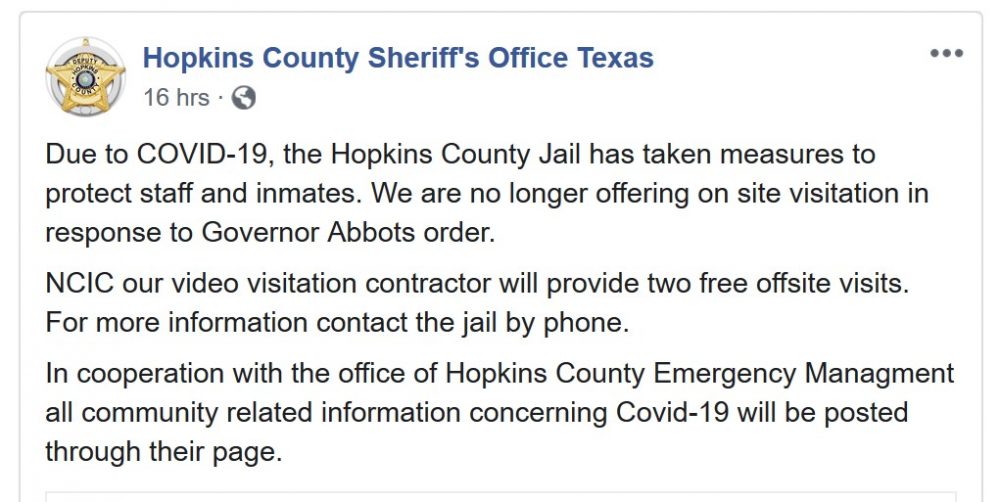 Any official reports from the county will be posted at the Hopkins County Emergency Management Facebook page. So far HCEM also reports no confirmed cases of COVID-19 in Hopkins County, coordinated efforts, and regular contact with state and other officials
Eighth Judicial District Judge Eddie Northcutt Friday reported access to necessary court proceedings is being restricted to essential personnel. To adhere to the open courts rules, accommodations may be made with notice. Many dockets and proceedings are being rescheduled until threat from COVID-19 has passed.
Sulphur Springs, Cumby
The City of Sulphur Springs is cancelling all court hearings and trials in the municipal court until further notices. Sulphur Springs officials continue to coordinate with other local agencies regarding public safety response to make sure that all are on the same page, according to the city manager.
The City of Cumby is also monitoring the situation, and city officials too encourage residents to take preventive measures by practicing healthy hygiene.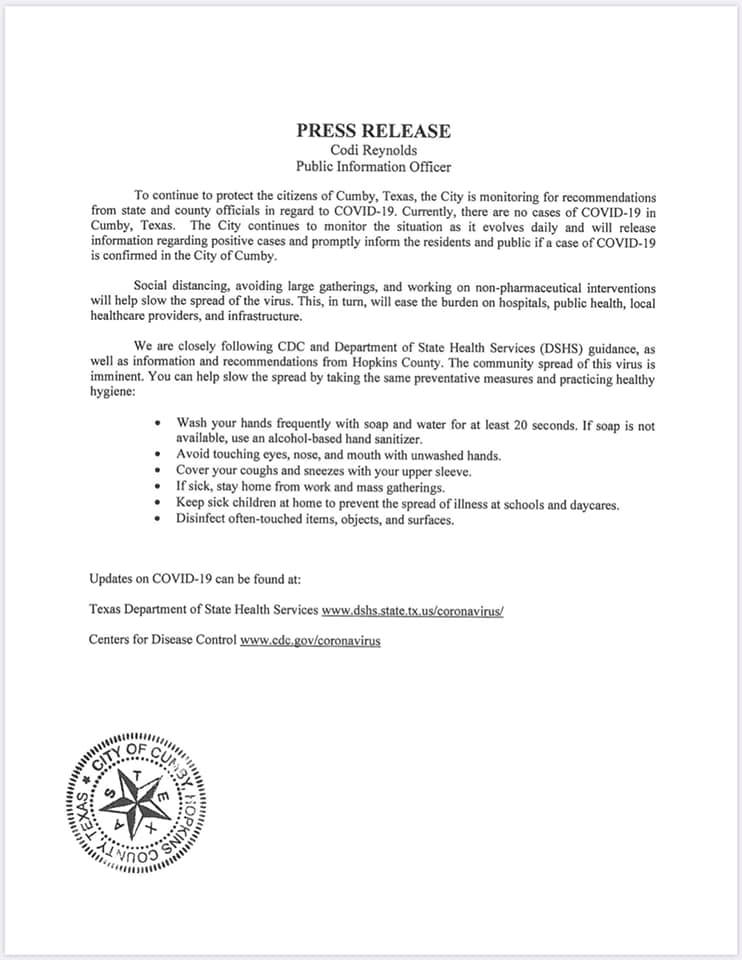 Hospital, Nursing Facilities
Several nursing, rehabilitation and assisted living facilities have reported limited or restricted visitation measures in place to protect residents.
CHRISTUS Mother Frances Hospital-Sulphur Springs, according to facility officials, continues observe the same visitation guidelines established when the area began experiencing a rise in influenza patients: no visitors under 12 or who exhibit symptoms of illness such as a fever.
CHRISTUS did cancel an event that was supposed to be held at the Senior Citizens Center on March 20.
State Parks
State Parks in Texas will remain open next week, and park staff are ready to welcome visitors for the day or for overnight stays, according to Texas State Parks Director Rodney Franklin.