Local emergency management officials are slated to meet Friday afternoon to discuss what, if any, preparedness actions Sulphur Springs and Hopkins County will be taking related to coronavirus.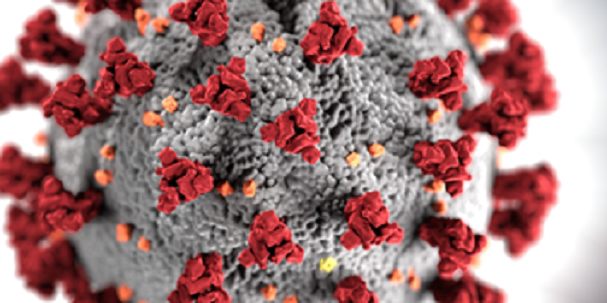 "Multiple agencies in Hopkins County are meeting this afternoon to discuss COVID-19 this afternoon. We have had nothing in the county that I am aware of. This is to discuss the potential," said Kristy Springfield, assist Hopkins County management coordinator.
"We are working on a plan,and have been working all week in conjunction with the Department of State Health Services, CDC and Texas Emergency Management. A lot of it will be on the side of caution. We are working to get everyone in the county on the same page. The safety of our citizens of Hopkins County and Sulphur Springs, our employees and school districts are of top priority. We just encourage everyone to use good hygiene and observe the recommended precautions from the CDC, including hand-washing and avoiding large groups," said Hopkins County Fire Chief/Emergency Management Coordinator Andy Endsley.
Several school district administrators put out cautions to their students and staff, and noted they have been and continue to be in regular contact with state health authorities regarding the situation. Some county districts are expected to be represented or respond based recommendations following the multi-agency county meeting Friday afternoon.
Sulphur Springs and Cumby school district administrators were meeting Friday morning, and said they would notify the media, send out via district notification systems and social media when and if any additional decisions are made.
Below are the notices posted by SSISD and Cumby ISD administrators on Thursday: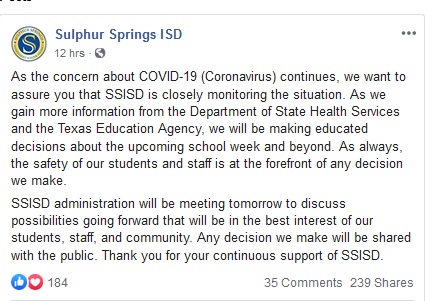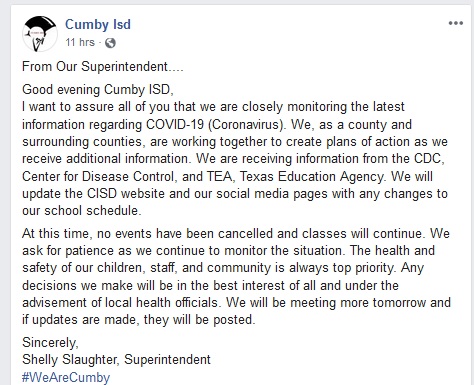 CHRISTUS Mother Francis Hospital-Sulphur Springs at this time are limiting visitation with hospital patients; they are asking no one under 12 to visit at this time as a precaution for their health as well as that of the patients.
"Christus Mother Frances Hospital – Sulphur Springs has cancelled the attached event that was suppose to be held at the Senior Citizens Center on March 20th. They will be cancelling all of their events for the next couple of weeks," Karon Weatherman, SCC director, reported Friday morning, of the information session that had been scheduled to answer residents questions about Medicare.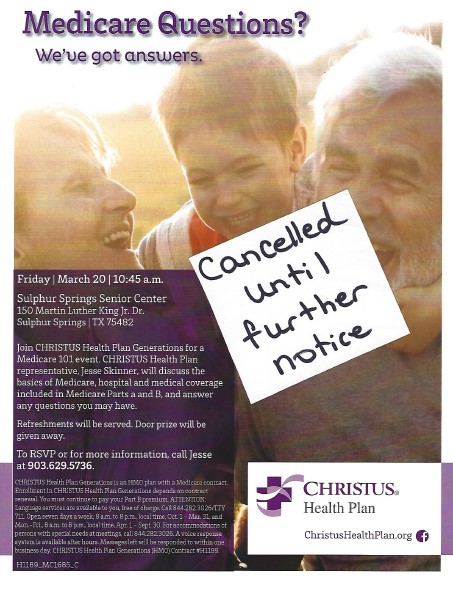 Several local nursing homes and assisted living facilities are also taking precautionary actions to guard their patients against potential exposure to coronavirus.
No visitation is currently being allowed at Sulphur Springs Nursing and Rehab and Rock Creek Nursing and Rehab.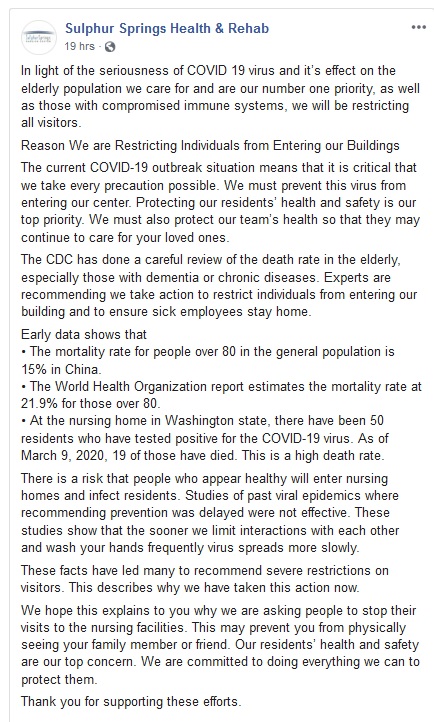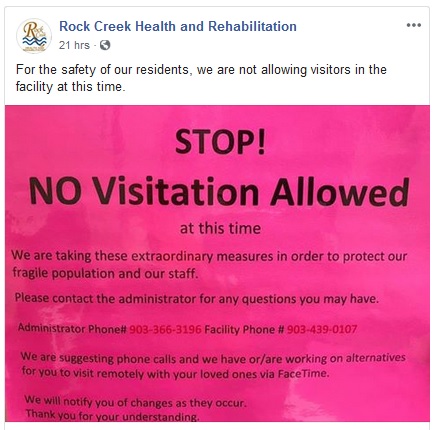 Carriage House Manor will be screening all visitors for fever and symptoms before entering.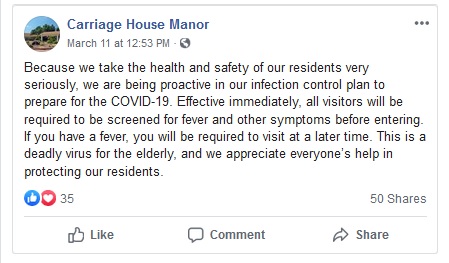 Sunny Springs Nursing and Rehab staff at 11 a.m. Friday said the facility is strongly discouraging visitation but has not officially restricted visitation.
Hopkins Place is not allowing any outings provided by the community at this time. They are also asking for no large groups, for family members to be careful and those who visit or bring supplies to consider shipping the materials. They are very strict on hand washing and anyone coming in may be subject to screening to protect residents, staff and guests.
For more information about coronavirus, including Texas counties where cases or potential cases have been reported, and preparation steps that may be taken, visit the TDSHS website.
---