Community and staff showed support for senior SSHS Caleb Alexander, who was told he can't participate in graduation. The individuals addressed their comments to school trustees during the regular May Sulphur Springs ISD Board of Education meeting.

According to community members who spoke on the SSHS senior's behalf Monday, Alexander was involved in an incident which resulted in disciplinary action. Students who engage in altercations are prohibited contact with any other students or classmates at school or a school-related function, whether that be UIL, athletics and senior activities for 30 days. They are removed from their regular classes for mandatory or discretionary disciplinary reasons and placed in a DAEP. Because Alexander's incident was within 30 days of graduation, Alexander will not be allowed to walk across the stage to receive his high school diploma May 27 with the rest of the his classmates.

Danny Hynson said he has watched his nephew, Caleb Alexander, grow up. He said he is proud of the youth, who he described as a good kid one would be proud to have their name associated with. He acknowledged that does not mean his nephew did not make a mistake, as kids do. But, he said, his nephew is a good student who many have seen go through the athletic program.
"So it's not like that I know him. We all know him. We've all watched him grow. When he leaves and goes off, he'll be someone that we are proud of," said Hynson. "And I will say to you, isn't that what we strive for when we educate kids? When we train up kid in the community, when we send them off – isn't that what we are actually wanting as a community? That we can say the kids we are sending off are kids that we are proud of, that we've got confidence in, yet we can also say they make mistakes? That's part of life. What I hope is that as educators, as parents, as friends, that we understand they make mistakes. And yet, there are punishments. We hope the punishment is not a deterrent that becomes a roadblock in their life."
Hynson said in addressing the school board, he and others are asking that Caleb Alexander be allowed to attend graduation, walking across the stage So, what we are asking is are hoping that he will be able to graduate, to walk across that stage. He said the situation is something that needs to be looked at, not just for Caleb but for all good kids, to determine if the goal of the punishment is achieved in the end.
Reiko Alexander said the school's automatic choice of sending a students to DAEP for involvement in a fight is not a mandatory action, not according to the school handbook. She said the six factors the school disciplinary handbook states are to be considered includes the youth's disciplinary history.
"The reasons we were given are that is 'We want to set an example.' I understand that. We don't disagree and we are not trying to change the policy. We understand you have a choice, because that's what we were told. But the choice was 'if you get in a fight, this is what we do,'" Reiko Alexander said. "He has a stellar disciplinary history. We are asking you to please take that into consideration, take into consideration. Take into consideration how this could affect him socially and emotionally."
Reiko Alenan said of all of the possible techniques listed as punishment, SSISD officials chose the one option in the handbook that was chosen was the one that would keep a student who has been good in school, with no other issues, and has met all requirements all 13 of coming to school from crossing that stage at graduation.
She said while she understood wanting to set an example in the determination, she did not agree with automatically requiring being sent to DAEP. She said Caleb has a stellar disciplinary history. This punishment could affect him socially and emotionally. She said he has met all other requirements for graduation.
"Again, we are not asking you to excuse the incident, nor change a policy. We are asking you to look at the punishment," Reiko Alexander said. "Punish him, but let him walk across that stage."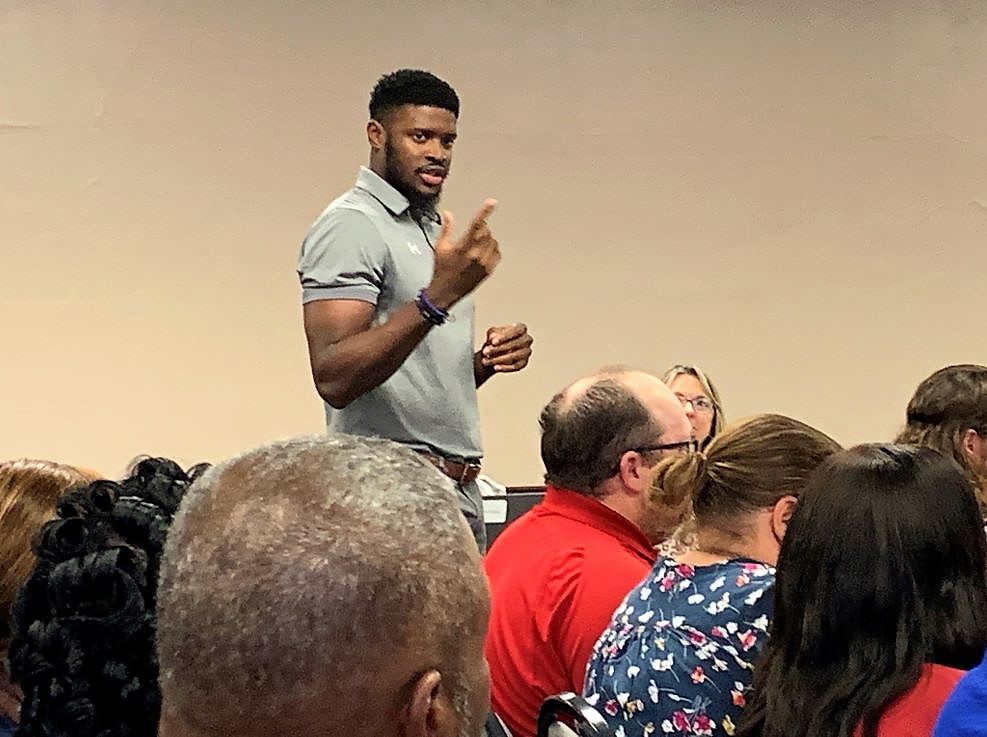 SSHS Anatomy and physiology teacher Amy Ridner said in addition to knowing Caleb Alexander's parents for years, she has had the honor of teaching him this year. She described him as a "funny, hardworking and a very kind student," who is always smiling and always has a positive attitude, and is "an all-around great kid."
"When I heard he was suspended for fighting, my heart broke at first. Then, I was completely confused because he is a very unconfrontational child. I have watched him be pushed into a confrontational level on the court and in the classroom and not react. He stays to himself and he doesn't bother anyone."
His classmates, Ridner said, would tell you Caleb is a " no-drama, very chill guy." He is respectful to staff and his classmates, always making them laugh and lending a helping hand.
"I know the work that went into the last 13 years of this young man's life, and this incident should not define him," Ridner said. "I completely understand that actions should have consequences – Like no prom, no senior shut out, and even not spending the next few days at school with his friends. But, walking across the stage at graduation is not only Caleb's accomplishment but an accomplishment of the hard work and great parenting from his remarkable parents… It's students like this that you can't wait to watch where he goes and what he does because he will do great things. And, as his teacher, I'm excited that I got to be a small part of that."
Shatamara Alexander acknowledged that her son made a mistake, and in no way is dismissing that, and understand that he should be punished – and is by being placed in DAEP, which precludes him from interacting with his classmates. He understands that he won't be able to participate in neither prom nor senior activities.
"Should one mistake over 13 years — one mistake. Caleb has been a great student. He's an AB student. Should one mistake, one lapse of judgement cross out his opportunity to walk the stage and participate in the graduation ceremony because of the 30 day AEP rule?" Shatamara Alexander told the school board.
Graduation, Shatamara Alexander noted, is a huge milestone all students, when they enter any program at school, work toward achieving.
"I ask you as a mother for my child would you please just grant my son some grace? Because we've all fallen short. I ask that you would grant him grace and allow him to participate with his classmates in participating in the graduation ceremony," Caleb's mother asked in an emotional tone.
Jerrick Massenburge said he's had privilege of coaching Caleb Alexander in basketball this year. Character, he said, is something that people have behind closed doors, not just in public. He has seen the young man grow and change this year. Despite being a senior who was asked to "come in off the bench," he never displayed a negative attitude, and always responded politely with "yes, sir" and "no, sir."
"I think that speaks to his character. When you go through 12 years of school, I think that builds character every year because school's not easy. You wake up every day. You come to school, but I think the biggest thing with him," Massenburge said of Caleb Alexander, "is he made a mistake. But it's one mistake in about 12 years of no mistakes. I love this kid like he was my own son. And if I had a son of my own, I would want him to be just like Caleb Alexander."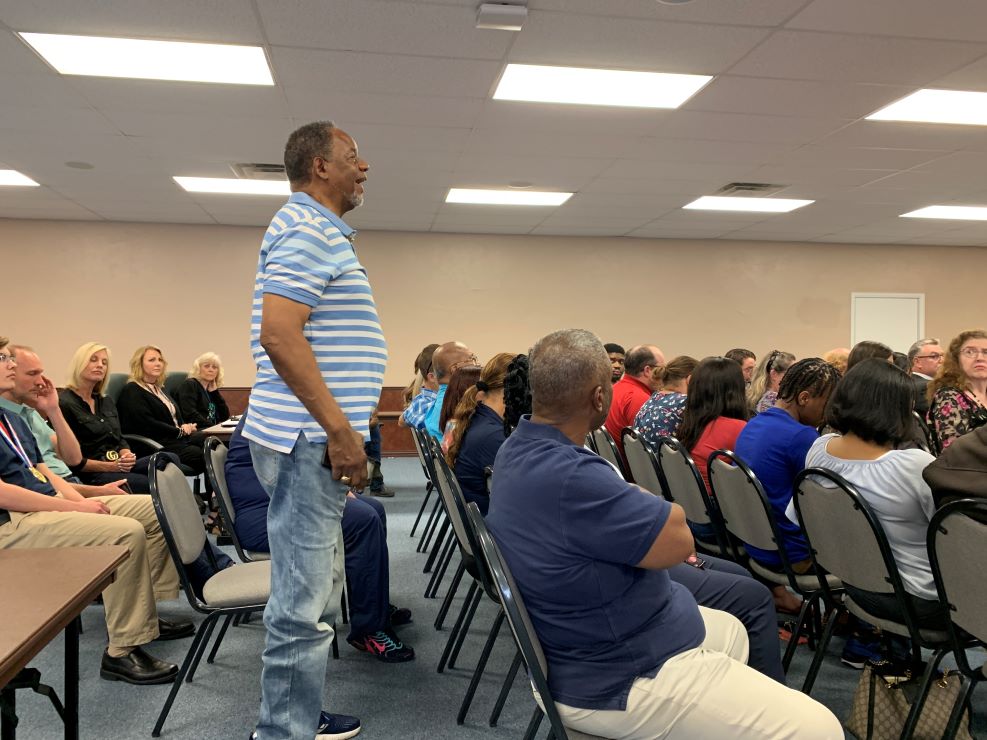 Morning Chapel Missionary Baptist Church Pastor Harold Nash said family called him about the matter. He had no idea about the situation, until he heard the comments issued Monday at the school.
He said he lived in Cedar Hill for 18 years, during that time the town grew from 8,000 to 40,000 and his son played four years of football for his high school team – all except one. His son and others weren't allowed to play in the final football game their senior year. Nash said he contacted his son's coach about the issue, then the principal and superintendent. All upheld the coaches decision to bar the students from playing.
His son is 49 and still hasn't forgotten that incident. One of the others who'd played on the team has since "died with hatred in his heart for Cedar Hill High School because he had given all this talent for four years."
Nash said while that incident is different than Caleb Alexander's, he asked for grace for something "that will affect this child the rest of his life."
"I would love for us to see some grace like God has given us in our lives, in this incident. I love the way they are handling it. They said, not that he would be punished for what happened, but the type of punishment that would keep him from going across that stage. I almost have tears in my eyes. My heart is breaking because that shouldn't happen," said Nash.
The pastor said as a prison chaplain who's dealt with hundreds of men in Sulphur Springs and thousands in prison he has seen how "this kind of thing can affect a person's thought about governing authorities and people who make decisions."
"I will continue to pray that this decision will be, if I'd known, I would have gone to the coach – or whatever happened – but it's too late for that. But, it's not too late for those in authority to say you have done the right thing, but we don't want this to result in something that is going to hurt his young man and his family, and it will affect the whole community. God bless you," Nash concluded.
SSISD School Board President Robert Cody, before opening public forum told those who planned to speak that no one topic may exceed 30 minutes and no one person may speak for more than 5 minutes during public forum. Individuals are afforded the opportunity to voice their opinion, which the board will listen to. However, that does not necessarily solicit a response from the board, as there is no dialog back and forth between the board and speaker during public forum.
After the five speakers sat down, Cody thanked them for their comments then moved on to the next item on the May 9, 2022, meeting agenda.