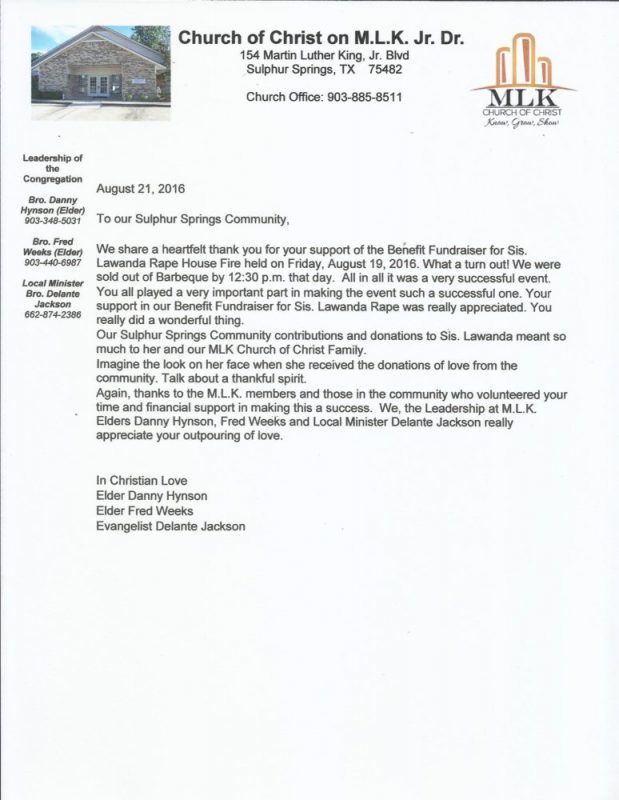 August 22, 2016
To our Sulphur Springs Community.
We share a heartfelt thank you for your support of the Benefit Fundraiser for Sis Lawanda Rape House Fire held of Friday, August 19, 2016. What a turn out! We were sold out of barbecue by 12:30 p.m. that day. In all it was a very successful event. You all played a very important part in making the event such a successful one. Your support in our Benefit Fundraiser for Sis. Lawanda Rape was really appreciated. You really did a wonderful thing.
Our Sulphur Springs Community contributions and donations to Sis. Lawanda meant so much to her and MLK Church Of Christ Family.
Imagine the look on her face when she received the donations of love from the community. Talk about a thankful spirit.
Again, thanks to the M.L.K members and those in the community who volunteered your time and financial support in making this a success. We, the Leadership at M.L.K Elders Danny Hynson, Fred Weeks and Local Minister Delante Jackson really appreciate your outpouring of love.
In Christian Love
Elder Danny Hynson
Elder Fred Weeks
Evangelist Delante Jackson