Villarino, Carpenter Recognized As Top Seniors In SSHS Class of 2022
Joel Villarino and Dawson Pace Carpenter were recognized as the top seniors in the Sulphur Springs High School Class of 2022.

Villarino, son of Mario Villarino and Leah Larsen, is this year's valedictorian. Carpenter, son of Rodney and Nikki Carpenter, earned salutatorian honors with a 4.43 weighted grade point average.
The pair have been friends since second grader when they were in the same class at Bowie Primary School. While the pair has often been linked together – they took home most of the class awards that first year leaving their other classmates disconsolate, the 2022 valedictorian and salutatorian expressed pride in their entire class for pushing hard to take and excel in as many academically challenging courses as possible.
"I may be a little bit biased in saying this, but the class of 2022 has been one of the greatest to go through these doors in the past several years. I know that we've really pushed the academics par of our education by pushing for more AP classes, pushing for more, higher and higher, than any other class I've seen in the past. I really think the people who come out of our classes are going to do excellent things – everyone, from top to bottom," Villarino said.
The pair also attributed their successes not just to their hard work, but a reflection of the hard work and sacrifices their parents and families have made for them. Surrounding themselves with an "excellent" core group of friends, ranked 3-5 in the class, who also take academics extremely seriously and come from families who take it seriously has also helped spear them toward academic successes.
Villarino too credits his younger sister, Alexis Villarino, for her role in his successes as well.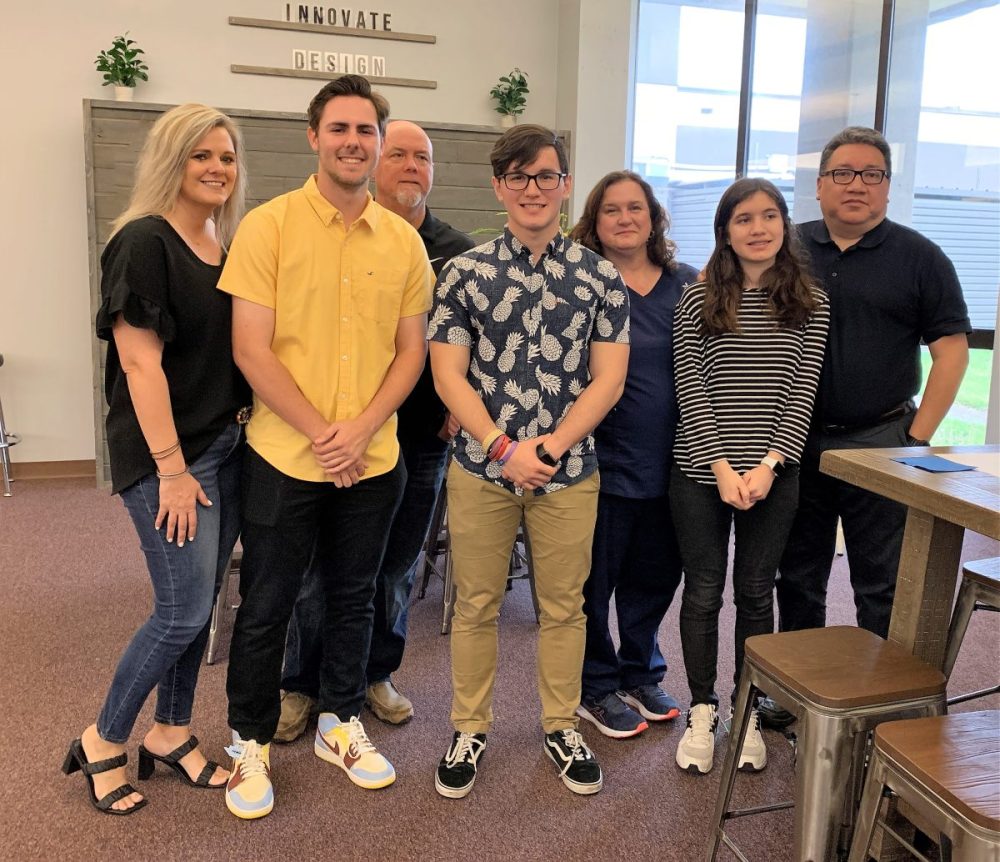 "I've done a lot and really worked hard, but I think my sister is really the better of the two siblings, to be honest. I'm a little unorganized at time and she was the one, even before she was a freshman, who had a study plan for the SAT for me. She was my coach. She was making the curriculum, and I'm thankful for that. She is going to be great things and I truly hope that I've been a good role model for her," the valedictorian said, adding later he hopes to see Alexis standing at the head of her class in a couple of years. She's currently ranked first in the sophomore class.
"My parents and my entire immediate family has been amazing in supporting me in everything I do, whether its getting to events, getting me to events, it's tough," Carpenter said. He introduce his parents as his "support system," always there whether for sports, academic or other extracurriculars, even when it means taking off work as they did for the valedictorian-salutatorian recognition event Tuesday morning, April 12, 2022, and finding a way to be there for and support him always. He noted his family also includes a younger brother, a sixth grader.
The salutatorian also credits the great staff at SSHS and SSISD, especially Gail Herman, who has been his AP English teacher for two years and UIL coach all four years of high school.
"She kind of took me under her wing as a freshman, kind of gave me somewhere to belong, even when I may not have known what I was going to do," Carpenter said, adding that Gerald Grafton has been amazing to him, AP biology teacher Kaley Williams who's been incredible, as well as Madison Millsap.
"I could name a ton. We really have a a great staff of teachers. They really work hard to get us to be the best we can be. Obviously, the administration is great. Mrs. Ladd, I just met her this year. When I asked her, 'Hey can we meet. I need a counselor recommendation for a college application?' she was on it. I'm really thankful for that," Carpenter said, turning to Jamie Ladd to extend appreciation to the counselor.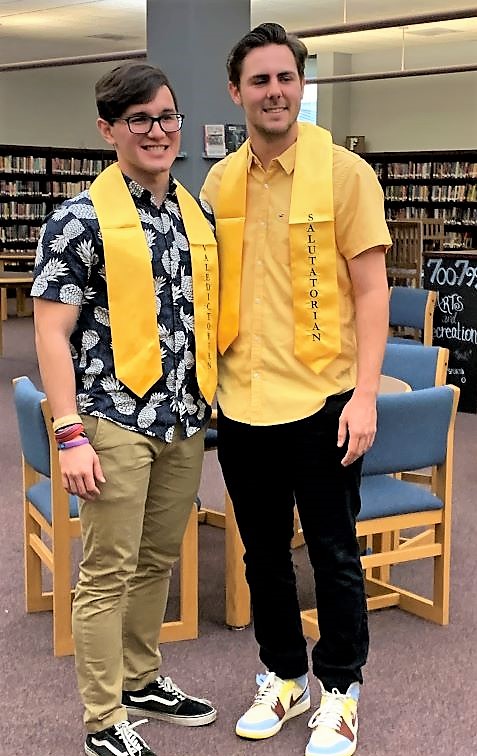 Villarino too offered thanks to the administration for serving as facilitators, going the extra mile to help students when resources may not have been immediately available at the school. For instance, last year he and Carpenter decided to study for AP exams instead of going home on an early release day, and Steve Carter saw them in the library every day. Amy Jumper, upon learning the students wanted to take the test, ordered it so the students could take it at SSHS instead of having to drive to another school to take it. He says things like that showed them personally how the administration cares for their students.
"All this is a reflection of all everyone has done," Villarino said sweeping his arms to include the entire school, their families and administrators. "We are just happy to have been part of that."
The valedictorian said one of the memories he will take with him to college and life will be not only serving the last two year as drum major, but learning to play accordion over the summer, then performing an accordion solo in front of thousands.
"That was one of those top 10 moments in my life, probably type of thing," Villarino said, brimming at the memory. "Just being able to cheese it up in front of other people, it was awesome, the screams. I'm the accordion guy when I go to other schools. I think that is so awesome."
Villarino explained that the halftime show typically features the drum majors at some point. This year the show featured a Paris theme, and originally instructors planned for the accordion part to be played on a synth. Joel's friend Clayton Boykin voluntold him for the part, pointing to him and telling the instructor he could play accordion. So, he decided, "I guess I can," and set out to do so. While hard to learn, it was a fun experience.
Carpenter cited his successes in UIL, especially being on the state champion literary criticism team and placing fourth individually at state last year as a particularly memorable experience.
"That was awesome for me, just to see that culminate all those years of hard work into a state championship was really cool," said Carpenter, who is also part of the literary criticism team that this spring is also advancing from region to the state contest, where they hope to repeat their successes with another team championship.
Coached by Herman, who has a legacy of teams that win and place at state competition, Carpenter said it's an honor to be able to be help continue her legacy and give back to the teacher who's given so much to him.
"If there was a lifetime achievement for UIL directors, I feel like Herman would be one good candidate – winningest lit crit," Villarino added. "A lot of the top students have been part of that. Last year's val and sal were also on her team. She really does a good job pushing students beyond what they think they can do."
"There are always moments where you're not sure you can pull it off, meet her expectations, but you find a way," Carpenter said.
Carpenter noted that his association with Herman began about a week before school started. When he picked up his schedule during freshman orientation (fish camp) there was a note attached to his schedule for him to see teacher Gail Herman. He was a little afraid because of Herman's reputation for having hard classes.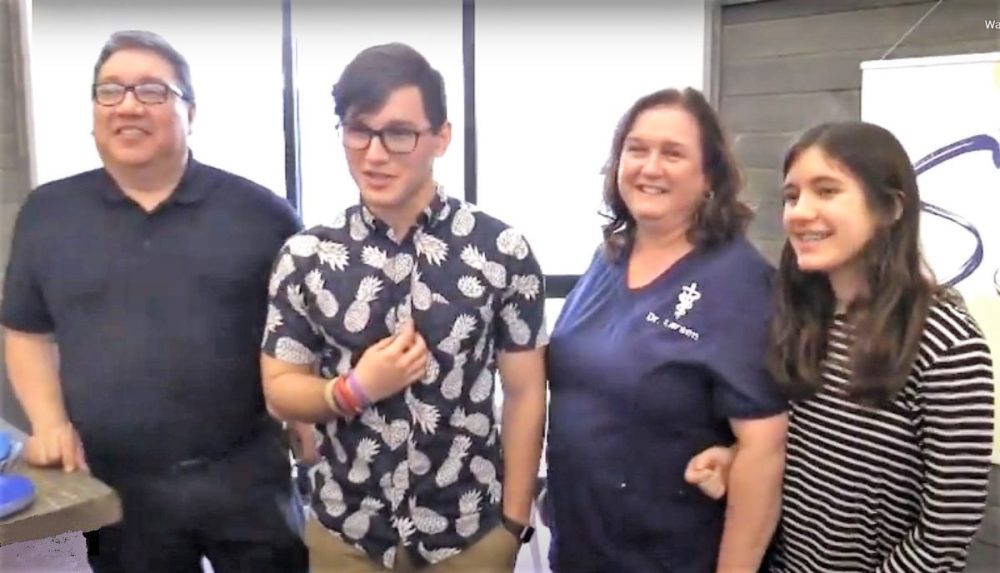 While students were changing classes during the mock school day to become better acquainted with the campus, Carpenter spent the equivalent of a few class periods talking to Herman about UIL. She knew he'd participated won in district UIL spelling and vocabulary competition in seventh and eighth grades and recruited him to compete in academic UIL. She handed him thick stack of papers, which he demonstrated said appeared to be a few inches apart, for him to start working on. He was a bit lost for a few class periods the first day of school, but had met a teacher who would challenge him to push himself to be his very best.
The valedictorian and salutatorian credited their middle school GT teachers Clay Hansford and Brooke Howard, for having a monumental impact on their development as individuals.
"Those two especially had an extreme impact on myself, on my development throughout middle school, pushing us," Villarino said of the gifted and talented instructors.
He recalled the formal dinner, "where you take these kids you would say are more nerdy," and make them dance and eat food in a formal setting." He says at 18, he's already had occasion to use those skills and is so thankful to have had the experience.
Valedictorian Villarino plans to pursue a career in software engineering or software development. He hasn't yet decided between the University of Texas-Austin Honors Program and Rice University in Houston, but knows he wants to major in computer science. His strengths are logic and mathematics and computer science involved applied math and applied logic.
He has competed in Business Professionals of America computer science events, and over the summer had the opportunity to participate in Texas Space Grants, working with the University of Texas and NASA. He said he used data from NASA space satellites to map areas using PYTHON and JAVA coding languages.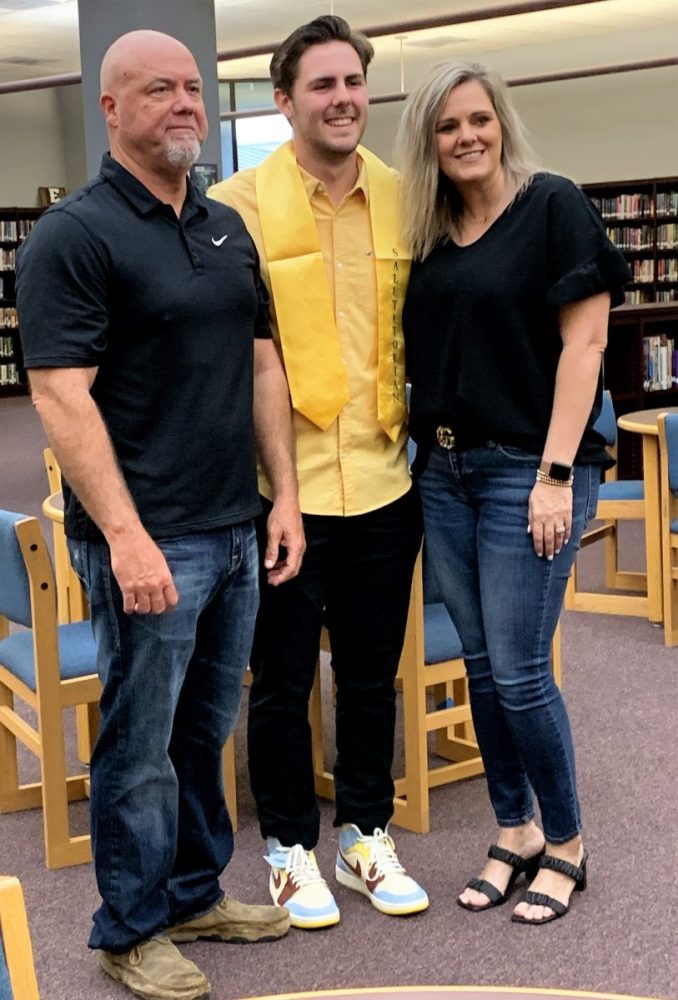 "It was very interesting to me because of the applications. There's a lot of applications for it and the money's nice. You get paid very, very well," Villarino said with a laugh.
Salutatorian Carpenter is plans to attend Texas A&M University to prepare for a career in aerospace engineering.
"I've always been pretty interested in space. With that being on the forefront of exploration right now, it's kind of the next frontier they want to explore, I want to be a part of that. I just want to build rockets," he said with a smile.
While math and science have always been the 2022 salutatorian's favorite classes, he has tried to be a well rounded student, taking a variety of different classes, as many of the core classes that are offered. He also has been involved in several activities in an effort to make as big an impact as possible while he's at SSHS.
Carpenter was on the varsity baseball team, Student Council, National Honor Society, Hopkins County Leadership including attending RYLA, served as a Key Club officer, competed in five academic UIL events. Among the honors and recognitions Carpenter has also received are being named a National Merit Scholarship Commended Student, College Board National Rural & Small Town Recognition, and being an AP Scholar with Honor.
Villarino also is a National Merit Scholar, served as captain of the UIL computer science team, a member of the National Honor Society and the Hopkins County Youth Leadership group, received a Rotary Youth Leadership Award.