The Hopkins County community is known for it's generosity. This year, however, Hopkins County dug deep and, in the process, set a new record of more than $211,800 donated to the 2021 United Way campaign to assist those in need, and to provide cultural and developmental enrichment opportunities in the community.
When the last weekly campaign workers meeting was held on Nov. 9, Hopkins County United Way had received $185,952.15 in donations and pledge, which campaign officers and workers were grateful and excited, as the goal exceeded the $150,000 goal by more than $25,000. At that point, several donation packets from some longtime faithful supporters were still out. Since goal had been met, the weekly meetings ceased at that time.
2021-22 Hopkins County United Way Campaign Chair Kristy Moseley asked campaign workers who were available to attend one final wrap up report meeting on Dec. 8, 2021, as many of the outstanding donation packets, along with additional contributions have come in over the last month.
Among the contributors whose packets were turned in were the Economic Development Corporation, Datamax, Hopkins County Sheriff's Office, A&E, Moore Construction, Hometown Real Estate, The Venue at 219, Dial Study Club, HSC Orthodontics, The Magic Scoop, Sulphur Bluff ISD, Texas Farm Credit, Oaks Bed and Breakfast, Balkcom Insurance, Clayton Homes, North Hopkins ISD, Lisa Salem,
HCUW also received a generous donation from the Zahn Family Charitable Trust and Holt Cat employees' contribution was accompanied by a corporate match.
GSC employees, The Pawn Shop, City National Bank employees, Alliance Bank employees and CHRISTUS Mother Frances employees added to their totals too.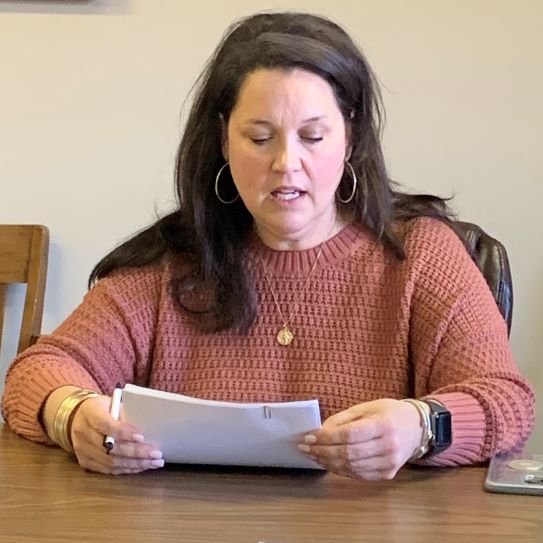 When the final figures were tallied Wednesday morning, HCUW had received an additional $25,905.01 in donations and pledges.
So, when Moseley announced a 2021-22 campaign total of a whopping $211,857.16, the room erupted in applause, the ringing of a cow bell and cheering at the amazing generosity shown for the community during a time when so many are reporting financial hardships – due in part to COVID shutdowns in 2020 as well as inflation's rate on expenses.
Overall, that's $61,857.16 donated over the $150,000 goal to benefit 18 local nonprofit organizations which benefit thousands of Hopkins County residents.
"We believe that's the largest campaign total ever," said Mike Horne, HCUW president.
"We are very excited. That's going to do some amazing things in the community," Moseley said. "We have broken records which is also amazing – great things for our community. Thanks everybody for all your hard work."
"Thank you, Kristy. Good job," said HCUW Board member Bill Owens.
HCUW officers and several other board members also expressed gratitude and appreciation for the community's humbling generosity this year.