Despite what has proven to be a rather unusual and challenging year, Sulphur Springs ISD concluded the 2021 competitive academic UIL season on a positive note, campus and district sponsors report.
The most challenging and, for some, most disappointing aspect of this year's academic UIL was adapting competitions and readying students to compete in most events virtual this school year – another result of COVID-19 precautions established by UIL to allow students to compete while minimizing potential exposures and large gathers while meeting state and federal health guidelines.
While some grade levels' attempts to test their knowledge against theirs from other school districts failed, some
SSHS UIL
"I am very proud of our students and coaches for their efforts in putting together a high-quality team during a most unusual year. Most of our meets this year were presented in a virtual format due to COVID restrictions. The virtual meet experience was interesting. We hosted our first SSHS virtual meet in late February and it seems that we provided a nice experience for most schools. Because of the virtual format we were able to host schools as far away as Pharr San Juan Alamo. We had a grading day for the writing events that turned out well. We look forward to next year in the hopes that we can return to live events," Sulphur Springs High School UIL coordinator Gerald Grafton noted.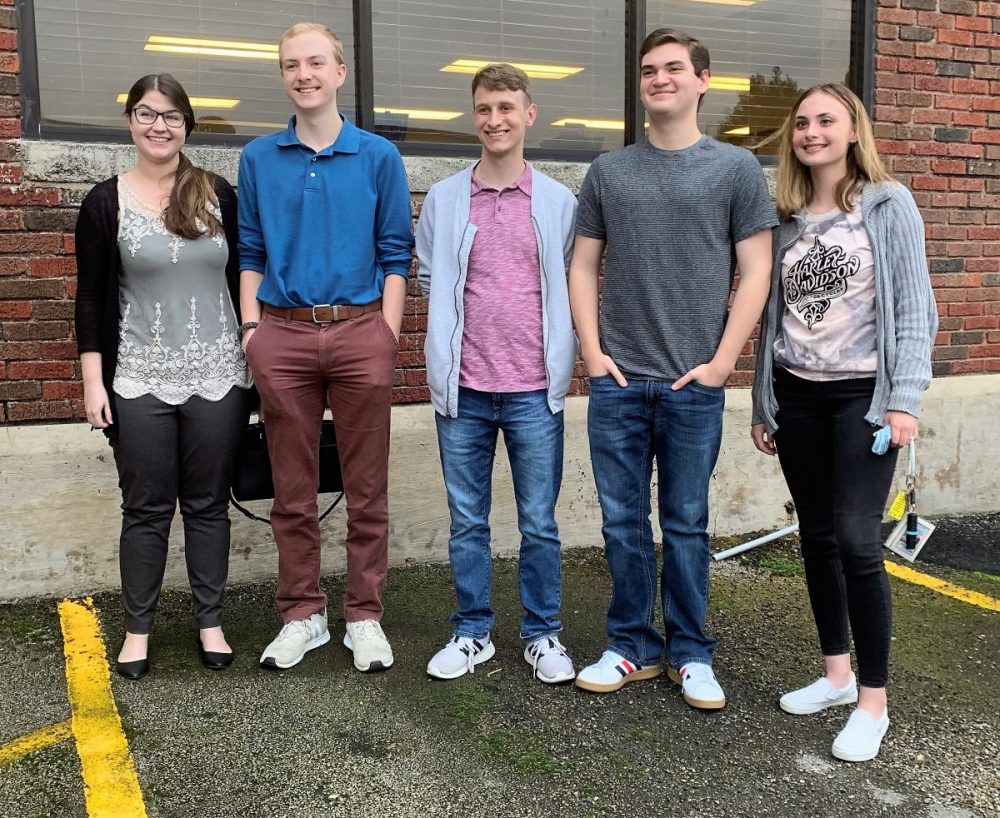 SSHS began UIL competitions in the fall, with a virtual BEST robotics competition – 16 students competed this year in UIL robotics. Then, the UIL Congressional Debate team competed in a face-to-face format at Region 8 ESC. While neither team advances, they performed well, Grafton noted.
The SSHS Film team advanced to the second level of judging, and the OAP advanced to bi-district competition, while AllieGrace Woodard was named the State Champion in the Hair and Make-up Contest. In essay contests, Harley Archer was not only a state finalist in the Barbara Jordan Historical Essay competition, but was also named the state Latino History Essay champ, while two other writers were state essay finalists and three ranked in the top 5 the state in essay competitions.
SSHS was ranked second overall at both the Hallsville and Sulphur Springs Virtual Invitationals in February, finished second to Hallsville at District UIL competition and fourth overall at regional academic UIL competition, then had five students medal at state. The SSHS literary criticism team was once again named the state champion, with team members shutting the competition out of the top four awards in the event. Valedictorian Matthew Harper medaled in three events, and earned his second individual state championship title in literary criticism.
SSMS UIL
Sulphur Springs Middle School UIL Campus Coordinator Jeffrey Denton reported SSMS students also had a "great year," finishing third overall for sweepstakes behind host Hallsville and Pine Tree. Each grade level also finished third overall, and students came home with multiple first and second place individual and team medals. Overall, the SSMS students received more than 60 medals for placing first through sixth place in their events, and had 20 teams finish first through third at this year's district meet.
The students have put in a lot of practice and work, which will ready them for competition at the high school level as they advance from middle to high school, Assistant Superintendent Josh Williams pointed out.
SSMS Academic UIL Results
Elementary UIL
Due to a number of factors, including COVID-19 and winter weather, the Sulphur Springs elementary students weren't able to compete against other schools this year. That did not dampen the youngest SSISD UIL competitors' enthusiasm for competition, so the SSISD coaches and administrators from all five campuses serving the second through fifth graders put there heads together and figured out a workable method to allow the primary and elementary students to compete this year. During the first week of March, each campus hosted UIL events for their students as scheduled permitted.
"Student tests and performances from the 27 events were collected, graded, judged, and verified at Sulphur Springs Elementary by the five campus coordinators," Sulphur Springs Elementary Academic UIL Coordinator Sasha Posey reports. "With 206 students and 46 coaches/coordinators involved, we had more participation than ever in UIL this year! Although SSISD was unable to compete against other school districts, our UIL season never lost momentum as coaches adhered to the competitive nature of the program and challenged students to demonstrate their mastery of specific skills."
The campuses then hosted UIL award assemblies for second and third graders on April 8 and for fourth and fifth graders on April 9 at SSES, with the programs streamed on Facebook Live so that parents could view them. UIL students enjoyed a special lunch with pizza delivered to their school on assembly day. All elementary UIL participants received a ribbon; students who placed were awarded medals and bragging rights among their peers across the SSISD campuses, Posey reports.
"In recent years, SSISD has won 1st place in the elementary UIL competition. Although SSISD did not compete against other districts this year, the elementary UIL coaches and students continued placing emphasis on academic events by practicing weekly with students, targeting specific skills, and forming final teams. We expect our elementary program to generate enthusiasm for academic UIL, thereby increasing student participation that will continue into our middle school and high school programs. This, in turn, will increase SSISD's statewide competitiveness at the high school level," Posey notes.
Coordinators for the primary campuses where second and third graders competed in UIL events included Joe Boedigheimer, Joanna Foster, Dustin Morgan, Ana
Ramirez.
2nd Grade Academic UIL Results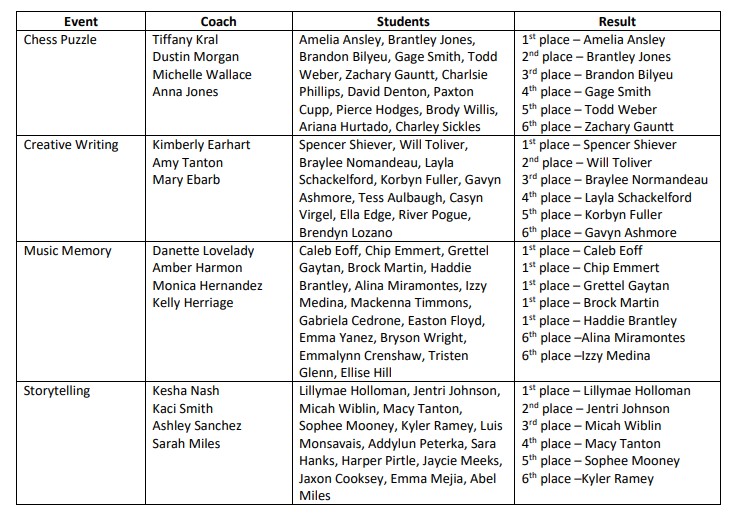 3rd Grade Academic UIL Results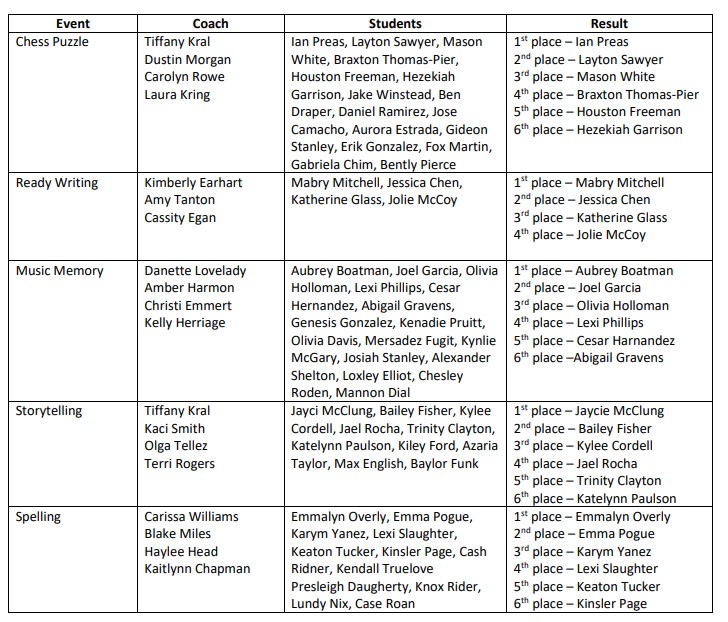 4th Grade Academic UIL Results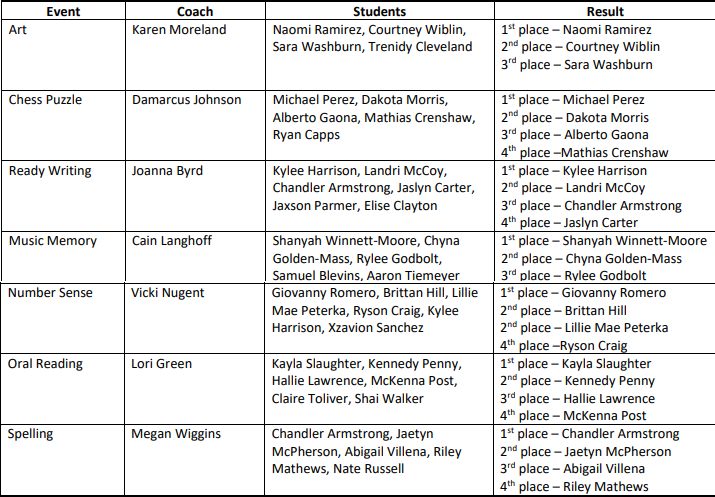 5th Grade Academic UIL Results