Sulphur Springs High School students brought home four awards, including a state title, following UIL's announced April 30 of winners for UIL Essay contests.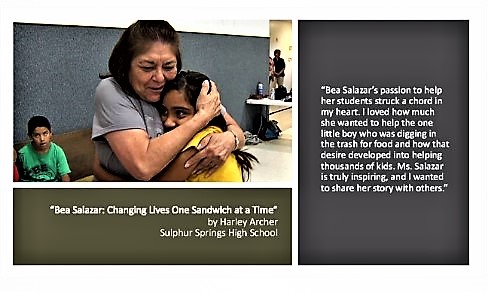 Junior Harley Archer was named the 2021 State Champion in the Latino History Essay Competition with her essay entitled "Bea Salazar: Changing Lives One Sandwich at a Time." Archer's win marks the second consecutive year a SSHS student has captured the Latino History Essay competition title. Rachel Bramlett won the championship in 2020 with her essay "Fingerprints of Success: Rick Garcia's Impact on Texas."
Padraig Flanary, a senior, placed 4th in the Latino History Essay competition with a paper about Maria Luisa "Lulu" Flores while and Alexis Villarino, a freshman, placed 5th with an essay about the Chicano Mural Movement's impact on Texas.
The theme of the 2020-2021 Latino History Essay competition was "historical and cultural legacies of Latinos in Texas history." Essays were to be focused on a prominent or relatively unknown Latino individual, organization or movement in Texas histor and how the subject has significantly influenced today's Latino communities.
Archer and Paige Daniels were also named as finalists, with their essays about Harley Archer and Rowena Johnson, while junior Emily Dick finished fourth place in the Barbara Jordan Historical Essay Competition with her essay about Vicki Meek.
Students were tasked with exploring the contributions of African Americans to Texas history in their essays, while honoring the legacy of its namesake, Barbara Jordan in this contest. The theme of the 2020-2021 competition was "African Americans in Texas: Past and Present."
Over 300 papers were read in the two competitions and 12 finalists were named in each of the state essay competitions. SSHS had 3 papers in each event that qualified as finalists. The papers of each finalist are added to the historical record of the State of Texas at the University of Texas in Austin. 
"Congratulations to these students and to their coach, Gail Herman," said Sulphur Springs High School UIL Campus Coordinator Gerald Grafton Friday afternoon. "Tomorrow, May 1, the UlL Academics Team travels to Commerce to compete for State Championships in Copy Editing, Headline Writing, Social Studies and Literary Criticism. Best Wishes to our teams."
To view the virtual 2021 Essay Competition Awards or more information about either contest, Click Here.