The State UIL Theatrical Design officials Monday night, May 10, 2021, named student AllieGrace Woodard as the State Champion in the Hair and Make-up Contest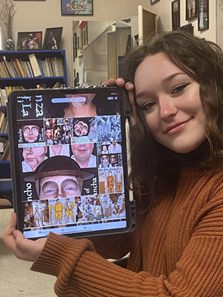 AllieGrace Woodard was chosen as a state finalist in two categories of the State Theater Design competition, marking at least the third time her theatrical designs qualified her as as state finalist.
The Sulphur Springs High School student too was a member of the school's UIL One-Act Play cast and crew. The SSHS Wildcat Theatre's production of the UIL One Act Play "You on the Moors Now" advanced to Bi-District. Kristopher Luce and Lesha Woodard were the directors.
AllieGrace Woodard, Rorie Young and Danielle Verlander all earned Honorable Mention All Star Cast recognition, while Hannah Shultz received All Star Cast honors and Ricardo Chavarria was named an Outstanding Crew Member at the Bi-District competition for their work during "You on the Moors Now."
Woodard was also the director of a student film that advanced to the second round of judging in the UIL Film competition. The Wildcat team "wrote a nice script and received compliments from the judges for their production," Grafton reported Monday night to SSISD Board of Trustees.
The cast of the film included included Lucy Braddy, Gregg English, Caitlynn Monaghan, Hannah Shultz, Caleb Talmage, Brandon Williams and Rorie Young. Phillip Dick was the sponsor for the film. Click here to view.
Woodard also earned third place in poetry interpretation at the District UIL meet.