Newsom: "We are back to 75% occupancy in small businesses and bars can reopen under GA-32"
Trauma Service Area F, which spans across Northeast Texas, is no longer under Executive Order GA-32 restrictions as COVID-19 hospitalizations had remained under 15 percent of the total hospital capacity for seven consecutive days as of Wednesday, according to Texas Department of Public Safety's Feb. 4 COVID-19 dashboards and reports. Hopkins County Judge Robert Newsom reports he received a letter affirmed Thursday afternoon by email from Dr. John Hellerstedt, Commissioner, Texas Department of State Health Services, affirming the rolled back capacity limits and halt of elective surgeries enacted on Jan. 2 has been lifted.
"The letter states that we are back to 75% occupancy in small businesses and bars can reopen under GA-32," Newsom said Thursday afternoon, Feb. 4.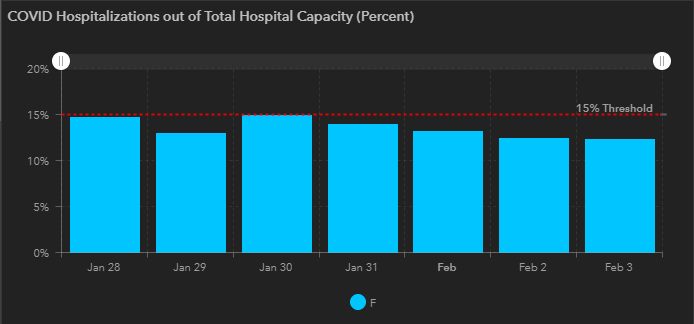 In addition to reopening at higher level, Hellerstedt noted that "all licensed hospitals in the TSA may resume elective surgeries as set forth in Executive Order GA-32." Health and Human Services Commission will be providing notice directly to affected hospitals in TSA F of the facility's ability to resume elective surgeries.
TSA-F entered the New Year on a high note, but not a positive one. All counties in Trauma Service Area F (with the exceptions of those counties filing paperwork affirming they'd had less than 30 new confirmed COVID-19 cases 14 days prior to filing) have been under restrictions outlined in Governor's Executive Order GA-32 since Jan. 2, after the COVID-19 hospitalization made up 15 percent of the total hospital capacity for six of seven days and was at 15 percent one day during the week spanning from Dec. 26 through Jan. 1. That automatically triggered the restrictions outlined in GA-32 for TSAs deemed to have "high hospitalizations," and was affirmed the next day in a letter county officials received from the state.
COVID-19 hospitalizations continued to increase, peaking at 23.42 percent of the total capacity on Jan. 11, and remained above 20 percent through Jan. 19. The COVID patient count began decreasing, but didn't fall below 15 percent until Jan. 23, when it dipped to 14.81 percent. While the COVID-19 case counts remained lower, COVID-19 hospitalizations made up 16.36 percent of the total hospital capacity on Jan. 24. COVID-19 hospitalizations continued to decline, but still exceeded the 15 percent threshold for the next three days.
On Jan. 28, COVID-19 patients made up only 14.73 percent of the overall hospital capacity in TSA F, dipped to 12.91 percent on Jan. 29, then rose to 14.89 percent on Jan. 30. COVID-19 hospitalizations have continued to comprise less than 15 percent of TSA F's total hospital capacity, dipping to 13.94 percent on Jan. 31, then 13.18 percent on Feb. 1 and 13.38 percent on Feb. 2. On Feb. 3, the COVID-19 percentage was 12.33; after just over a month under GA-32 restrictions, TSA F marked seven consecutive days in which COVID-19 hospitalization were below 15 percent. That means the restrictions are lifted. Businesses that had been allowed to open to 75 percent capacity per GA-32 enacted in October are now allowed to reopen to that capacity again. Elective surgeries, which were put on hold, can now be scheduled in TSA F.
The lift of GA-32 restrictions in TSA F applies to businesses and medical facilities in Bowie, Cass, Delta, Hopkins, Lamar, Morris, Red River counties.
Data on COVID-19 hospitalizations, including counties in Trauma Service Areas that are currently under Executive Order GA-32 restrictions, can found at: dshs.texas.gov/ga32/.