Texas Department of State Health Services' Feb. 1 COVID-19 dashboards show 16 new COVID-19 cases for Hopkins County on Monday, but no additional recoveries or fatalities.
COVID-19 hospitalizations are also down locally, across the state and across Trauma Service Area F compared to totals posted one week ago, according to DSHS and county reports.
Case Counts
DSHS Feb. 1 COVID-19 Case Counts dashboard shows 14 new confirmed cases of COVID-19 on Monday, 13 more than on Jan. 1. On Sunday, only one Hopkins County residents received a positive molecular COVID-19 tests result, increasing the total number of confirmed cases in January to 247. That's more confirmed cases during January than any other months of the pandemic except October and December, when 323 and 290 new confirmed cases were reported.
Two new probable cases were also reported for Hopkins County on Monday, 19 less than on Jan. 1. There were no additional probable cases reported for Hopkins County on Sunday, so the total for January was 153 Hopkins County residents who either received a positive antigen COVID-19 test result or had a combination of symptoms and a known exposure to someone with COVID-19 without a more likely diagnosis.
While six Hopkins County residents were reported to have recovered from coronavirus on Sunday, increasing January's total to 363 on Jan. 31, no new recoveries were reported on Monday. Cumulatively, 2,416 of the 2,639 Hopkins County residents who have had COVID-19 have recovered from it, according to the DSHS data.
That means the active COVID-19 case count for Hopkins County increased from 130 on Jan. 31 to 145 on Feb. 1. February has started with seven more active cases than on Jan. 1, 55 more than on Dec. 1, but only one more than on Nov. 1.
Hospital Data
The patient count in the COVID unit at CHRISTUS Mother Frances Hospital-Sulphur Springs continued to decrease Monday, from 20 reported on Friday to 14 on Monday, Feb. 1, Hopkins County/Sulphur Springs Emergency Management officials reported in the Feb. 1 COVID-1 update. The least number reported for the COVID unit in January was 18 on Wednesday and Thursday, Jan. 27-28, and the lowest COVID unit count in December was 17. In fact, the last time the COVID unit held as few as 14 patients was Nov. 9.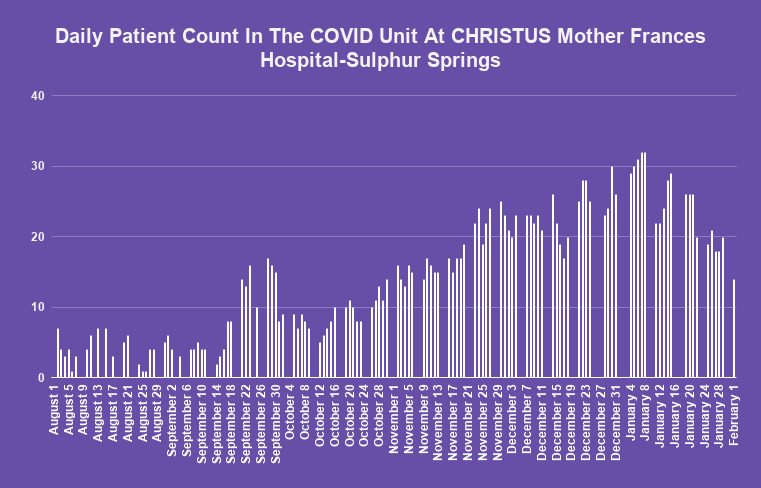 That has been reflected across Trauma Service Area F, which includes all of Northeast Texas, and the state as a whole. In Texas, the COVID-19 hospital counts began dropping from 12,851 last Monday, to 12,380 on Wednesday, 11, 981 on Thursday, 11,473 on Friday, 11,200 on Saturday and 11,074 Sunday.
Across Trauma Service Area F, the lab-confirmed COVID-19 patient count has been less than 170 for the last week, rising from 167 on Monday and Tuesday to 168 on Wednesday, dropping to 158 on Thursday and 142 on Friday, increasing to 163 on Saturday and dropped back to 152 on Sunday.
Those lower numbers, coupled with changes in overall capacity, mean that for the past four days TSA-F has accounted for less than 15 percent of the area's overall hospital capacity. TSA-F fell from 15.73 percent on Wednesday to 14.73 percent on Thursday, 12.91 percent on Friday, 14,89 percent on Saturday and 13.94 percent on Sunday, according to the DSHS Feb. 1 COVID-19 Test and Hospital Data dashboard. Three more days below that 15 percent and businesses in TSA-F will be able to again open at 75 percent capacity and elective surgeries can resume.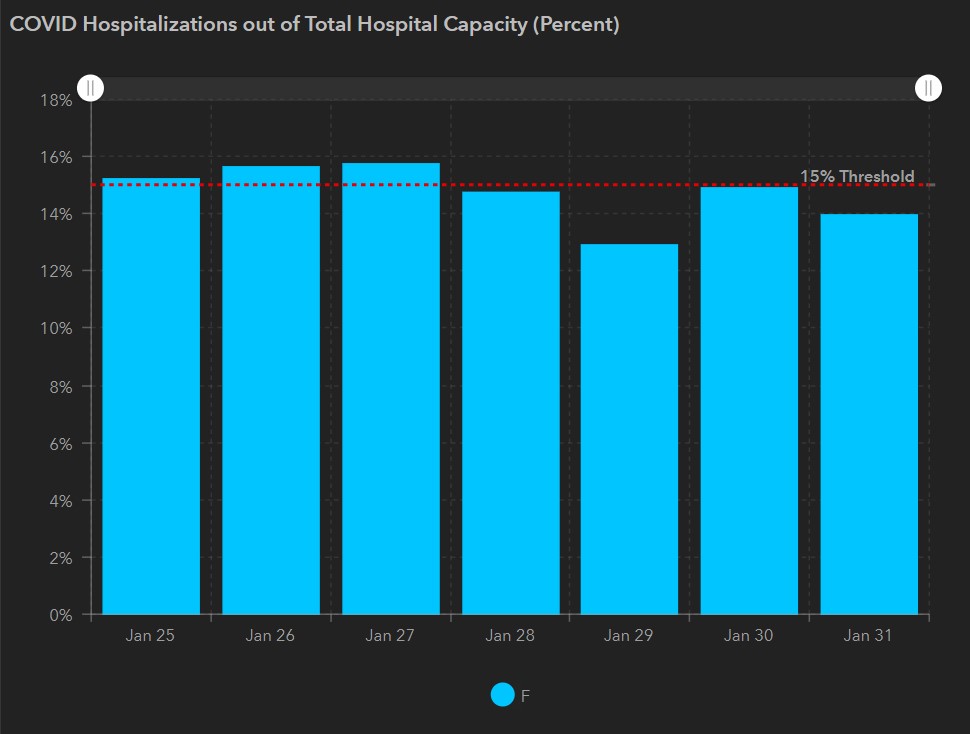 COVID-19 Vaccine
As of 11:59 p.m. Sunday, 2,093 people in Hopkins County have received doses of the COVID-19 vaccine, nine more tests administered on Jan. 31.

A total of 1,784 people (1,088 females, 691 men and two people for whom no additional data is known) had received the first dose of the vaccine and 324 people had received the second dose of the vaccine (180 females, 105 men and three people for whom no additional data is known) on Jan. 31. That's eight more people (seven women and one man) who received the first dose of the vaccine and one more woman who is fully vaccinated.
An additional 400 doses of the vaccine have been allocated to Hopkins County this week. However, as was the case with the 100 allocated to Hopkins County last week, all 400 are the second dose to be administered to those who received the first dose of Moderna vaccine about 28 days ago.

People can find more information about the COVID-19 vaccine at dshs.texas.gov/coronavirus/immunize/vaccine.aspx.
Click here a full list of vaccine allocations for the week of Feb. 1.
For a list of vaccination hub providers and their contact information, click the link above.
Click this link to see the DSHS/Texas Department of Emergency Management map of vaccine providers.
COVID-19 Testing
Hopkins County/Sulphur Springs Emergency Management reported 8,982 molecular COVID-19 tests had been performed 128-A Jefferson Street since the fall when the Red Cross building was set up as a free testing site. That means a total of 95 oral swab tests were performed at the free testing center on Friday and Saturday combined.
DSHS' Test and Hospital Data dashboard shows a total of 14,200 viral or molecular COVID-19 tests have been performed in Hopkins County since the pandemic began last March. Twenty-one antigen tests and four antibody tests were conducted on Sunday in Hopkins County, increasing the totals counted so far in Hopkins County to 1,826 antigen tests and 1,774 antibody tests.
Cumulatively, that's 17,800 COVID-19 tests conducted in Hopkins County.
Free oral swab COVID-19 testing has been extended into February. Testing is typically offered from 9 a.m. to 6 p.m. Monday-Friday and from 9 a.m. to 5 p.m. Saturdays inside the Red Cross (old Fidelity Express Building) in Sulphur Springs.
Free testing at is open to anyone regardless of age or address. Registration is required online at www.GoGetTested.com in order to be tested at 128-A Jefferson Street in Sulphur Springs.