While the COVID-19 hospitalizations remain low across the state this week, Hopkins County is experiencing a spike in new COVID-19 cases, increasing the overall active case count to rise from 130 on Sunday to 174 on Wednesday, according to the Department of State Health Services Feb. 3 COVID-19 dashboards.
Case Counts
On Wednesday, a total of 28 new COVID-19 cases were reported, increasing the total so far this week to 63.
Over the last four days, 39 Hopkins County residents have received lab-confirmed positive molecular COVID-19 tests results, one on Sunday, 14 Monday, 10 Tuesday and 14 Wednesday. Twenty-four probable COVID-19 cases, determined either by a positive antigen test or a combination of symptoms and a known exposure to someone with COVID-19 without a more likely diagnosis, have also been reported this week: two on Monday, eight on Tuesday and 14 on Wednesday.
Since March of 2020, a total of 1,407 Hopkins County residents have been confirmed by lab tests to have COVID-19 since the pandemic began in Hopkins County in March and 1,294 probable cases since the state began tracking the data.
One additional Hopkins County resident has been confirmed by death certificate to have died from COVID-19, according to the DSHS COVID-19 Feb. 3 Case Count dashboard. The latest death occurred on Jan. 20. That makes a dozen COVID-19 deaths confirmed to have occurred in January and 95 total COVID-19 fatalities since the pandemic began.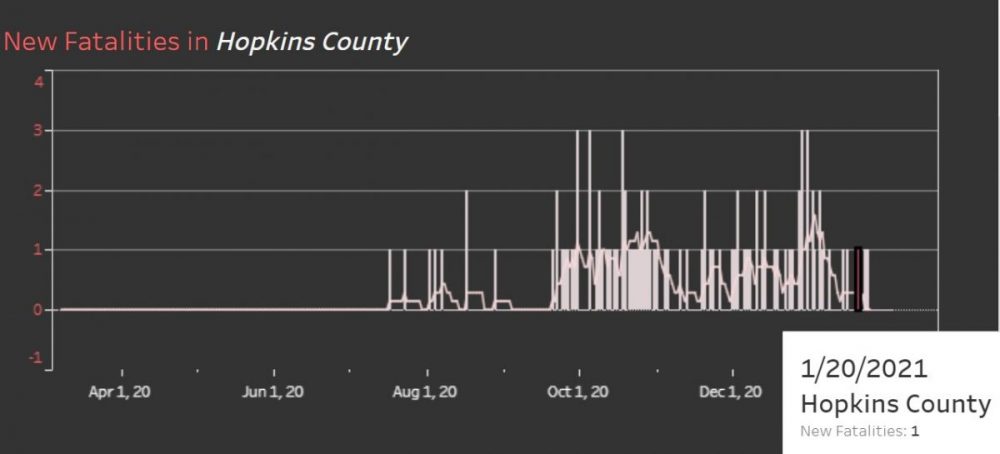 On the other hand, 16 Hopkins County residents had recovered from COVID-19 on Wednesday, increasing the total number of recoveries so far this week to 22; two recoveries were also reported on Monday. Since March, that makes at least 2,432 recoveries out of the cumulative 2,701 COVID-19 cases recorded since March.
Factoring in both the new cases, recoveries and fatalities, the active COVID-19 case count for Hopkins County has continued to rise this week from 130 on Sunday to 146 Monday, 163 Tuesday and 174 on Wednesday.
Hospital Data
The count in the COVID Unit at CHRISTUS Mother Frances Hospital-Sulphur Springs increased by one to 13 on Wednesday, which is still one less than on Monday, Feb. 1, and six less than on Monday, Jan. 25; 16 less than on Tuesday, Jan. 19; nine less than on Monday, Jan. 11; and 16 less than on Monday, Jan. 4.
Over the last week, COVID-19 hospitalizations across Texas have continued to decline almost steadily since Jan. 18, dropping from 13,928 to 12,899 on Jan. 23, 11,981 on Jan. 28 and 10,827 on Feb. 2.
In Trauma Service Area F, COVID-19 hospitalizations have declined from 241 on Jan. 11 to 186 on Jan. 19 and 161 on Jan. 23, 142 on Jan. 29 and 134 on Feb. 2. The last time there were fewer COVID-19 hospitalizations in TSA-F was Dec. 11, when the patient count dipped to 130.
| Day | Date | COVID Hospitalizations | COVID-19 % Hospital Capacity |
| --- | --- | --- | --- |
| Day 1 | January 28 | 158 | 14.73 % |
| Day 2 | January 29 | 142 | 12.91 % |
| Day 3 | January 30 | 163 | 14.89 % |
| Day 4 | January 31 | 152 | 13.94 % |
| Day 5 | February 1 | 143 | 13.8 % |
| Day 6 | February 2 | 134 | 12.38 % |
COVID Hospitalizations, Percent of Total Hospital Capacity in Trauma Service Area F
Feb. 2 was also the sixth consecutive day COVID-19 hospitalizations accounted for less than 15 percent of the overall capacity in TSA-F. In fact, on Tuesday, COVID-19 hospitalizations accounted for only 12.38 percent of the overall hospital capacity, which has also declined over the last week. If Trauma Service Area F has one more consecutive day below the 15 percent threshold, the area will no longer be considered to have high hospitalizations. The count would reset and the restrictions on retail businesses and restaurants will be lifted, allowing them to reopen at 75 percent, and would allow hospitals to resume elective surgeries.
COVID-19 Testing
Hopkins County/Sulphur Springs Emergency Management reported a total of 9,158 COVID-19 tests had been performed at the testing center in Sulphur Springs as of Feb. 2, including 81 tests performed Tuesday and 95 on Monday.
Another 25 viral (molecular) tests were apparently performed elsewhere in Hopkins County on Tuesday as the cumulative total increased by 106 tests to 14,369 on Feb. 2.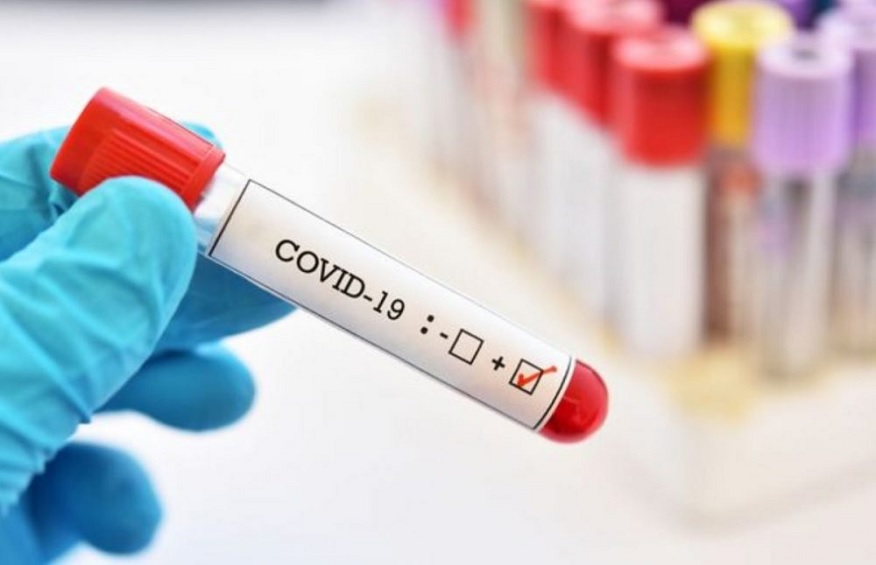 Four antigen tests also were reported to have been conducted in Hopkins County on Tuesday as the total increased from 1,837 to 1,841 on Tuesday. No additional antibody tests were reported for Hopkins County, so the total number of antibody COVID-19 tests remains 1,775, according to the DSHS Feb. 3 COVID-19 Test and Hospital Data dashboard.
Cumulatively, that's 17,985 COVID-19 tests that have been performed in Sulphur Springs and reported to DSHS.
Free oral swab COVID-19 testing has been extended through the month of February in Sulphur Springs. Testing is typically offered from 9 a.m. to 6 p.m. Monday-Friday and from 9 a.m. to 5 p.m. Saturdays inside the Red Cross (old Fidelity Express Building) in Sulphur Springs.
Free testing is open to anyone regardless of age or address. However, registration is required online at www.GoGetTested.com in order to be tested at 128-A Jefferson Street in Sulphur Springs.
COVID-19 Vaccine
Three fewer vaccines were administered to people in Hopkins County than was previously reported in the COVID-19 Vaccine Data dashboard. DSHS on Feb. 3 had removed one dose previously counted among those who have received the first dose of the vaccine in Hopkins County and two from the count of people fully vaccinated for COVID-19 in Hopkins County.
That reduces the total number of people in Hopkins County who've received doses of the vaccine to 2,125 showed only 2,126 have been administered to people in Hopkins County: 1,796 who've received the first dose of the vaccine and 330 who are fully vaccinated with both doses of the vaccine.