Texas Department State Health Services and Hopkins County/Sulphur Springs Emergency Management officials in Jan. 13 COVID-19 updates reported one additional COVID-19 fatality, 17 new cases, 16 recoveries, and a slight rise in hospitalizations in the local COVID unit.
Case Counts
The DSHS Jan. 13 COVID-19 Texas Case Counts dashboard showed a total of 1,260 Hopkins County residents have received positive molecular COVID-19 test results since the pandemic began in March 2020. That means six additional confirmed COVID-19 cases were reported on Jan. 13, which is half as many new confirmed cases as were reported daily on the three prior days this week. That makes 43 new confirmed COVID-19 cases so far this week and 138 new cases during the first 13 days of January.
Eleven new probable cases were reported on Wednesday, increasing the total this week to 14 probable or suspected cases and this month to 80 probable cases. That's 1,198 probable cases reported since the state began tracking positive antigen tests and those who have a combination of symptoms and a known exposure to someone with COVID-19 without a more likely diagnosis. Although DSHS did note that one of the probable cases reported on Jan. 13 was an older case that has just been reported by the lab to DSHS.
Sixteen additional Hopkins County residents had recovered from COVID-19 on Jan. 13, for a total of 30 recoveries so far this week, 84 so far in January 2021. Cumulatively, 2,137 of the 2,458 Hopkins County residents who've had COVID-19 since March had recovered as of the DSHS Jan. 13 COVID-19 Case Counts update.
DSHS also showed another confirmed COVID-19 fatality for Hopkins County. That's 82 Hopkins County residents who died as a direct result of COVID-19. The latest death, according to the DSHS Jan. 13 COVID-19 County Trends dashboard occurred on Jan. 2, marking the second fatality on that date and the fourth this month: one death each also occurred on Jan. 3 and Jan. 5, according to DSHS reports. So far, 20 COVID-19 deaths have been recorded for December, but that number could still potentially rise as death certificates are filled and processed by the state.
That leaves 239 Hopkins County residents who Wednesday afternoon were reported to still actively have COVID-19.
Hospital Reports
HC/SSEM officials, in the Jan. 13 COVID-19 update, reported 24 patients in the COVID Unit at CHRISTUS Mother Frances Hospital-Sulphur Springs Wednesday, two more than were reported on Monday and Tuesday, but still seven less than were reported last Wednesday. The patient count in the COVID unit was at its highest reported level, 32 lab-confirmed COVID-19 patients, on Jan. 7 and 8.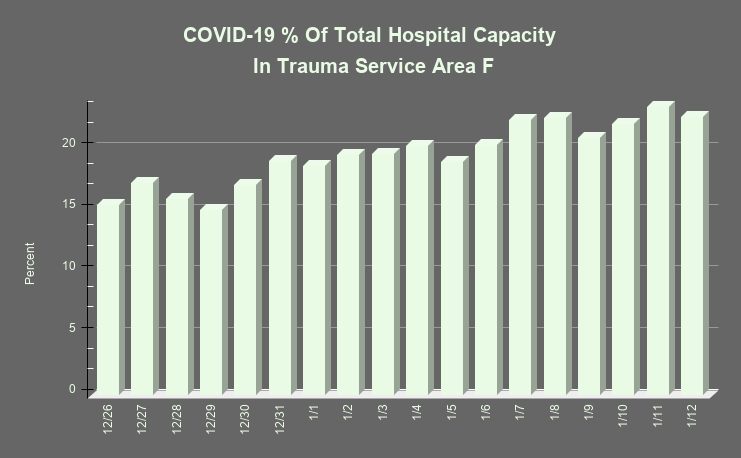 Although not quite as high as Jan. 11, Trauma Service Area F continued to have high hospitalizations. That is COVID-19 patients have continuously made up 15 percent or more of the overall hospital capacity in TSA-F since Dec. 26. Because COVID-19 hospitalizations exceeded the 15 percent threshold for more than 7 consecutive days, Trauma Service Area F has been subject to certain COVID-19 restrictions since Jan. 2, including requiring businesses in counties within the region that were allowed to open at 75 having to reduce capacity to 50 percent and halting all elective surgeries (except Delta, Morris and Red River Counties which have had less than 30 new confirmed COVID-19 cases in 14 days). TSAs must have seven consecutive days in which COVID-19 hospitalizations remained below the 15 percent threshold before businesses can reopen at 75 percent and elective surgeries can be performed again.
On Jan. 12, there were 231 COVID-19 hospitalizations, 10 less than on Jan. 11, but a dozen more than on Jan. 10. A total of 1,022 hospital beds staffed inpatient beds, in TSA-F on Jan. 12. Overall, there were 615 hospitalizations. That left only seven ICU beds, 315 general beds and 77 ventilators available on Jan. 12 in Trauma Service Area F hospitals.
Overall, COVID-19 hospitalizations made up 22.6 percent of the total hospital capacity in TSA-F on Jan. 12, down from 23.42 percent on Monday, but still 0.5 percent higher than on Sunday and 0.06 percent higher than on Jan. 8.
COVID-19 Testing And Vaccinations
HC/SSEM also in the Jan. 13 COVID-19 update reported a total of 7,934 COVID-19 tests have been performed at 128-A Jefferson Street since the Red Cross building was first utilized as a free testing location. That means 65 COVID-19 tests were performed on Jan. 12, about 10 less than the two previous days. That makes 390 oral swab tests performed in the last 7 days at the testing center and 966 in the last 2 weeks.
Cumulatively, DSHS' Jan. 13 COVID-19 Test and Hospital Data dashboard showed 15,708 COVID-19 tests have been performed in Hopkin County, including 12,66 viral (molecular) tests, 1,353 antigen tests and 1,686 antibody tests. Of those, six antibody tests and seven antigen tests were also conducted on Jan. 12.
Free oral swab (molecular) COVID-19 testing will continue to be offered from 9 a.m. to 6 p.m. Monday-Friday and from 9 a.m. to 5 p.m. Saturdays in January inside the Red Cross (old Fidelity Express Building) in Sulphur Springs. Free testing is open to anyone regardless of age or address. Registration is required online at www.GoGetTested.com in order to be tested at 128-A Jefferson Street in Sulphur Springs.
A total of 973 vaccinations have been administered in Hopkins County, including eight people who have received both doses of the vaccine.
Additional information about the COVID-19 vaccine, vaccine provider and hub locations map and contact information and the COVID-19 vaccine dashboard is available on the DSHS website.