The COVID-19 case count in Hopkins County continued to rise on Jan. 10 as did COVID-19 related fatalities, according to the Texas Department of State Health Services Jan. 10 COVID-19 Case Counts dashboard. The good news is that four additional recoveries were reported and a decrease not only in COVID-19 hospitalizatizations but in all hospitalizations in Trauma Service area F on Sunday. This is in sync with COVID-19 hospitalizations state-wide, which decreased from 13,935 on Saturday to 13,111 on Sunday.

According to DSHS' case counts dashboard, total of 2,415 COVID-19 cases have been reported for Hopkins County since March, that's 6.51 percent of Hopkins County's population who have had the virus.
On Sunday, DSHS reported a total of 1,229 Hopkins County residents had received positive molecular COVID-19 tests results since March, that means 12 additional Hopkins County residents were confirmed Sunday to thave the virus.
Another 1,186 Hopkins County residents have been considered to have probable cases of COVID-19 either through positive antigen test results or "or has a combination of symptoms and a known exposure to someone with COVID-19 without a more likely diagnosis." That means one additional probable COVID-19 case was reported on Sunday for a Hopkins County resident.
The DSHS Jan. 10 COVID-19 case counts dashboard also showed 79 COVID-19 fatalities for Hopkins County. That means another Hopkins County resident was confirmed by cause on death certificate to have died from COVID-19. That makes eight additional COVID-19 fatalities confirmed in the last 8 days; all except two deaths occurred in December, increasing the fatality total for December to 19.
The most recent Hopkins County COVID-19 deaths were reported to have occurred on Jan. 2 and 3; and Dec. 18, 19, 22, 24, 25, 29 and 31. Also confirmed for December were COVID-19 Hopkins County deaths on Dec. 1, 2, 6, 7, 8 and two deaths each on Dec. 14, Dec. 11 and Dec. 3, according to the DSHS Jan. 10 COVID-19 Fatalities Over Time By County report.

Cumulatively, 2,111 of the 2,415 Hopkins County residents reported to have COVID-19 had recovered as of Sunday. That's four additional recoveries on Sunday and 12 over the weekend.
Adjusting the count by adding the new cases and subtracting recoveries and deaths, that leaves 225 active COVID-19 cases in Hopkins County. That's eight more people who active had the virus on Sunday than on Saturday and 75 more active COVID-19 cases on Jan. 10 than last Sunday, Jan. 3.
The DSHS Dec. 10 COVID-19 Test and Hospital Data dashboard also showed not only a decrease in COVID-19 patients, but in hospitalizations overall in Trauma Service Area F which includes all of Northeast Texas west from Bowie County to Hopkins, with the exception of Franklin County, and north to the Oklahoma border.
DSHS reported only 184 COVID-19 hospitalizations, 881 staffed hospital beds, 804 staffed inpatient beds and 512 total hospitalizations. That's 56 fewer COVID-19 hospitalizations, 184 fewer total staffed beds and 169 fewer staffed inpatient beds and 145 total hospitalizations. That reduced the COVID-19 patient percent of total hospital capacity from 22.54 percent to 20.89 percent.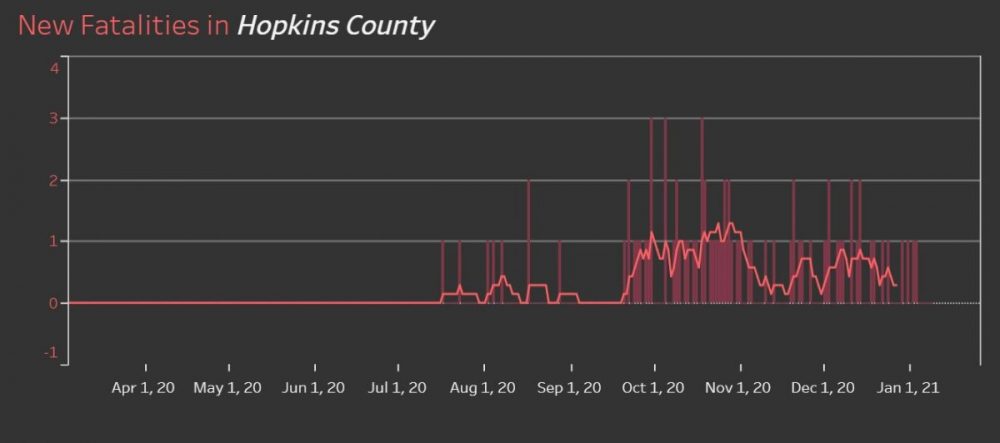 The number of available ICU beds doubled from Jan. 9 to Jan. 10, but there were still only six available throughout all of TSA-F. The number of available hospital beds reduced from 316 to 292 Sunday. The number of available ventilators was reduced from 72 on Saturday to 69 on Sunday.
A total of 109 new COVID-19 tests were conducted in Hopkins County on Saturday, increasing the total number of viral (molecular) tests conducted in Hopkins County to 12,377, antigen tests to 1,328 and antibody tests to 1,678. Overall, that's 15,383 COVID-19 tests that have been conducted in Hopkins County since March.
Sixty-six additional COVID-19 vaccines were administered in Hopkins County on Saturday, including one person who received the second dose of the COVID-19 vaccine, according to the DSHS Vaccine dashboard.
For additional information about COVID-19 vaccines, including a map of providers, can be accessed on the DSHS COVID-19 main page or by clicking here.