Less than 1 month after suspending all online learning, Yantis ISD announced the decision to close all school campuses and switch to virtual learning until after Thanksgiving as a COVID-19 precaution.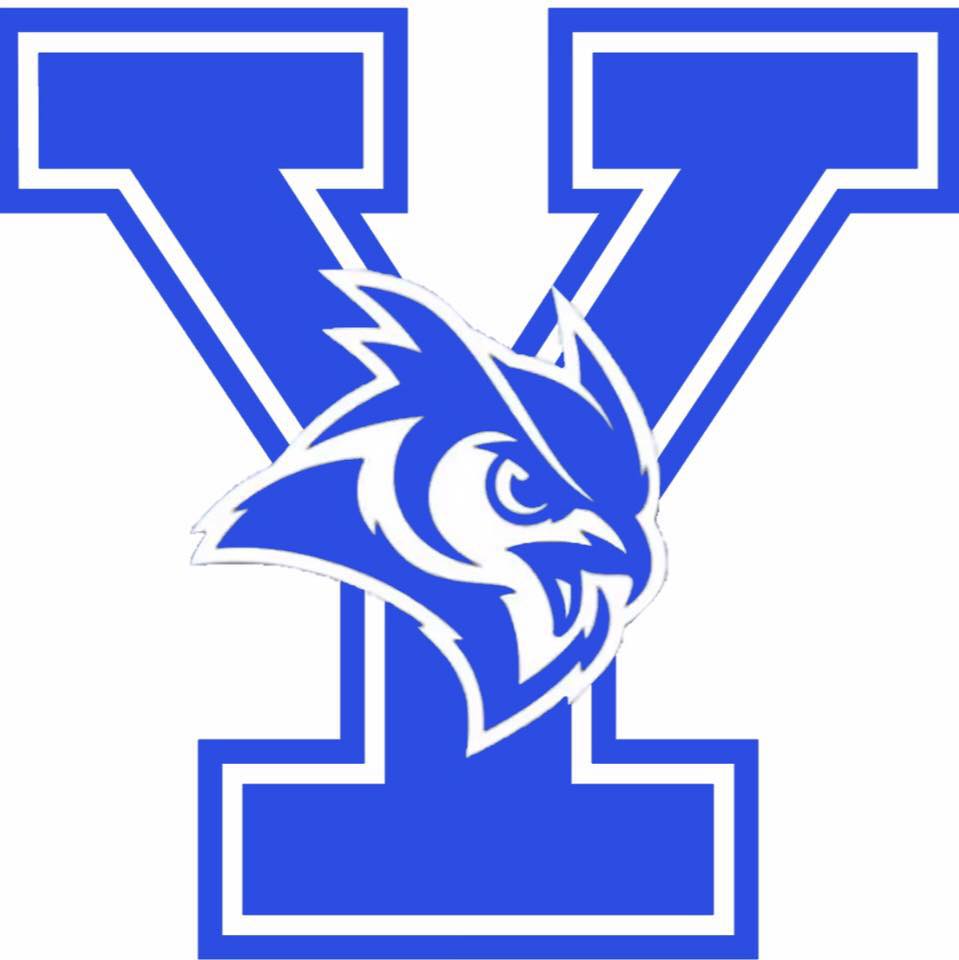 Yantis ISD Superintendent Tracey Helfferich cited the effectiveness of face-to-face instruction compared to online learning, and the stress of the extra workload for staff in an Oct. 13 letter notifying ISD families that the district would be suspending online learning starting Oct. 16. Some remote learners had already begun returning to campus for face-to-face instruction. Overall, 28 percent of students enrolled in the online learning program were failing at least one class at the end of the first 9 weeks of school, Helfferich noted.
According to the Nov. 5 TEA/DSHS public schools COVID-19 case report, Yantis ISD had 1 new active case of COVID-19 among staff that was contracted off-campus during the week of Oct. 26-Nov. 1. Previously, YISD had reported 1 elementary student and 2 staff had tested positive for COVID-19, with the source of infection for all 4 cases off campus.
Last Thursday, Nov. 5, Helfferich also notified parents and guardians that two elementary staff members had received lab-confirmed positive COVID-19 results. One YISD employee was reported to have last been on the campus Oct. 21 and the other Oct. 30. The superintendent noted that daily cleaning and additional procedures in classrooms continued, but reminded of the need for face coverings and social distancing to help limit potential for spread of the virus.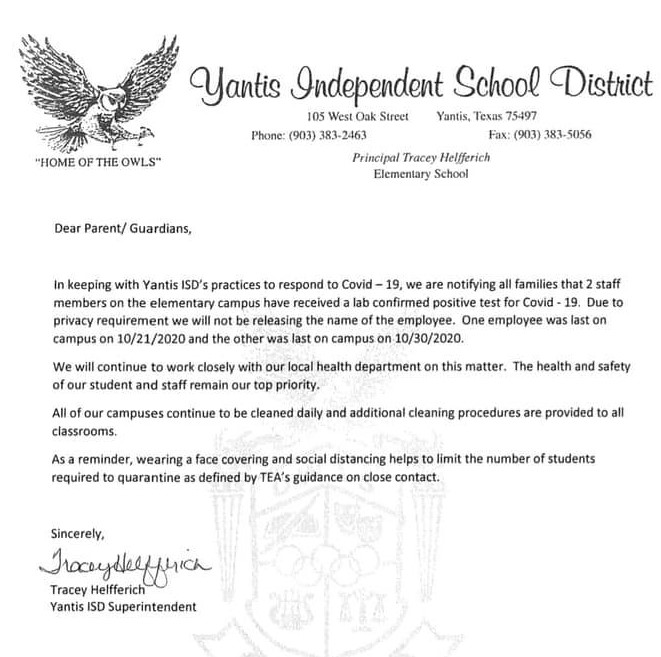 Around 10:30 a.m. Wednesday, Nov. 11, Helfferich posted a notice to parents and guardians on the school Facebook page that the entire district would be switching to all virtual learning starting today (Nov. 12) and continuing through Nov. 30.
"This is a decision that was not made lightly and with the advisement of TEA and the Health Dept. we will transition to online learning beginning tomorrow. We will return after Thanksgiving Break on Monday, November 30. If you have questions please call the campus offices. PLEASE keep it positive for us all during this difficult time," administrators posted on the Yantis ISD Facebook page on Nov. 11.
The superintendent's Nov. 10 letter to parents and guardians cites the decision to close all campuses Nov. 11-12 and Nov. 16-20 was made out "out of an abundance of caution. Campuses were already scheduled to be closed Nov. 23-26 for Thanksgiving. Being closed 12 days should help contain the spread of the Covid-19 virus" and "better ensure the heal and safety of our children, staff, and the Yantis community."
The school will be deep cleansed and sanitized during the campus class closure, in readiness for the re-opening of face-to-face classes on Nov. 30. Students began working virtually Nov. 11 from school, then were to remain off campus working on lessons virtually until after the Thanksgiving break, according to Helfferich.
A one-time lunch pick up as scheduled from 10:30 a.m. to noon Nov. 12 behind the school cafeteria, to allow families to obtain enough school meals to cover the days YISD is closed due to COVID-19.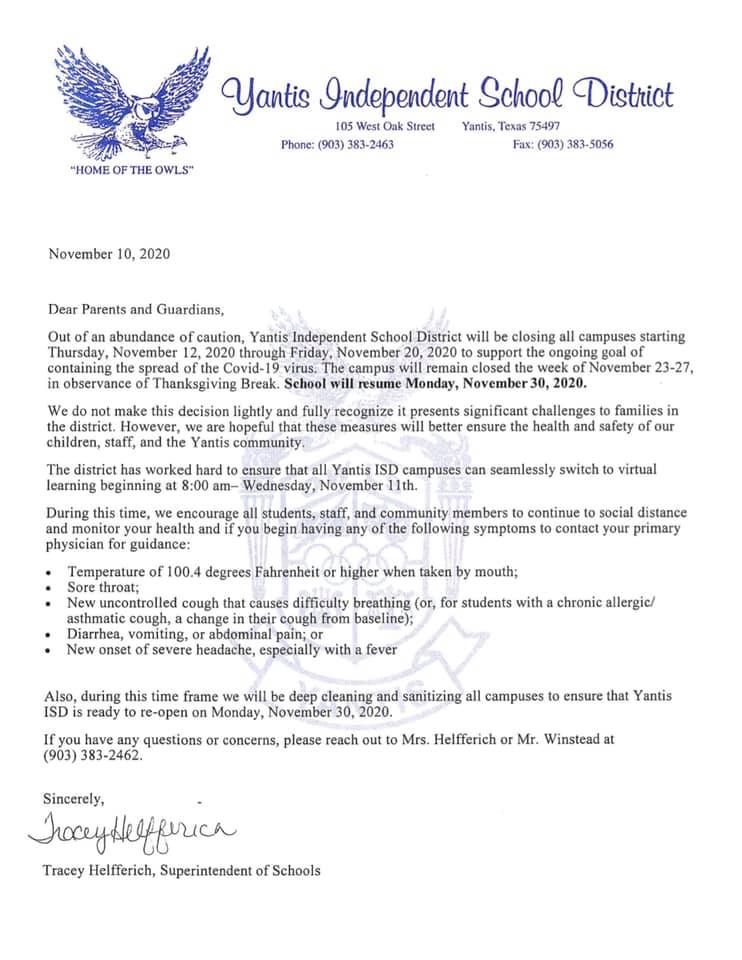 ---