A new record was set over the last week for number of new positive COVID-19 cases, with 26 new cases reported as of the regular Hopkins County COVID-19 testing report prepared by Hopkins County Hospital District COO/EMS Director Brent Smith at 10:30 a.m. July 17.
However, as was the case 1 week ago, that number, had increased within a few hours of the July 17 report, with the announcement of additional cases by Hopkins County Emergency Management Team. Two additional cases were announced after the testing report on July 10, which covered 8 days. Seven additional new positive COVID-19 cases were reported July 17, which increases the total number of new cases reported over the last 7 days to 33.
That brought the overall cumulative total of cases reported in Hopkins County since March to 107 at 10:30 a.m., then to 114 at 5 p.m. Friday, July 17.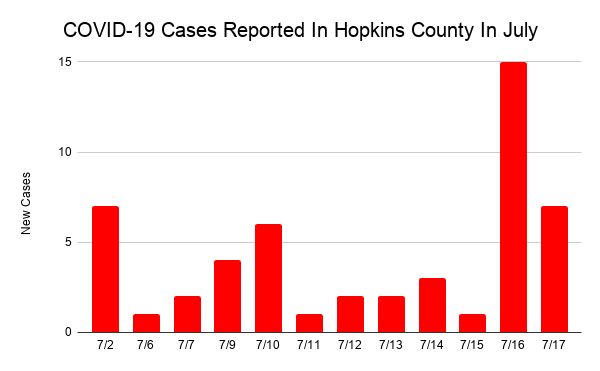 July has been a whopper of a month for COVID-19 in Hopkins County, with nearly half of the cumulative positive COVID-19 cases reported in July, and there are still 14 days left in the month.
July 17th was the 9th consecutive day in which new COVID-19 cases have been reported for Hopkins County, and at least the 12th day so far this month that new cases have been reported.
July 10-17 also marked the third straight testing report period and fourth overall in which new COVID-19 case totals reach double digits were recorded:
While cases increased significantly over the last 7 days, so did the numbers of people tested and negative test results. An additional 312 test results were negative for COVID-19. That's 1,362 of the overall 1,573 COVID-19 tests conducted since March with negative results, compared to 107 (144 counting the 7 announced late Friday) positive tests.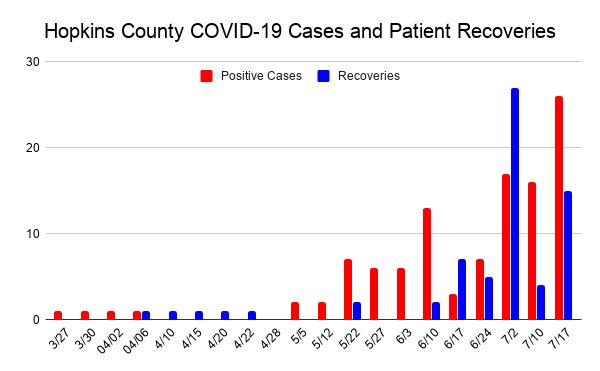 Also, 15 Hopkins County residents are reported to have recovered from COVID-19 over the last 7 days. That includes one day this week in which 14 Hopkins County resident were reported to have recovered from COVID-19, based on CDC guidelines which have been verified by the Local Health Authority. That brings the total of Hopkins County residents who have recovered from COVID-19 to 66. That left 48 active cases of COVDI-19 in Hopkins County at 5 p.m. Friday, July 17.
Another 61 Hopkins County residents were screened and their samples were sent for testing over the last 7 days, for a total of 1,573 tests reported by the "majority of health care partners in Hopkins County" to have been conducted over the past 124 days.
That leaves 104 test results pending as of 10:30 a.m. July 17, which is 277 fewer pending cases than last week when several were awaiting results of free testing conducted that Wednesday, according to the information presented in Smith's July 17 testing report.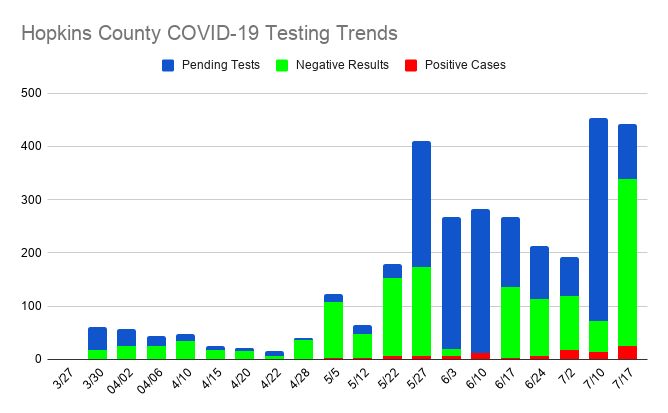 There have still been no deaths of Hopkins County residents due to COVID-19 during the pandemic, according to the data and local emergency management officials.
On each of four occasions a death has been reported for Hopkins County on Texas Department of State Health Services/Texas Health and Human Services' COVID-19 dashboard, but all four were challenged by local officials and subtracted from Hopkins County's tallies. A June 20 COVID-19 death report was challenged by the Local Health Authority and attributed to an underlying health condition and a second on June 21 was found to be a duplicate of the first report; the two others were errors on the part of the state, the HCEMT has reported. At least twice, the state also erroneously assigned new cases to Hopkins County, according to HCEMT and the DSHS/HHS data reports.
With the number of cases continuing to increase, Smith and members of the HCEMT urge residents to continue practicing social distancing and proper hand washing. Residents are reminded that masks or other covering for the nose and mouth are required for everyone while in public or when the 6 foot social distance cannot be observed, according to Governor Greg Abbott's Executive Order 29.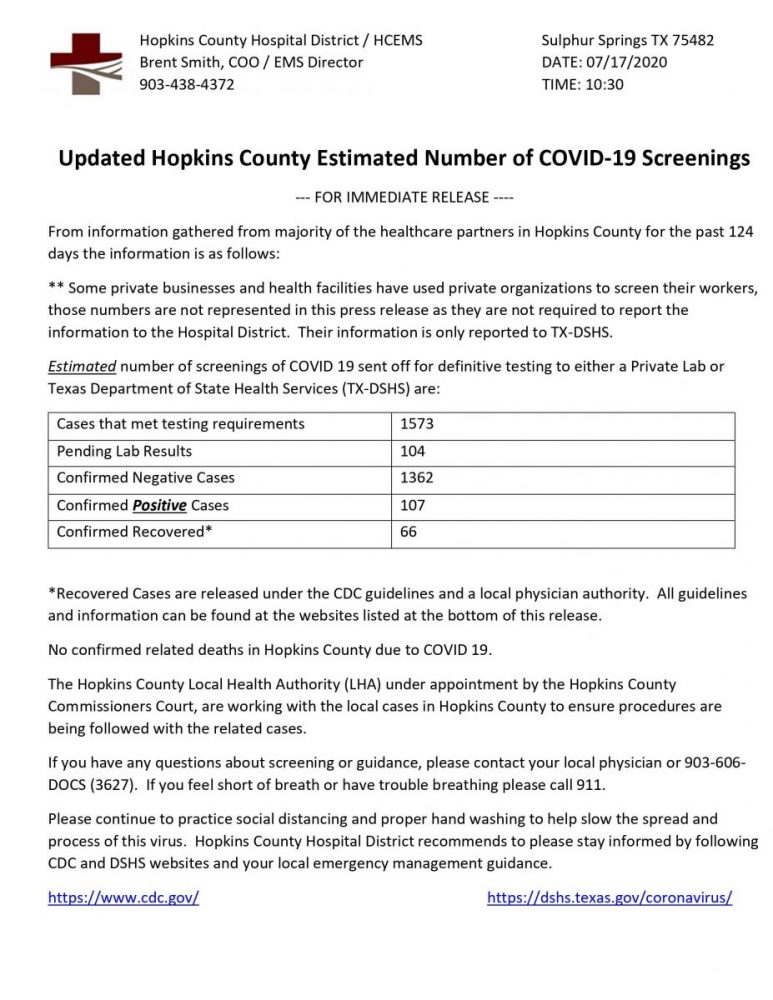 ---