Hopkins County saw a surge in COVID-19 cases over the last 8 days with 17 additional COVID-19 cases recorded since June 24, according to data compiled by Hopkins County Hospital District/EMS COO Brent Smith at 5:30 p.m. July 2 and posted around 11 p.m. July 2 on the Hopkins County Emergency Management Facebook page.
Of the 67 confirmed cases, 15 were reported week, 8 on June 30 and 7 July 2, and one each of June 25 and 26. That's the largest increase in positive COVID-19 cases during a single testing report period since the pandemic began in march. That surpasses the June 3-10 when the record for most cases in a test reporting period was set at 13 new positive COVID-19 cases Overall, during the weekly reporting periods, Hopkins County saw an increase of 17 new cases during May, 39 in June and 7 so far in July.
While that's a significant increase for Hopkins County, where only 4 cases had been reported and all had recovered by the end of April, positive results account for 5.9 percent of the total 1,131 COVID-19 tests conducted through July 2, according to the testing data compiled by Smith. Overall, that's a 1.2 percent increase in positive cases over the last 8 days.
While positive cases went up, so did screenings and the number of negative test results. Over the last 8 days, while 17 tests were positive, another 102 test results have come back negative. That's a total of 991 tests negative for COVID-19 for Hopkins County residents since March.
Another 73 met people criteria for screening; their samples sent for testing after the June 24 testing report, for a total of 1,131 tests reported by the "majority of health care partners in Hopkins County" to have been conducted over the past 109 days.
Notable is that some private businesses and health facilities that use private organizations to screen workers and are not required to report those screening numbers to the hospital district. Those private screening counts are reported to DSHS and not included in the weekly screening report from the hospital district, according to Smith.
That leaves only 73 test results still pending for Hopkins County at 5:30 p.m. July 2, 26 fewer pending than the week before.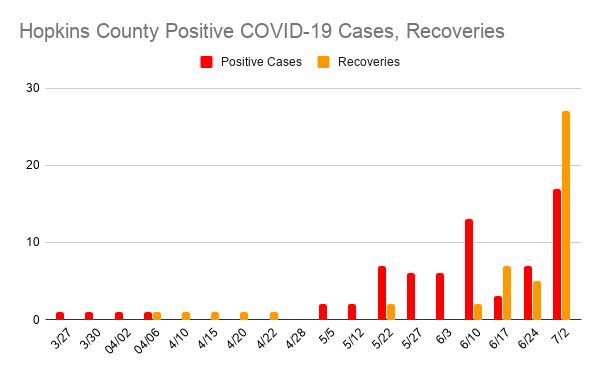 The number of recoveries outpaced new cases during the past 8 days, with 27 additional Hopkins County residents reported to have recovered from COVID-19, for a total of 47 recoveries so far, according to the HCHD/EMS testing data. Recoveries are released according to the Centers for Disease Control guidelines and a local physician authority, according to Smith.
There have still been no deaths of Hopkins County residents due to COVID-19 during the pandemic, according to the data and local emergency management officials.
Because Hopkins County had only 20 active COVID-19 cases as of July 2, Hopkins County Judge Robert Newsom submitted an application to Texas Department of Emergency Management asking for Hopkins County to be exempt from Governor's Executive Order GA-29, which requires face covering for all people out in the public. However, county emergency management officials do still encourage people to wear face masks, practice social distancing as
Smith and local health officials urge everyone to continue practicing social distancing and proper hand washing.
Local residents are reminded of Governor Abbott's July 2 proclamation amending GA-28, which was issued on June 26. The proclamation stipulates that most outdoor gatherings in excess of 10 people, unless approved under specified exceptions by a city mayor or county judge for an unincorporated area, are prohibited. Also, people shall not be in groups larger than 10 and shall maintain six feet of social distancing from those not in their group, unless the gathering meets the exception stipulated in the executive order or in the minimum standard health protocols recommended by DSHS, found at www.dshs.texas.gov/coronavirus.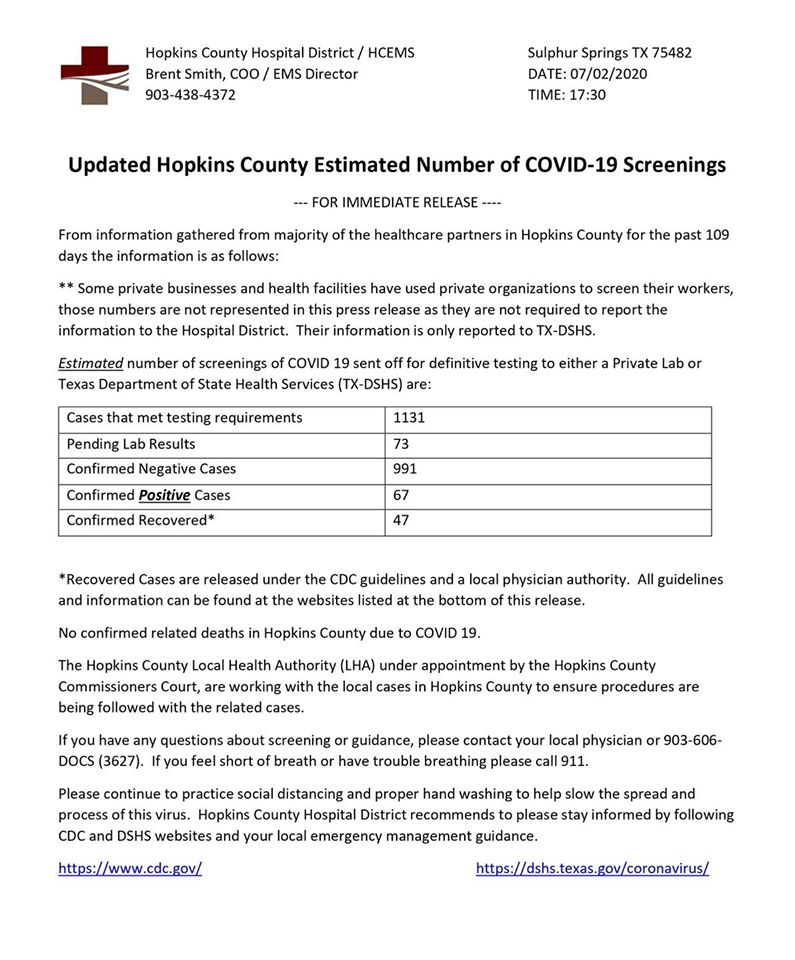 ---