Over the last 8 days, there have been 381 additional tests conducted for Hopkins County residents; 16 tests results were positive and 59 negative for COVID-19, according to data reported by Hopkins County Emergency Management officials and the weekly Hopkins County COVID-19 testing updates provided by Hopkins County Hospital District COO/EMS Director Brent Smith.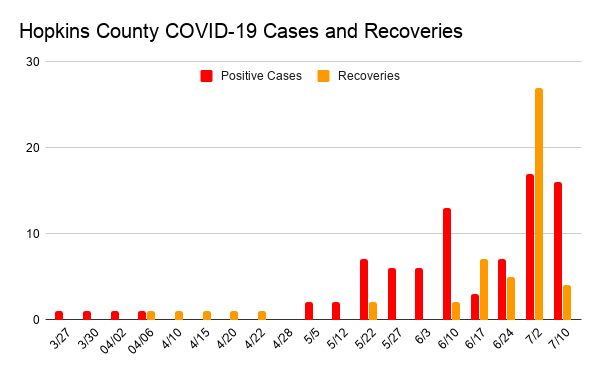 Ten of the 16 positive cases announced this last week were reported in the last 2 days, 4 cases on July 9 and 6 cases on July 10. Two of the cases reported July 10 were also announced after Smith's update, which included reports through 4:15 p.m. Friday, July 10.
July 2-10 was one of only 3 testing periods in which more than 10 cases were recorded, 13 cases were reported from June 3 to June 10 and 17 cases from June 24 to July 2.
June 17-24 testing report period, and brings the overall total number of cases reported in Hopkins County since March to 83 as of 7:30 p.m. Friday.
While the new positive cases July 2-10 is four times the total cases reported throughout March and April, the 83 positive tests announced in Hopkins County since March account for only 5.49 percent of the total 1512 COVID-19 tests conducted through July 10, according to the testing data provided by Smith and HCEM officials.
While positive cases went up, so did screenings and the number of negative test results. Over the last 8 days, 59 test results have come back negative. That's a total of 1,050 tests negative for COVID-19 for Hopkins County residents since March.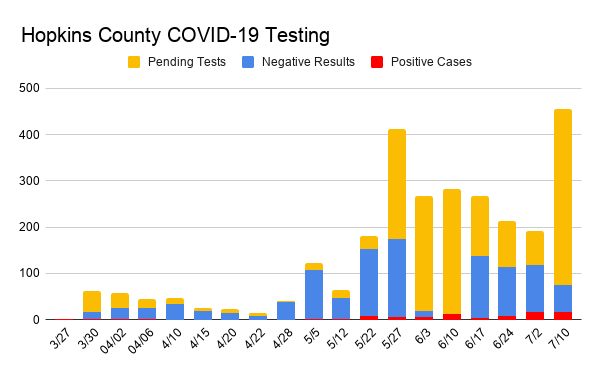 Another 381 people were screened and their samples were sent for testing after the July 2 testing report, for a total of 1,512 tests reported by the "majority of health care partners in Hopkins County" to have been conducted over the past 117 days.
Notable is that some private businesses and health facilities that use private organizations to screen workers and are not required to report those screening numbers to the hospital district. Those private screening counts are reported to DSHS and not included in the weekly screening report from the hospital district, according to Smith.
Four recoveries were reported during the past 8 days, 23 fewer than the previous reporting period. Overall, that's 51 Hopkins County residents who have recovered from COVID-19 so far, according to the HCHD/EMS testing data. Recoveries are released according to the Centers for Disease Control guidelines and a local physician authority, according to Smith.
There have still been no deaths of Hopkins County residents due to COVID-19 during the pandemic, according to the data and local emergency management officials.
Questions about screening or for guidance, should be directed to a local physician or call 903-606- DOCS (3627). Anyone who feels short of breath or who has trouble breathing is recommended to call 911.
Additional information about COVID-19 may be found on the Centers for Disease Control's website (https://www.cdc.gov/), Texas Department of Health and Human Services website (https://dshs.texas.gov/coronavirus/), or the Hopkins County Emergency Management COVID-19 website or the Hopkins County, Texas Emergency Management Facebook page.