Hopkins County as of 11:25 a.m. Friday, April 10, had received no additional reports of confirmed positive cases of novel coronavirus 2019 have been reported for Hopkins County, but 32 additional test results have come back negative, according to Hopkins County Hospital District CCO/EMS Director Brent Smith in his regular Hopkins County COVID-19 update.
Hopkins County Update
Hopkins County has managed to weather the week a little better than some of the nearby counties, where positive case numbers have continued to climb. As of Friday morning, Hopkins County still had only four confirmed positive cases of COVID-19. Positive cases were reported on March 27, March 29, March 30 and April 4.
The four positive cases are presumed by local emergency management officials to be community spread. All four entered isolation. One of the individuals who tested positive has recovered from COVID-19; there also had been no COVID-19 related deaths either, according to the HCHD/EMS report.
No additional details were released about the Hopkins County individuals who tested positive per state health officials, who cited HIPPA for not releasing other demographics, the Hopkins County Emergency Management Team and hospital officials report.
Overall, Smith reports an estimated 114 potential cases met testing requirements set by Texas Department of State Health Services and the Centers for Disease Control, with tests sent off for definitive testing at either a private lab or Texas DSHS. Of those, a total 97 screened cases have been confirmed negative for COVID-19 for Hopkins County, up from 65 on April 6.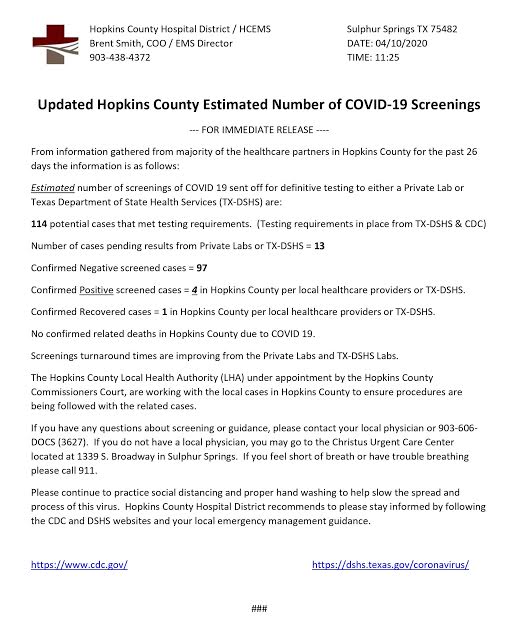 Texas Update
Across the state, 115,918 people have been tested for COVID-19, up from 85,357 tests on April 6. The total number of positive cases rose from 7,276 as of Monday's report to 11,671 positive cases as of Friday's report. Overall, 226 COVID-19 or related deaths have been reported, up from 140 as of the April 6 report. DSHS and Texas Health and Human Services, like Hopkins County, is beginning to receive confirmed reports of people recovering from COVID-19 as well; 1,366 patients had recovered as of the the noon report on April 10.
In Northeast Texas, Red River and Marion are the only two counties which did not have confirmed COVID-19 cases as of the April 10 noon reporting, according to DSHS and DHHS reports.
Smith and CHRISTUS Mother Frances Hospital-Sulphur Springs officials both this week reported screening turnaround times are improving from private labs and the DSHS labs.
In order to helps slow the spread of COVID-19 in Hopkins County, emergency management officials urge everyone to continue practicing social distancing and proper hand washing.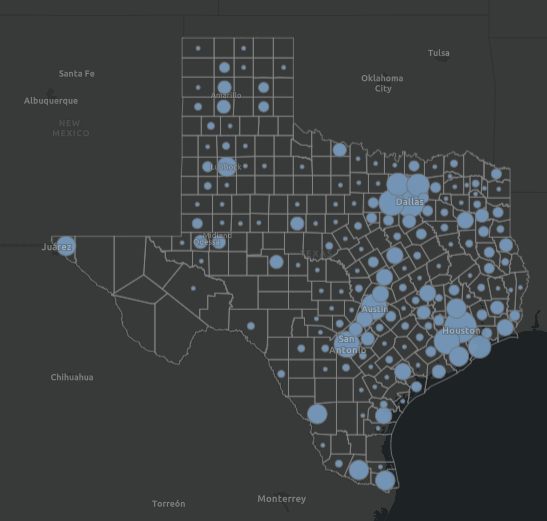 ---