Hospital Officials: COVID-19 Test Results Are Coming Back Quicker
During a meeting with Hopkins County Emergency Management Team Wednesday, CHRISTUS Mother Frances Hospital-Sulphur Springs officials gave an COVID-19 update which included information on hospital preparedness, COVID-19 testing and wait times, and reporting.
Hospital Preparedness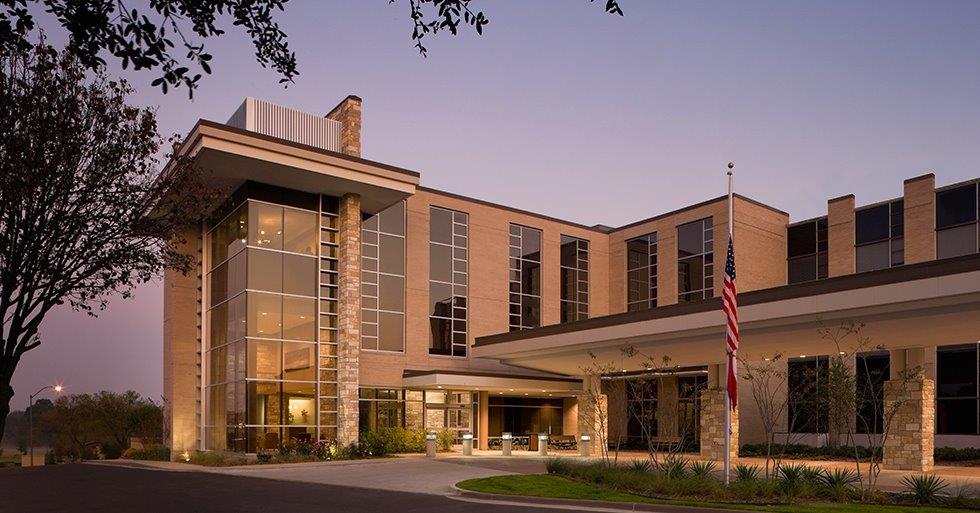 "It is a safe place to come and get your care at hospital and in the clinic," CMFH-SS CEO Paul Harvey said. "Our number one goal is to provide a safe place to have care in Hopkins County."
While some places across the state or nation may be reporting shortages, Harvey said CMFH-SS has plenty of beds available to treat COVID-19 patients as well as other patients. The hospital has 96 licensed beds, and has 77 beds available at any time for medical surgical, ICU or COVID-19 patients in Northeast Texas. The facility also have ventilators available.
Harvey and Dr. Martin Fielder, chief medical officer for CMFH-SS, report the hospital and clinic are ready to "take on any surge" in COVID-19 patients, if it were to come to that. In anticipation of the COVID-19 pandemic, the hospital has converted the ICU into a COVID 19 unit that is "set up to be completely isolated from the rest of the hospital." ICU has been moved. They report the CHRISTUS hospital and clinic have the ventilator capacity and staff to be able to take on that type of a surge. Different PPE is designated to care for COVID-19 patients for the safety of all patients and associates.
Fielder said the hospital is also now beginning to reschedule patients whose care was delayed at the outset of the pandemic as a precaution.
"We are reading the environment and adapting to the situation. We are able to meet many needs in a safe area. Our infection control specialists are on top of this," Fielder said.
He clarified that these may include surgeries and procedures that are needed, but did not have to be performed immediately. CHRISTUS facilties will continue to adapt along with the COVID-19 situational changes. CMFH-SS and clinic operates utilizing guidance from the corporate Irving and Regional Tyler offices.
Other outpatient care has moved to video and telephone visits, when possible, for both specialist and primary care. This is an added safety measure in keeping with state, federal and local guidelines. This has proved especially helpful for those patients who might feel uncomfortable going out during these times.
Speed of Results, Testing Process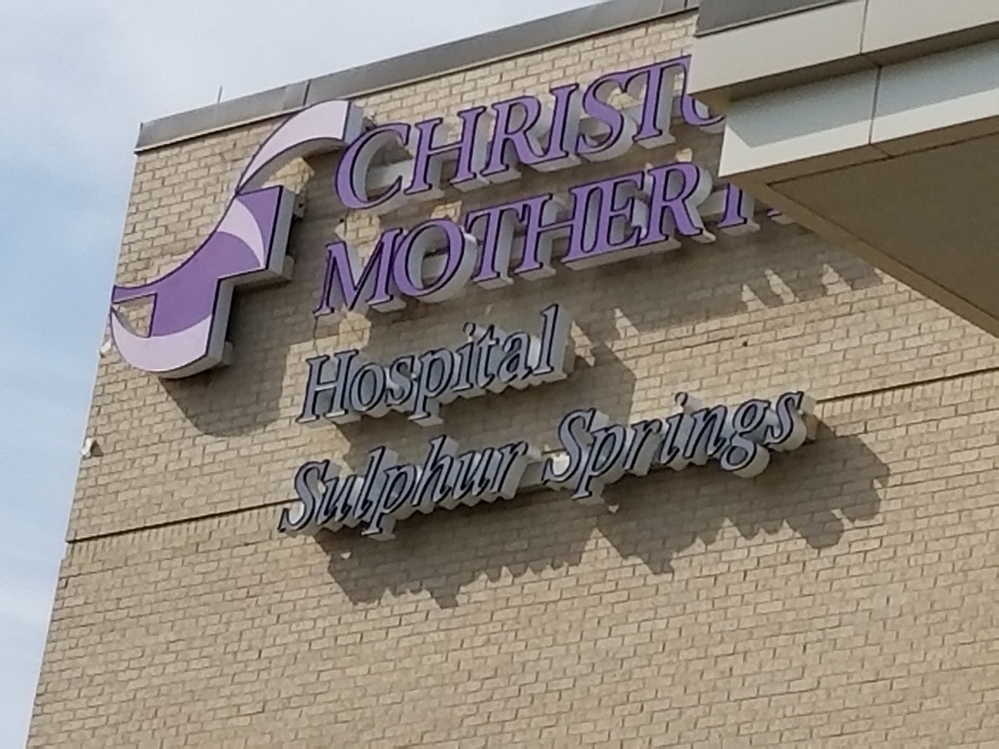 Dr. Fielder said exciting news from a testing standpoint is that testing for COVID-19 has shorter results times, especially if the test is done at a hospital.
Testing continues be conducted on a priority basis as outlined by the Centers for Disease Control on outpatient basis and inpatient basis. Testing from CHRISTUS labs are going to the labs in Tyler, which means a faster turnaround time. Tests taken "in-house" are coming back within a day.
CHRISTUS is working to get more test kits and cartridges to conduct more tests. Testing should soon be moving to blood testing, which are antibody testing. Fielder said he hopes to have this testing in the CMF hospital soon. That could mean results in hours instead of days.
"We are starting to antibody test as of today, which will speed up results within hours. I'm not sure the exact time frame when we'll have that in Sulphur springs, but I expect within the week or early part of next week," Fielder said.
Antibody tests can detected IGM and IGG. IGM results show early infestation, and IGG shows later infection and may stay positive for an extended period of time, according to Fielder.
The number of people who can be tested varies daily based on availability of swabs and test kits. Initially, individuals were tested using both.
Hopkins County Hospital District COO/Director of EMS Brent Smith, when asked, said he does not foresee EMS performing COVID-19 testing, unless standards change.
"We aren't certified to perform tests, because of the sterilization process involved," Smith said.
Who Gets Tested
Individuals continue to be tested based on the three levels of criteria established by the CDC and Texas Department of State Health Services.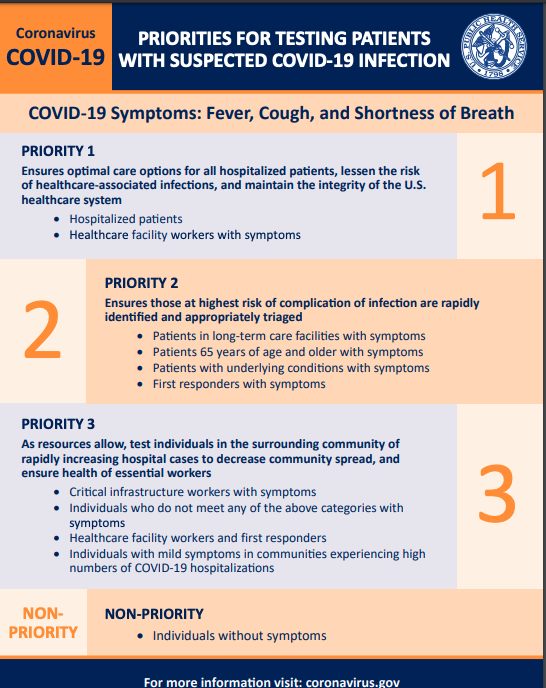 Health care providers make a judgement call on who is tested based on where the individual falls in the three categories, according to Fielder.
The most common symptoms include fever, shortness of breath, a deep cough that is typically considered pneumonia.
Test numbers
Hopkins County as of 3 p.m. continues to have only four confirmed positive COVID-19 cases, with one of those four individuals reported to have recovered from novel coronavirus. Positive cases represent people whose address is Hopkins County, and whose case has been reported to the state health authorities, the CHRISTUS and HDEMT officials reported.
Thus, this does not necessarily reflect the number of cases tested in Hopkins County. If a person who lives outside of Hopkins County is tested at a Sulphur Springs facility and has a positive result for COVID-19 and is treated in Hopkins County, that positive case will be attributed to the county in which lives. That's the way the state is handling information.
At this time, no additional details will be released about COVID-19 patients; this is to protect their privacy and follow HIPPA guidelines and procedures of the department of health and health authority in an area. Because of the legal patient protection rights, officials are limited in information they receive and are able to release.
Testing counts are being provided by healthcare partners to Smith, who is reporting confirmed information.
"Some other counties are covered by a public health department. IT's a Different process with DSHS. We have a local health authority. We receive limited information. It boils down to manpower, what information is allowed to be shared from different health authorities. It's a complex web. DSHS is over all of it," Smith said.
Because some areas of the community are so small, giving an age and community of residence could potentially identify an individual.
The officials said as new health processes are implemented and the situation continues to evolve, it's possible the local health authority may be able to release some demographics in the near future, Smith said.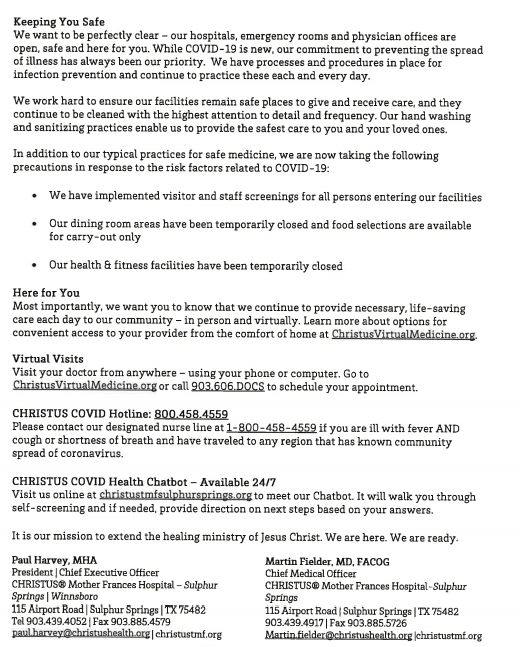 ---