Hopkins County Judge Robert Newsom today extended the disaster declaration for Hopkins County to match the Executive Order issued by Governor Greg Abbott due to COVID-19 on Tuesday. Hopkins County Emergency Management Team during their COVID-19 update clarified the order stay at home and stay safe order, which is different than a shelter at home order.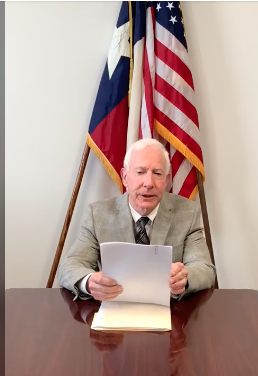 While the Governor's Executive Order goes into effect at 11:59 p.m. tonight (April 1), the county disaster declaration is effective immediately and will remain in place for seven days or until Hopkins County Commissioners Court approves or changes it during a meeting; they are expected to meet as usual next Monday, April 6, to consider officially extending the declaration.
"It basically follows everything the Governor said yesterday afternoon. Anything the Governor said in his words are put into our words. It is not called a shelter in place order. It is a stay home, stay safe order. That means people are to stay at home unless performing essential activities. We are following what he said, but more specifically and up front from the way he did," Judge Robert Newsom said Wednesday afternoon.
"The Governor asked to quit using 'shelter in place' That is for an immediate disaster, like a tornado. That's something that can be told over the radio or TV, as a way communicate the need to immediately take shelter. This is a stay home order for everyone except essential services and activities," Hopkins County Emergency Management Coordinator Andy Endsley said.
Essential services, according to the Governor's order, specifically include: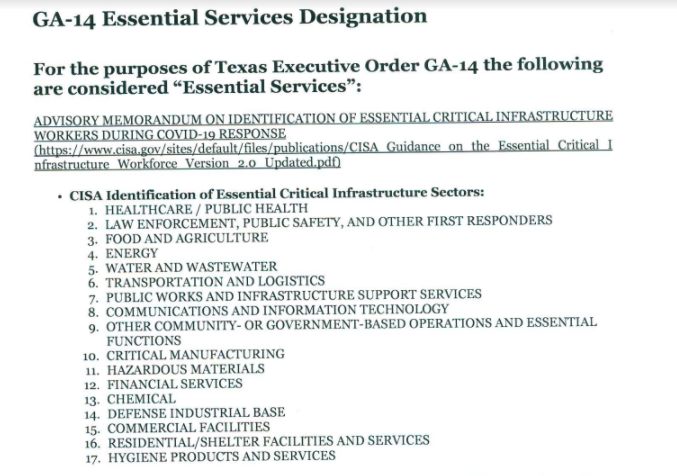 Tattoo and piercing studios, and cosmetology salons were added to the list of nonessential businesses cited in the Governor's order which are to remain closed during the stay at home order, in keeping with CDC and the President's guidelines.
Hopkins County Sheriff's Chief Deputy Tanner Crump said as far as compliance goes regarding essential businesses, it will be up to the business employer to issue letters or work application designating their employees as essential. The employees can attach the essential services designation to show if asked about their travels in the community.
According to Hopkins County Sheriff's Chief Deputy Tanner Crump, as far as enforcement goes, the executive order stipulates not following the stay at home, stay safe guidelines could be punishable by fine or warrant. Hopkins County officials will take the "appropriate action" needed to keep citizens safe.
The HCEMT noted the Governor did address religious services, as being essential, but also called for them to follow CDC guidelines regarding gatherings of more than 10. Abbot encouraged people to use think teleconferencing, radio or video when possible, the officials pointed out. Newsom said he thinks people in Hopkins County are doing that well.
The officials said a prayer vigil like the one planned April 5 from 8-8:30p.m. in Sulphur Springs High School parking lot meet the terms outlined by the Governor. Provided everyone stays in their individual vehicles to pray together such gatherings are OK, as is turning on the vehicle's hazard lights to show participation.
All infrastructure and critical services will continue to be provided in the city. Sulphur Springs city parks will also remain open.
Sulphur Springs city and county government will continue to operate, but lobbies will continue to be closed for the duration of the order.
City government meetings such as next Tuesday's regular City Council meeting will be conducted via Zoom, with access for the community to view online and a means to communicate comments as appropriate. Additional information about that will be included with meeting agendas, City Manager Marc Maxwell reported earlier Wednesday.
County Commissioners court meetings tend to have smaller attendance, and at this time will continue to be held on the normal dates and locations. Those needing to attend should contact the judge's office to be admitted to the courthouse, according to Newsom.
Endsley emphasized the importance of social distancing and staying home as a means to reduce spread of Coronavirus.
"Social distancing is the key to this whole situation. Scientists around the world and the CDC are trying figure this out. Social distancing is proven to work," Endsley said.
As of noon today, Hopkins County still only had three confirmed positive cases of COVID-19. Hopkins County Hospital District/EMS this week reported 62 potential cases meeting the criteria for testing; 16 had come back as negative; three were positive; and the rest are still pending. It's taking about 10 business days for testing results.
Watch Newsom discuss the declaration and other COVID-19 related information at Hopkins County, Texas Emergency Management Facebook page.
COVID-19 related questions may be emailed to HCEMT at [email protected]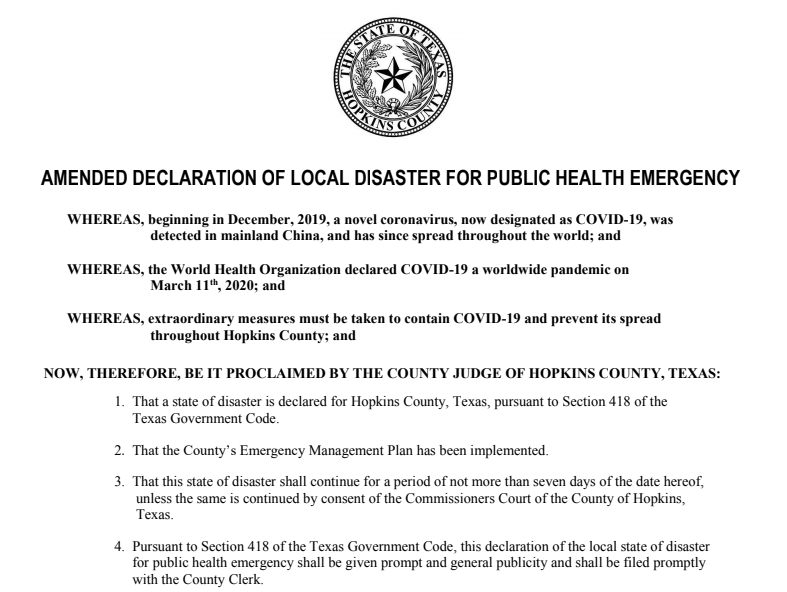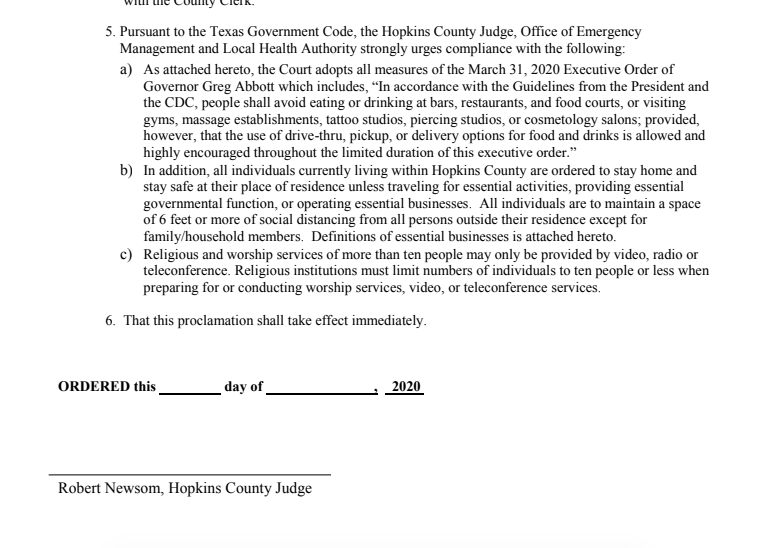 ---