The county judge has updated the disaster declaration to match the Governor's April 17 orders regarding COVID-19 measures. This marks the second time that the judge has amended the local local public health emergency disaster declaration.
Hopkins County Judge Robert Newsom said the order won't mean many changes for Hopkins County, aside from those awaiting certain medical procedures.
"The elective surgeries opening up on Wednesday should be a blessing to patients, doctors, nurses and our hospital," Newsom said.
The amendment is the second one made by the judge, and will remain in effect for 7 days. The county judge, Emergency management team and local health authority, however, urge Hopkins County Commissioners Court to adopt the Executive Order issued By Governor Greg Abbott on April 17.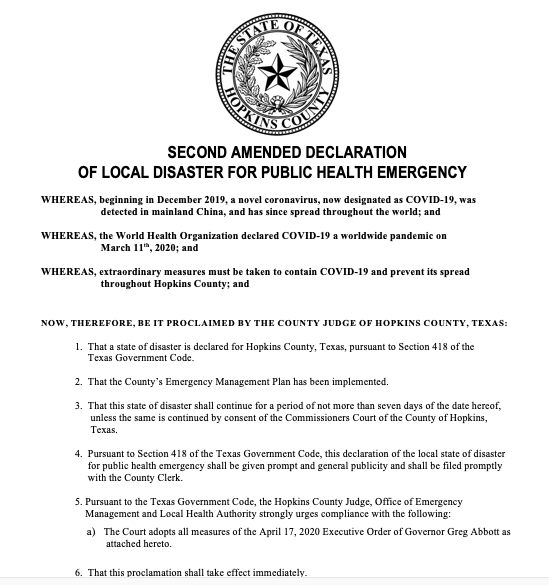 The Governor issued more than one orders April 17, including one creating a strike force who will "advise the governor on safely and strategically restarting and revitalizing all aspects of the Lone Star State—work, school, entertainment, and culture."
One order issued last week requires all schools in Texas to remain closed through the end of the 2019-2020 school year. However, teachers and staff can return to schools to conduct remote video instruction and perform administrative duties under certain restrictions.
Many schools are trying to figure out ways to honor seniors and other award recipients, while maintaining social distancing guidelines and state and national orders enacted due to the COVID-19 pandemic. Sulphur Springs ISD Board of Trustees are slated to discuss COVID-19 related matters at their next meeting, to be conducted at 6 p.m. tonight (April 20) via Zoom.
More than 1 million unemployment claims have been made by Texans who at least temporarily lost their jobs due to COVID-19 measures implemented at the national, state and local levels. This should allow some of those individuals to return to work.
Retail businesses will be among the first step in reopening business in Texas, according to the governor and president's plans to reopen the economy. Retail businesses starting Friday, April 24, can reopen for "pick-up and delivery services."
Several local businesses have been operating in this fashion, thanks to the locked business clause added in the disaster designation approved by Hopkins County Commissioners Court on April 6.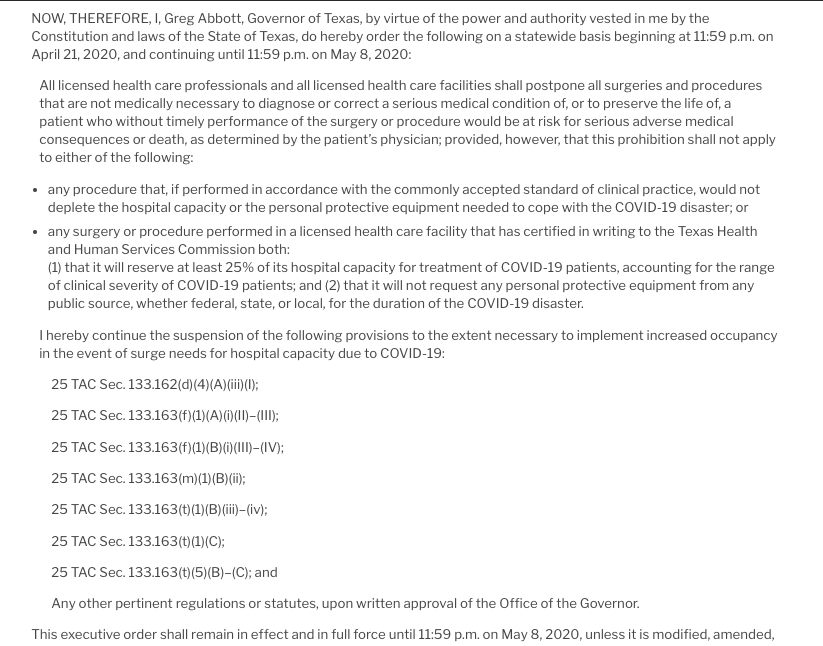 ---