Hopkins County Commissioners Court Monday agreed to extend the Hopkins County health emergency disaster declaration due to COVID-19 through the end of the month, with one additional item added to the declaration, Monday morning.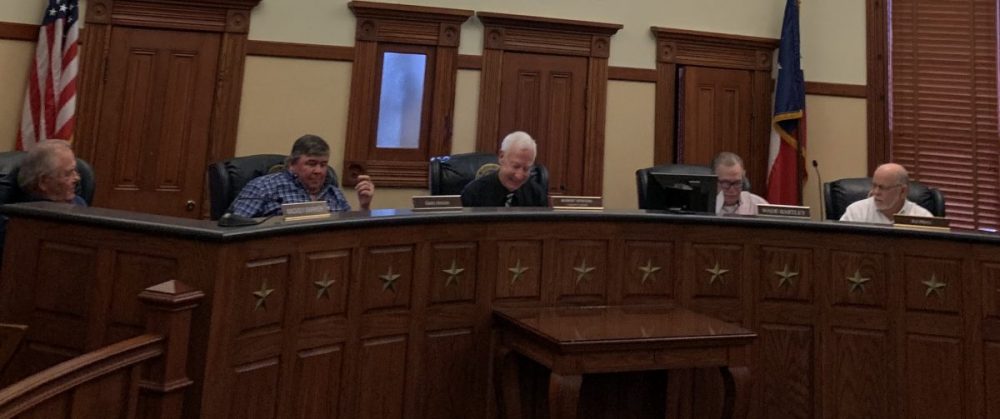 Hopkins County Judge Robert Newsom April 1 enacted an emergency order with terms to fit the Executive Order issued March 31 by Governor Greg Abbott, with "exceptions added to make it clearer.
The April 6 order proposed to the Commissioners Court on Monday included a "locked business" exception to the stay at home, stay safe, essential business and activity order.
A locked door business, according to the 13-page document provided to cities and counties to help "Identification of Essential Critical Infrastructure Workers During COVID-19 Response," is defined as follows:

Essentially, the the lock business class was added to allow businesses to continue to operate at their place of work, provided there are very few employees present, and social distancing is observed within the business.
The public won't have access to a locked business, but the business can still
allow operations by phone, internet or other source, sending and receiving of mail and deliveries, necessary to keep the business operational, provided the business, provided it's not a business required by the governor's order to be closed.
"This will allow the business to function to some extent, to try to stay alive for this short time — through April 30 — duration of the governor's orders," Newsom said.
Bartley, when considering approving the document through the end of the month, noted he'd been asked by a constituent if the full time had to be adopted or if the declaration could be evaluated and set in weekly increments.
Newsom noted that the wording as proposed came directly from the Governor's order, which unless modified or superseded by state, would still be the same. The executive order stipulates the stay at home, stay safe order is in effect through April 30, Newsom said.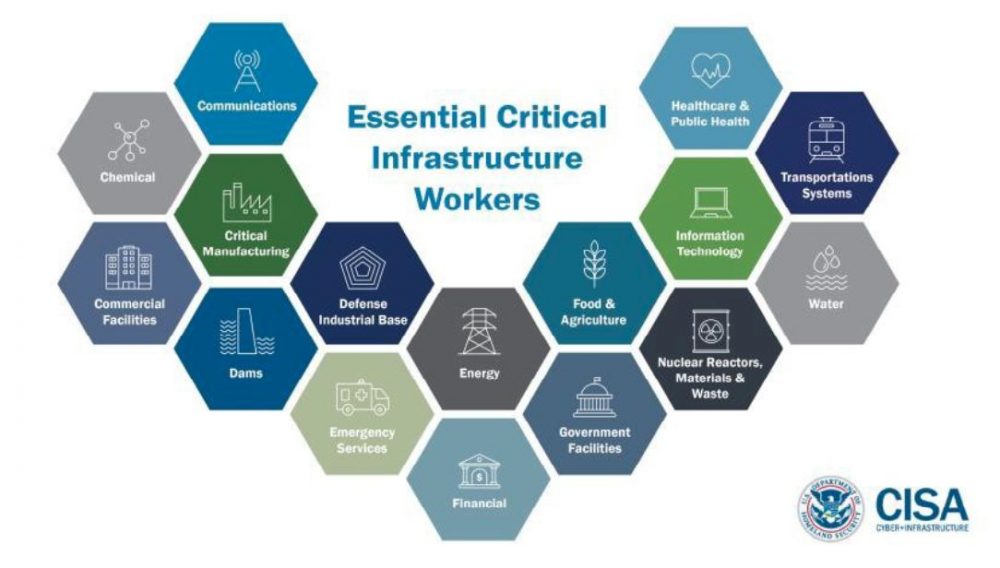 "Doing it week to week would be no different. The Governor supersedes us. No, it wouldn't make a difference, I don't think. I understand people would like for this to be over with," Newsom said.
Bartley and Precinct 1 Commissioner Mickey Barker noted that county governments do have to follow the state rules. While they cannot remove sections of the orders set at the state level, county and municipal governances can add more stringent guidelines. They are not opting to do so at this time.
Hopkins County Treasurer Danny Davis asked if the order for nonessential business included restaurants, particularly if people are allowed to walk into a restaurant pick up an order and leave with it, or if entry to the business would be prohibited to the order with the closing of dining halls.
Newsom noted the Governor's Executive Order and county order specifies that "use of drive-thru, pickup or delivery options for food and drinks is allowed and highly encouraged."
Hopkins County Fire Chief and Emergency Managements Coordinator Andy Endsley said that specifically allows people ordering take out from a restaurant to walk into the establishment, pick up their take out and walk right back out. Eating on site isn't allowed, but picking up an order and leaving is OK.
The health emergency disaster declaration approved by the county is "accompanied with lots of definitions of what essential is and not. A lot of businesses are essential. The governor's order has made it hard on small business, no doubt about it,"Newsom acknowledged.
Below is the order as approved by Hopkins County Commissioner Court. The official record also had attached to it the 4-page Governor's Executive Declaration as well as a 2-page memo from Christopher C. Krebs, director of Cybersecurity and Infrastructure Security Agency (CISA), a division of the U.S. Department of Homeland Security and the 13-page "Guidance on the Essential Critical Infrastructure Workforce: Ensuring Community and National Resilience in COVID-19 Response."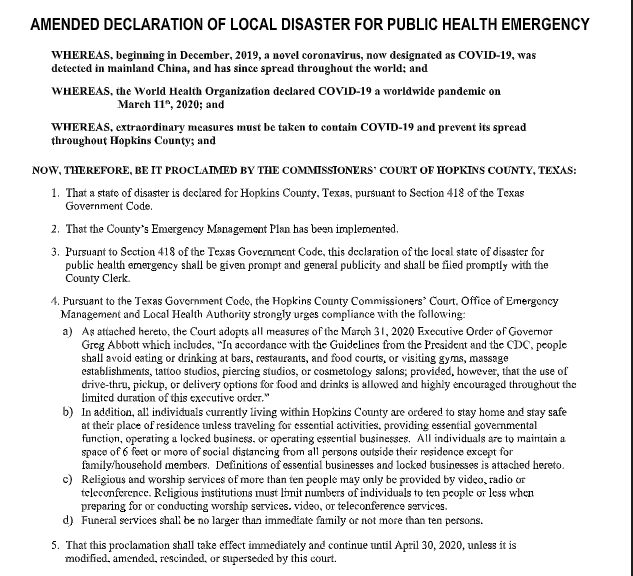 Resources and information related to Coronavirus are available on the Hopkins County Emergency Management website (http://hopkinscountytxcovid-19.com/) and Facebook pages.
Mickey Barker also asked if possible for the health emergency declaration be translated for viewing by the Spanish-speaking community members. Endsley noted that Dr. Mario Villarino and Sulphur Springs ISD personnel are working with the county to properly translate information that is being provided in Spanish through the Hopkins County Emergency Management Team.
---