After one full week of early voting, 1,061 ballots had been cast in the March 3, 20202 Republican and Democratic Party Primary Elections, according to the official totals posted by the early voting judges.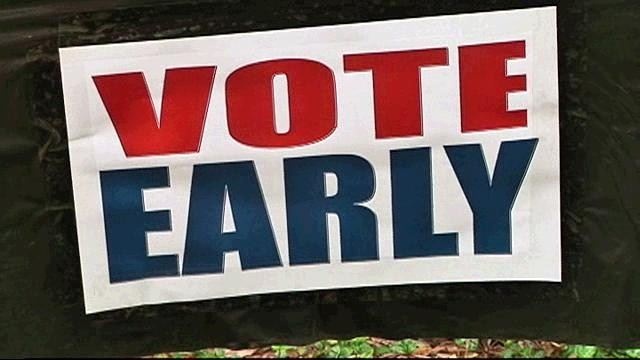 Of those, 924 had been cast in the Republican Primary and 137 in the Democratic Primary at 5:30 p.m. Feb. 24.
In the Democratic Primary, 23 voters had cast ballots by 9:30 a.m. on Feb. 19, the second day of voting. That number had increased to 107 by 11:03 a.m. Saturday, Feb. 22. Only 10 more voters were counted through 9:30 a.m. Monday, Dec. 24. Twenty votes were recorded by 5:30 p.m. Feb. 24 in the Democratic Primary.
The Republican Primary started out with 131 voters casting ballots by 9:30 a.m. Feb. 19. By 11:30 a.m. Saturday, Feb. 22, a total of 650 ballots had been cast in the Republican Primary. An additional 73 voters went to the pole over the weekend, bringing the overall total to 723 votes to start out the week. On Feb. 24, 201 voters cast ballots for a total of 924 voters exercising their right to vote in the Republican Party Primary.
Early voting continues through Friday, Feb. 28, with extended voting hours on two of those days. All early voting in both primary elections in Hopkins County will conducted in the Justice of the Peace #2 Courtroom at the Hopkins County Tax Office/Justice of the Peace Offices, 128 Jefferson St. in Sulphur Springs.
Voting will be conducted as follow:
Tuesday, Feb. 25 — 7 a.m. to 7 p.m.
Wednesday, Feb. 26 — 8 a.m. to 5 p.m.
Thursday, Feb. 27 — 7 a.m. to 7 p.m.
Friday, Feb. 28 — 8 a.m. to 5 p.m.
Tuesday, March 3 — 7 a.m. to 7 p.m.
Election Day voting in Hopkins County will be from 7 a.m. to 7 p.m. March 3 at the 12 voting center locations throughout the county:
Our Savior Lutheran Church
Morning Chapel Missionary Baptist Church
Hopkins County Courthouse
Grace Family Church
Hopkins County Regional Civic Center
League Street Church of Christ
Saltillo ISD
Cumby Municipal Building
Sulphur Bluff ISD
Como-Pickton CISD
Miller Grove ISD
North Hopkins ISD
Unlike state and national offices, only contested election at the county-level is between Charles Humphries and John Brian Beadle for the Republican nomination for Precinct 2 Constable. Bill Allan opted not to seek election to another term as Constable, Precinct 2.
Democrats are also asked to consider 11 propositions and Republicans to consider 9 propositions.