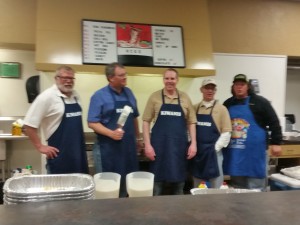 Downtown businessman Perry Altenbaumer, a 20-year member of the Sulphur Springs Noon Kiwanis Club, is inviting everyone this Saturday when the club serves the public in a day-long pancake marathon. The fundraiser will be held at the Hopkins County Civic Center from 7am til 2pm on Saturday February 17. Cost for the all-you-can-eat meal is $7 person, and children under age 6 eat free. The pancakes will be served with bacon, sausage, coffee, milk and juice. Annually, Pancake Day raises a substantial contribution toward projects that the local Kiwanis Club supports year round. These causes include a Special Games Day as well a college scholarship fund for Sulphur Springs High School students, youth sports teams for boys and girls, and the Spirit of Christmas Food Drive with Brookshire's as a partner. Kiwanis also supports the Kids Fishing Day every Spring and contributes annually to CASA and United Way.
One of the most visible Kiwanis projects are the American flags which they place along major roadways and throughout downtown Sulphur Springs. Members perform this labor of love during major holidays and for special local events. To have flags placed at your location, businesses and homeowners can pay an annual fee of $35. The flags will be placed before the holiday and then removed and stored following the holiday. Contact any Kiwanis member to subscribe to the flag display service.
The Sulphur Springs Kiwanis Club is part of Kiwanis International which serves in 80 countries of the world and supports over 150,000 service projects. It's mission is "bringing the world together, one community at a time". Men and women are invited to become members. Meetings are held weekly at noon in the fellowship hall of League Street Church of Christ. Interested? Just come to the Pancake Day or to a luncheon meeting and learn more about Kiwanis.