We announce with the deepest sorrow, Brian Bert McAllister, age 41, of Altoona, Iowa (formerly of Mount Vernon, Texas) passed away on Thursday, October 26, 2023.
A Celebration of Life Service will be held at Sam B. Harvey Funeral Home on November 25, 2023, at 2:00 p.m.  Visitation will be held one hour prior to service from 1:00 – 2:00 p.m. with Mother Ethel Channon officiating.
Brian was born to Charles Wayne and Bonnie (Anspon) McAllister in Dallas, Texas on April 5, 1982.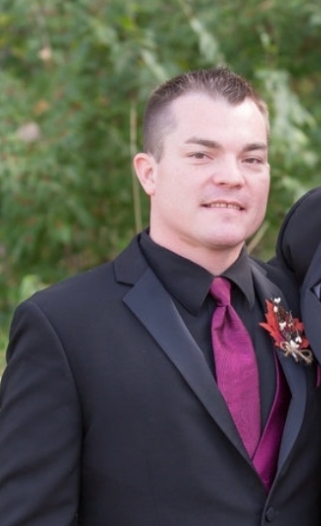 Brian lived in Mount Vernon half of his life. He was very active in sports, band, and the One Act Play. During his time at Mount Vernon school, he received numerous awards including the State One Act Play and the Presidential Scholar. Brian attended the University of Oklahoma and majored in Broadcasting and was a part of the OU rugby team. He moved to Altoona, Iowa and worked alongside of his brother at Fireside Grille for 20 plus years. Brian was a member of the King David Masonic Lodge #407 in Altoona, Iowa.
His niece Bailey said it best, Brian had a heart of gold and the love he had for his daughter, Rowyn, and everyone else was unmatched. I could go on all day how he was an amazing Uncle. He would drop anything he was doing for anyone and welcome everyone with open arms. Brian was the type to put other needs before his own. He had such a gentle and sweet soul that everyone will always remember.
He was preceded in death by his father, Wayne McAllister; and a sister, Leslie McAllister.
Brian is survived by his daughter, Rowyn McAllister; his mother, Bonnie McAllister; brother, Brett McAllister; sisters, Tiffany Crump and husband Jason and Michelle Forehand; nieces and nephews, Andrew Forehand, Pyper, Bailey, Dallas, Addalyn McAllister, Cooper, Kaylee, and Caden, and Chandler Crump; Three great nieces, Alyssa, Carah, and Yana Forehand.
In lieu of flowers, you may send donations for Rowyn's scholarship to: https://account.venmo.com/u/Tiff-Rowyn or you may mail scholarship donations to the Alliance Bank – Attn: Frankie Cooper – P.O. Box 909 – Mount Vernon, TX 75457.
Services are entrusted to Sam B. Harvey Funeral Home and online condolences may be made at www.samharveyfuneralhome.com
---