Robert Clevon Jeffery was sentenced Thursday afternoon, Sept. 15, 2022, to a total of 60 years in prison, 45 years for the murder of 35-year-old Damien Damon Wiley of Cooper and 15 years for the aggravated assault of 22-year-old Saquan Harrion Reynolds on Aug. 29, 2021. The two sentences, however, are to be served concurrently, officials reported Thursday afternoon. The sentence was reached after about 4 hours of deliberations by the jury, about twice as long as it took them to find him guilty on both charges.
The trial of Robert Clevon Jeffery began with jury selection in Delta County. The trial was moved to the 8th Judicial District Courtroom in Hopkins County. Assistant District Attorneys Zach Blackmon and Matt Harris are prosecuting the cases; Clay Johnson is Jeffery's attorney.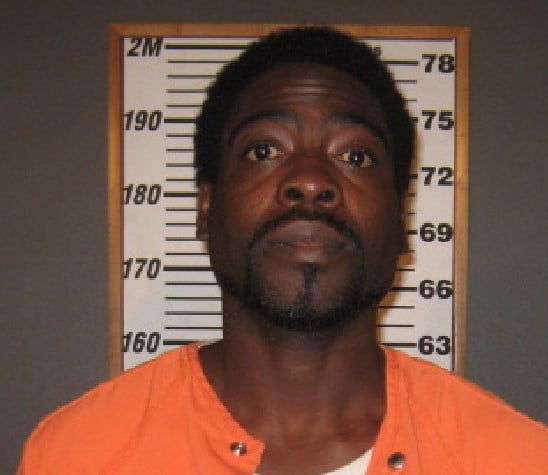 Opening arguments began shortly after 9 a.m. Tuesday, Sept. 13, followed immediately with testimony by the store clerk working when the shootings occurred. Four videos showing activity outside and at the store during and immediately following gunfire that resulted in Damien Wiley's death and injury to Saquan Reynolds were shown.
Testimony continued Tuesday and Wednesday, Sept. 13 and 14, before both sides rested and asked the jury to determine guilt or innocence. The jury was reported to have reached their verdict after about 1 1/2 hour of deliberations. Jeffery opted to testify during the guilt innocence phase of his trial. He did not testify during the punishment phase.
The state rested their case in the punishment phase of the trial. Johnson called Jeffery's nephew, 31-year-old Tommy Walker Jr. of Cooper, to the stand to testify around 10 a.m. Thursday, Sept. 15, during the punishment phase of the trial.
Walker who is also the cousin of Damien Wiley, testified that his uncle Robert Jeffery had in his opinion turned his life around. Walker said his uncle was getting his life back on track over the 8-9 months just prior to the shooting incident at Cooper Mart. "He was going from nothing to having a job, a home, two cars and gaining custody of his four children."
Jefferies' children, including his now 14-year-old daughter who was inside the Cooper Mart when the shooting occurred, had 8 years previously been placed in a group home in the foster care system. This placement occurred when when their mother passed away and Robert Jeffery was in jail.
Walker said he was aware of a conflict between his uncle, Wiley and Reynolds, but was never part of it and had nothing to do with any of it. In fact, he admitted under questioning by Johnson that he had asked his cousin and uncle to leave his home a week previously because he did not want their conflict resulting in an altercation in his home.
The 31-year-old Cooper man said he and his girlfriend of 11 years, who resides in the same home with their five children, tried to help Robert Jeffery in any way they could. During the 8-9 months prior to the Cooper Mart shooting they watched his four children, make sure they got to and from school, helped with school work, make sure they've eaten, and allowed them to stay at their home overnight.
When Robert Jeffery was arrested in 2021, Walker and his girlfriend took in his uncle's four children. He said they will continue to raise the children and see to their wellbeing regardless of the sentence his uncle receives, just as they care for their children.
Walker takes Robert's children to see their father for regular visitation, and the 14-year-old talks to him regularly on the phone. He said his uncle wants to be involved in their lives, shows his love by asking his children questions about their wellbeing and activities, making sure the teen daughter carries her inhaler with her in case she has an asthma attack.
Robert Jeffery's 14-year-old has received counseling at both Northeast Texas Child Advocacy Center and at her school. The high school freshman is currently "doing good," and is an AB Honor Roll student. Thus, Walker asked that no one in the legal community talk to the high school freshman or caller to testify, because he did not want her to have to relive the experience at the gas station in 2021. Walker said he thinks of his 14-year-old cousin as if she is his own daughter. He said he's going to make sure she and her siblings graduate from high school and go to college, if that's the path they choose to take, just as he will with their five children.
Prosecutors and the defense had rested their cases in the punishment phase of the trial and gave closing arguments around 10:30 a.m. Thursday, Sept. 15, 2022.
In his closing argument, attorney Clay Johnson asked the jury to consider Robert Clevon Jeffery's age and to recognize that the 48-year-old had been "provoked over and over and over," causing him to snap on Aug. 29, 2021, in front of Cooper Mart. Johnson said he's not sure why Mr. Jeffery was bullied, why 22-year-old Saquan Reynolds picked on him, why they picked at each other. He asked the jury to consider that his client snapped that day, committing an act of sudden passion.
A crime of passion verdict, according to the law, reduces the charge by one letter of the law. That would reduce the murder charge from a first-degree felony to a second-degree felony offense. However, Jeffery has a prior felony conviction, which would normally enhance a charge one letter of the law. That would enhance the minimum potential range of punishment by 10 years if the jury does not determine the murder was a crime of passion, 8th Judicial District Judge Eddie Northcutt explained Thursday when instructing the jury regarding the charges and potential punishment for the charges.
Johnson further argued in his closing statement that the defendant had not gone to the station with the intent to kill Mr. Wiley, and asked the jury to "show Mr. Jeffery a little mercy and grace." Johnson asked the jury to consider sentencing Jeffery to murder, as a crime of passion.
ADA Blackmon, however, asked the jury not to be swayed by emotion, but to consider the whole picture. He said the defendant was just as much a bully as he was bullied. He argued shooting death of Wiley was not sudden, because Jeffery had previously attained the firearm. In order for the offense to be consider a crime of passion, Blackmon said, the law requires the defense to prove the offense to have been directly caused by the person killed. He contends the there was no evidence presented to support a sudden passion defense, that the defendant himself testified that Damien Wiley never said any words to him at the gas station, only packed his pack of cigarettes against his hand, which would not render a person of ordinary temper incapable of ordinary reaction. He even noted Jeffery's daughter even questioned his actions on Aug. 29, 2022, pointing out that they could have just driven away.
Blackmon argued that at the end of the day the murder case boils down to Robert Jeffery shooting Damien Wiley in the face over a fist fight that happened a few months before the shooting. He asked them to consider what might happened to the next person Robert Jeffery has a problem with if given a light sentence, and how that would endanger the lives of others. The ADA asked the jury to consider sentencing Jeffery to life in prison.
The jury was still deliberating punishment during the noon hour Thursday, Sept. 15, 2022. If they determine the murder was a crime of passion, the possible range of punishment for Jeffery is 5 to 99 years or life in prison, and an optional fine not to exceed $10,000. If the murder is not ruled by the jury as a crime of passion, the minimum punishment would be enhanced (due to the prior felony conviction) to 15 years and the maximum 99 years or life in prison, with an option of a fine up to $10,000 for the murder of Damien Wiley. A life sentence is considered 60 year.
Based on current parole laws, the 48-year-old cooper man would be required to serve half of his sentence or 30 years, whichever is less, before becoming eligible to be considered for early parole, Judge Northcutt explained.
Crime of passion is not an issue for consideration on the aggravated assault conviction. The jury was given the option to sentence Jeffery to 5 to 99 years or life in prison, with an optional fine of up to $10,000.
The jury returned their verdict around 2:45 p.m. Sept. 15, 2022, sentencing Jeffery to 45 years in prison for shooting Damien Wiley in the head, killing him in front of Cooper Mart in Delta County, and 15 years for shooting Saquan Harrion Reynold from behind, also on Aug. 29, 2021. The judge ordered the cases to be served concurrently, so while Jeffery was sentenced to a total of 60 years in prison, the 15-year aggravated assault sentence will be served at the same time as the 45-year murder sentence, according to authorities.