The trial of a 48-year-old Cooper man accused of a 2021 shooting at a Delta County gas station is under way in the 8th Judicial District Courtroom in Hopkins County just after 9 a.m. Tuesday morning, Sept. 13, 2022.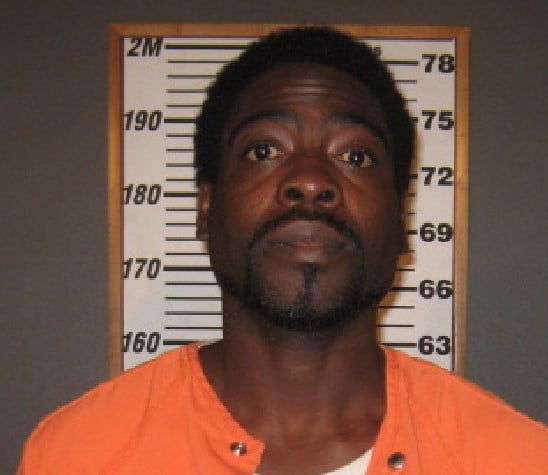 A jury panel was selected Monday, Sept. 12, 2022, in Delta County in the case, but the decision was made to move the trial to the Hopkins County courtroom.
Robert Clevon Jeffery is accused of the murder of 35-year-old Damien Damon Wiley of Cooper, and causing bodily injury to 21-year-old Saquan Harrion Reynolds on Aug. 29, 2021, at Cooper Mart on West Dallas Street in Cooper, TX. Jeffrey entered a plea of not guilty Tuesday morning, Sept. 13, 2022.
Assistant District Attorney Zachary Blackmon in his opening statements told the jury he anticipates testimony will show that the defendant shot Wiley one time in the head, causing him to fall to the ground and die. Testimony and evidence will also show that Jeffery fired two shots toward Wiley. Blackmon anticipates the jury will see and hear testimony and evidence that Reynolds attempted to flee with Jeffery pursuing him. During the pursuit, Jeffrey fired three additional shots, including one that struck Reynolds below his buttocks. When Jeffery returned to the gas station, the store clerk is standing over Wiley's body outside the store. The clerk saw him eject a round from the weapon, drop it and the firearm and seek out his daughter inside the store.
The clerk attempted several calls to 911, but the lines were down. Officers arrived and took Jeffery into custody without any resistance or issues, Blackman noted in his opening arguments. Reynolds was flown to a Plano hospital for treatment of his injury.
"This was obviously not a random killing. These guys had a beef for the past few years so it was thought a fight might break out, but no one thought this would happen," Blackmon said. "You will see on video from an number of angles in the store."
Blackmon called the store clerk as the state's first witness, and anticipated calling others who were present at the gas station at the time of the alleged shooting. A Texas Ranger is expected to testify regarding a lab report, cartridges fired from the gun Jeffery is alleged to have used, as well as 3D renderings from the crime scene. The autopsy specialist is expected to be called as well during Jeffery's trial, which is expected to span more than one day this week.
Defense attorney Clay Johnson in his opening statements to the jury asked the jurors to withhold judgement until all evidence has been admitted and to follow the law and only consider what they see and hear from the witness box.
Johnson said there was a longstanding feud between Robert Jeffery, known by many as Little Robert. The defendant was familiar with the people who were at and worked at the store that day. Jeffery had his 12-year-old with him. She had gone into the store because she wanted a soda. He said Wiley was at the store waiting inside until 10 a.m. because it was a Sunday and he could not purchase beer until that time.
Johnson said he believes the evidence will show Wiley stared at Jeffery as he entered the store. As he turned, Wiley was shot in the face. Jeffery chased Reynolds down. Reynolds was plugged two times. The prosecution alleges six shots were fire, but officials found only four casings, defense attorney Johnson alleged. He said although the store had high definition cameras with audio, what's said on video is a little muddled, and it's hard to hear anything after screaming and crying begin.
"I believe the evidence will show they had a feud with one another. Robert Jeffery was not guilty. It was self defense and/or protection of another — Mr. Jeffery's daughter," Johnson said.
Carrie Johnson, the clerk working at the store when the alleged shooting occurred, testified she knew all of the parties involved, that both Jeffery and Wiley were like family to her, and that she had no problems with either.
However, when both arrived at the store at the same time, Carrie Johnson (who is also known by her maiden name Booth) anticipated a fight might occur. She said she had heard about issues between Jeffery and Wiley but had never witnessed a confrontation between them.
The clerk recalled being busy helping a customer when she heard a gunshot ring out just before 10 a.m. Aug. 29, 2021. She looked up to see Wiley fall back, then heard two more gunshots fired. She said she observed Saquan Reynolds and Jeffery take off running. She heard Jeffery's daughter scream and then escorted her behind the counter as a protective measure. She testified she then went out, saw Wiley on the ground and went back into the store to get the phone and attempted to call 911 but the call didn't go through.
Carrie Johnson said she went to check on Damien Wiley, to see if he was alive and what was going on. She heard footsteps behind her and turned to see "Little Robert" Jeffery. He yelled out something about his daughter, and was bouncing back and forth, waving a gun, the clerk testified. She said she asked him why he had to shoot Damien, why he had to kill him. She testified that Jeffery said he was going to do something to his daughter or something about his daughter, then seemed to snap back to a normal state.
The clerk testified Jeffery took a bullet out of the chamber of the gun, dropped the bullet and gun. She told him to just go, that officers would be there soon. He refused, then went into the store, where his daughter had remained.
ADA Blackmon then played four videos reportedly taken from store surveillance cameras during the incident that resulted in Wiley's death and the 21-year-old being injured. He asked Carrie Johnson various questions about the videos, including to identify the various people pictured and heard on it.
The man on the video identified as defendant Jeffery can be seen with a female behind the counter in the store, identified as his daughter by the clerk. She cried and yelled, very upset at her daddy. He could be seen grabbing the girl and stating "Nothing's going to hurt you." The youth then tell him amid tears that he's going to be in big trouble and she won't be able to have him anymore, then asked, "Why would he hurt me." She also asked him why he did it, that he wouldn't be able to see him again until she is older. She appeared distraught, crying, and yelling on the video.
On one video, he's heard telling someone to go down to momma's house, to hurry up. He appears to be talking on a phone to someone and tells them he's at the store but tells them not to come to the store. It sounds as if he says "Someone is coming to take you."
The man is taken into custody on video by an officer.
Defense attorney Clay Johnson asked the clerk if she heard Jeffery say "he ran up to my daughter." Carrie Johnson testified that she did not see any confrontation or the other man run up to Jeffery's daughter. She said she had no prior fear of Jeffery, nor knowledge of him doing harm to anyone except Wiley and Reynolds, from her observations of them.
Eighth Judicial Judge Eddie Northcutt called a brief recess at about 10:30 a.m. Sept. 13, 2022, and excused the jurors, to allow some matters to be taken up outside their presence, but anticipated resuming the trial very shortly afterward.
Assistant District Attorney Matt Harris is working with Blackmon in prosecution of the case.