Accountability, projected costs, facility names, and bond ratings, were among the topics community members asked for additional information about during the town hall meeting held to discuss the Sulphur Springs ISD bond.

Why The Bond Election Was Called
Superintendent Michael Lamb started the town hall meeting explaining that a committee composed of 50-60 people paired down from $150 million worth, of identified needs the most critical needs. The process was started about 5-6 years ago based on the age of SSISD facilities, starting with Travis Primary, the oldest campus with students and increasing costs of maintenance and upkeep. He noted that the Administration Building is now 100, and Travis Primary is pushing 67 years, Douglass ECLC 65 years, Sulphur Springs Elementary 62 years, Austin Academic Center 60, Bowie and Rowena Johnson Primary campuses 55 years, Sulphur Springs High School 43 years, Barbara Bush Primary 25 years and Middle School 9 years.
When Lamb asked at what age community members think a building has outlived it's service, one community member said "as long as it is in good condition, it doesn't matter it's age." Lamb said about 40 years is the accepted standard. Only two of SSISD's 10 buildings are less than 40 years old. The average age of buildings in Sulphur Springs ISD is 60, and retirement life has been 80 years (based on demolition at Houston and Austin campuses).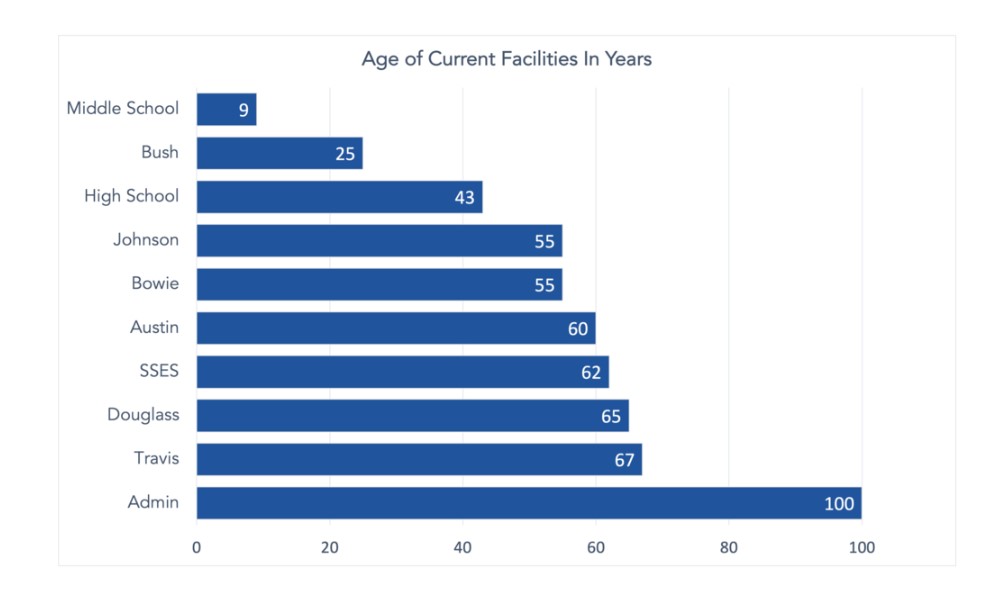 SSISD's buildings appear younger than they are due to the wonderful work of the maintenance staff. However, at some point you age out of buildings serving students. For instance, buildings begin having electrical and plumbing issues, and the amount of increasing upkeep makes them not worth the cost of repairs. Travis, the campus to be replaced, has tiles so old, when they come out, they can't replace them. They don't make those tiles any longer. They just have to paint them and put them back in place and hope that works.
Finances And Accountability
Two mailers sent to district residents as well as information on the bond website, sulphurspringsisdbond.com, show the age of the buildings as well as a summary without budgeted costs, including a new Travis Primary; renovations at the the two other primary campuses, SSES, Douglass and ECLC; renovations and addition of a career and technical center and fine arts area at SSHS; 20 new buses; and roofing and HVAC projects district-wide. What the mailer did not include was how the $93 million in bond funding would be allocated for each of these project areas, and exactly what those projects entails.
Information presented at a previous meeting included that information, but did not make it onto the flyers, just as the potential tax impact the constitutional amendment proposal on state May 7 ballots across the state would have is not on the flyer. The state amendment proposes increasing the amount of the homestead exemption from the currently offered $25,000 to $40000 starting in the 2022 tax year, with the state making up the difference in revenue for school districts.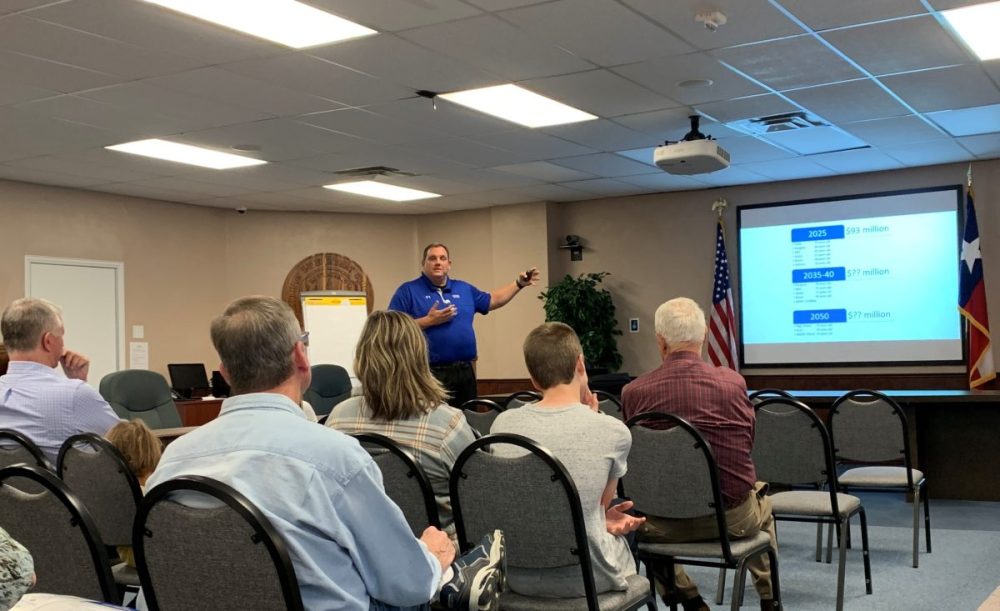 Thus, some residents said they'd like to see more accountability, line item numbers which more specifically outline how the $93 million bond is currently allocated. Lamb said at this point, the projected costs for each project in the bond proposal are estimates based on conservative estimates from contractors and experts in finance and construction fields.
When asked how the bond capacity is built, Lamb explained that it's based on information tracked by the district's financial adviser. The district has been working toward this for 5-6 years. SSISD administrators had planned to call for the bond after spring break 2020, but COVID shut schools down and put many out of work, if only temporarily. The district, unlike many across the state, opted to wait until after COVID so as not to place any heavier burden on taxpayers during an already difficult time.
With reports of expected changes in interest rates, likely increases, the constitutional amendment election anticipated to pass to help taxpayers, Lamb said, the district "can't afford to wait" any longer to get the process rolling.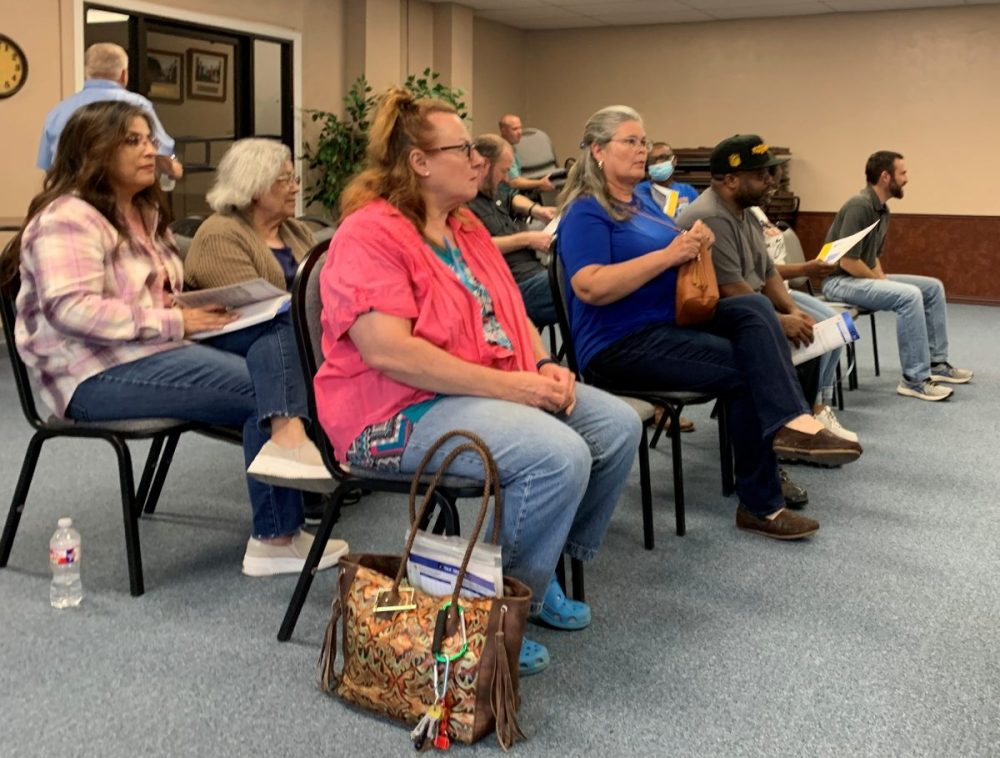 SSISD officials have been apprised of pending deals that promise big economic development coming to the Sulphur Springs area in the near future, which will help with costs, which would mean less money required from current taxpayers. Some of those projects include: solar plants which may get tax breaks on school district M&O taxes, but are still responsible for paying I&S taxes; a housing development that would result in more than 1,000 new homes being constructed in Sulphur Springs; industry such as a rebar maker that are interested in establishing a manufacturing facility on the old Thermo mine site. Many of these economic developments are contingent on Chapter 313 agreements, which will soon go away.
The district's tax rate has gone down over the past 10-15 years, based on changes set by the state regarding the how high school district taxes may be set at, Lamb noted.
How Much Is Allocated Per Project?
The recommendations presented by the Long Range Facilities Planning Committee to the school board at the special Feb. 7 meeting, included the following (along with cost estimates for each):
New Construction
New Travis Primary Campus – $35 million
Additions and Renovations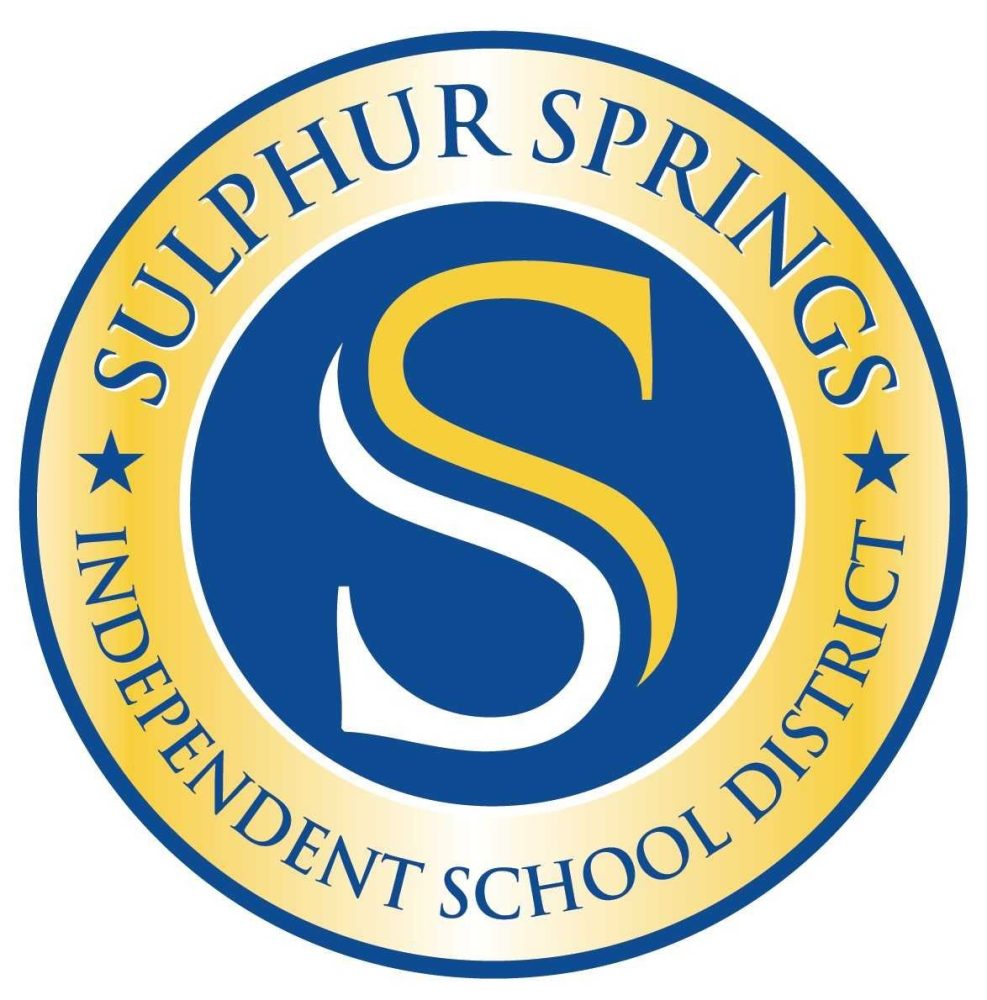 Bowie Elementary Classroom Additions – $6,000,000
Bush Elementary Renovations – $1,000,000
Sulphur Springs Elementary Renovations – $3,000,000
Douglas Early Childhood Renovations – $2,000,000
Austin/DAEP Renovation – $500,000
High School

CTE Center – $12,000,000

Culinary Arts
Auto Shop
Health Science Technology
Construction Trades
Robotics

Fine Arts Addition – $12,500,000
High School Refurbishments – $10,000,000

Capital Improvement Projects Across District – $9,000,000
Buses – $2,000,000
Naming Of Schools
Community members wanted to know with the long range plan for school facilities which is targeted at having four elementary campuses, including a new school to be built with with $35 million of the bond funding, whether the Church Street campus named recently in honor of 50-year educator Rowena Johnson, would continue to have Johnson's name attached to it if repurposed to house offices or other programs. A desire was expressed to see Johnson's name attached to an elementary campus, as that's where she devoted decades of her life. They asked if a new campus, such as the new facility designated Travis, could be named after Mrs. Johnson.
Lamb said he'd indicated to Johnson's family, when the request was made to name the campus where she spent the majority of her career after Johnson, that the campus may not always be a primary campus or campus that serves elementary students. He assured the community members present at Monday night's second town hall meeting about the May 7 bond election, that the long time educator's name would continue her legacy whether on the former Lamar Primary campus at Rowena Johnson special services center or another elementary campus. The new campus to be constructed using bond funds is at this time being called Travis because that's the campus that is being replaced; it will most likely be built on the current Sulphur Springs Elementary campus where the community track is currently located. Typically, campuses aren't given new names before construction.
What If Costs Exceed, Come In Underbudget?
Community members asked what the plan would be if the cost for the new campus exceed the $35 million allocated, particularly with the rising costs of construction, as well as what would become of the funding if the projects finish underbudget. Lamb said the project would be scaled back to remain within budget. If the projects are completed with funding remaining, such as the $3 million leftover when the $43 million bond was passed about 10 years ago which allowed for construction of the new middle school. Lamb said it's his understanding new regulations would require the district to seek voter approval for funds use, should there be any left after all expenses are paid.
What Happens If The Bond Doesn't Pass?
Additional community members wanted to know what will happen if the $93 million bond proposal does not pass on May 7, as well as how long before the school board could potentially call for another election with a different bond proposal.
If a majority of votes on My 7, 2022, are not in favor of the bond, Lamb said the district would continue to do the best they can with the aging facilities, but will likely break the proposal into small chunks, which would then be brought back in smaller phases for voters to consider. A new proposal could appear on ballots during the next regular election cycles after the May 7, 2022, election. The soonest would be November 2022 or May 2023.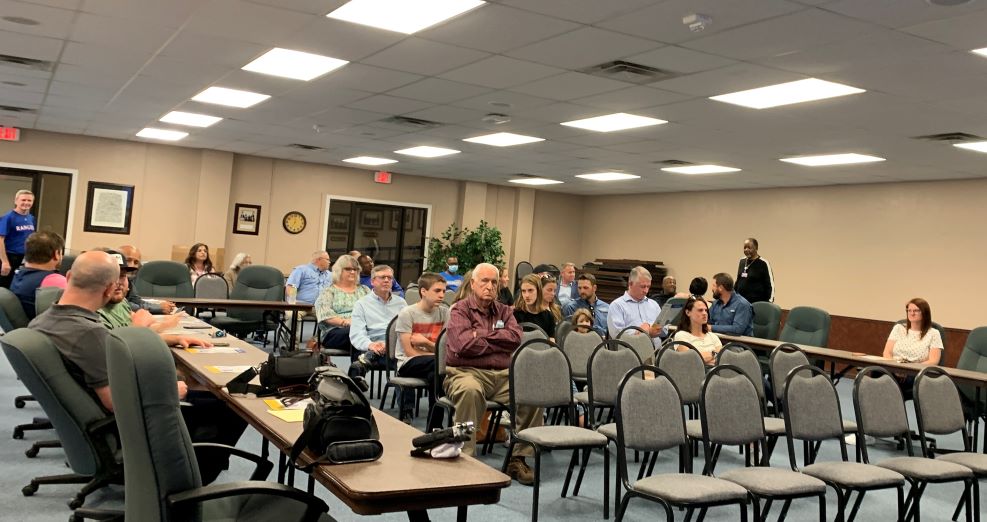 ---
To watch the first SSISD Town Hall meeting, click here.
Click here for additional information related at other prior bond meetings.