A 44-year-old Yantis man received a life sentence this week in the 8th Judicial District Court for the aggravated assault of his live-in girlfriend by throwing a heavy, iron curtain rod in his live-in girlfriend's face, breaking her nose and lacerating her face in August of 2021, according to court reports.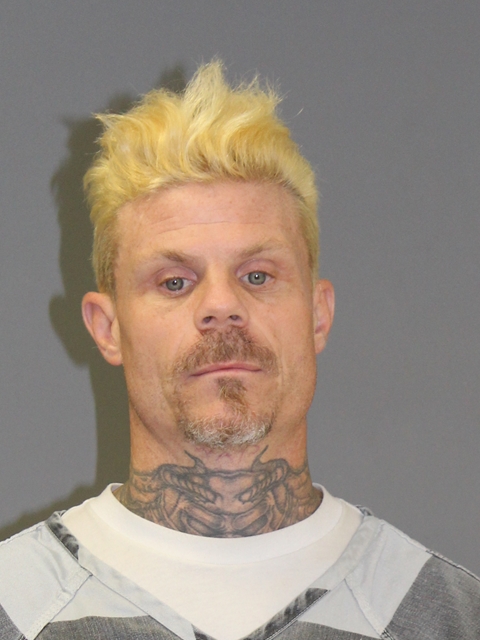 On Feb. 1, 2022, Carlton Douglas Fite pled guilty to the offense of aggravated assault with a deadly weapon and pled true to two punishment enhancement paragraphs. In doing so, Fite specifically acknowledged that he had assaulted his live-in girlfriend by throwing a heavy iron curtain road into her face, lacerating her face and breaking her nose. He further pled "true" to past convictions involving compelling child prostitution and aggravated robbery, the District Attorney's Office reported.
At the time of the plea, Fite was under indictment for three separate pending felony cases: two burglary of a building cases for which he faced a possible sentence of 2-20 years imprisonment on each and a felony case for violating a protective order 2 or more times within 12 months, for which he faced a potential 25 years to life in prison.
Fite was jailed March 8, 2021, in Hopkins County on a burglary of a building charge for allegedly entering and stealing appliances from a State Highway 154 church overnight Saturday, March 6, 2021. The pastor contacted police upon discovering a stove and microwave missing. A phone left at the church was linked to Fite, who later admitted to the pastor that he had the stole items in his possession. The items were recovered from his home and Fite was jailed on a burglary warrant, deputies alleged in 2021 arrest report. Fite at that time was found to also be wanted on an outstanding Upshur County burglary warrant. He was released from Hopkins County jail on $10,000 bond per burglary charge on April 13, 2021.
On Aug. 21, 2021, Fite was returned to jail on the aggravated assault of his girlfriend by striking her in the face with the heavy, metal curtain rod. She reportedly did not contact authorities for the offense out of fear of being further assaulted. Assistance was requested for her after Fite went to sleep, deputies noted in Fite's August 2021 arrest report.
Fite has remained in Hopkins County jail since August 21, 2021. On Aug. 25, he was served with an order revoking his bond on the church burglary charge, deputies reported at the time. And, on Aug. 30, 2021, was served with a warrant for violating a protective order 2 or more times within 12 months.
At time of the plea, he acknowledged his guilt in each of those cases and they were dismissed pursuant to 12.45 Texas Penal Code.
Chapter 12 Section 45 of the Penal Code allows a person, with the consent of the attorney for the state, to admit during the sentencing hearing his guilt of one or more unadjudicated offenses and request the court to take each into account in determining the sentence for the offense or offenses of which the defendant stands adjudged guilty. If a court lawfully takes into account an admitted offense, prosecution is barred for that offense.
After Fite pled guilty, the aggravated assault case was reset for a contested sentencing hearing before Judge Northcutt. Fite faced 25 years to life in prison based on "aggravated parole rules."
The sentencing hearing took place March 2, 2022. Prosecutors contend that Fite's pending cases were dismissed, but otherwise could have resulted in prison sentences that ran consecutively to any prison sentence the judge assessed in the aggravated assault case. Thus, Fite had no right to appeal the result of the sentencing hearing.
During the hearing, the victim in the case was called by prosecutors. While not fully cooperative, she reportedly told of many instances of the physical abuse perpetrated upon her by Fite.
Several witnesses, including the victim's brother, the defendant's mother, and Fite were called to testify for the defense. While on the stand, Fite in large part blamed the victim for his troubles; he also cited drug addiction as a source. Further, he acknowledged he had committed the third-degree felony offense of Aggravated Perjury during a prior hearing involving his bond, prosecutors reported.
While Assistant District Attorney asked that Fite receive a life sentence in prison. The nature of the offense, the Fite's unwillingness to take accountability for all of his wrongdoings, the defendant's reported past affiliation with a gang, and "horrible criminal history" were reportedly cited as cause for the requested punishment.
The defense reportedly asked for deferred adjudication community supervision with long term inpatient drug rehab conditions for Fite.
Ultimately, Fite (who is also known to have used the aliases Chris Watson, Christopher Douglas Spencer and Fite Carlton) received a sentence of life in prison. He will not be eligible for parole until he has served 30 "true years" in prison.
"This is a 'win' for peace and justice in our community. I appreciate Mr. Blackmon's tenacity and how he fought to see that this violent man would not generate more victims. We appreciate the Judge's ability to see through the Defendant's manipulation and give a strong, appropriate sentence," District Attorney Will Ramsay said following the sentencing.