The NETLA Hopkins County Junior Market Livestock Show 2022 Poultry Contest lead Friday's activities. Youth filled the arena with pens, buckets, boxes and other containers filled with the chickens the students raised. In front of the stands on one end of the Arena, two rows cages of broilers were filled when the poultry show started shortly after 8 a.m. Friday, Feb. 25, 2022.
Top honors went to Como-Pickton FFA member Micah Flemens for his Senior Showmanship honors for at least the fourth yea. Flemens also received Senior Showmanship and Reserve Champion honors while representing Hopkins County 4-H in the poultry contest in 2021, at the 2020 broiler show and in 2018. Senior showmanship consists or projects raised by youth ages 14 years or older
Friday was also at least the second consecutive year Hopkins County 4-H member Miley McCormack received the Intermediate Showmanship honors as well. Miley also earned Junior Showmanship recognition in the poultry contest in a prior year as well.
Georgia Glenn, another Hopkins County 4-H member, Friday received the Junior Showmanship award for poultry.
Showmanship Awards were provided by Burgin Pipe & Supply, CATOCON, Running Creek Tractor, Tractor Supply co. and 5W Contracting.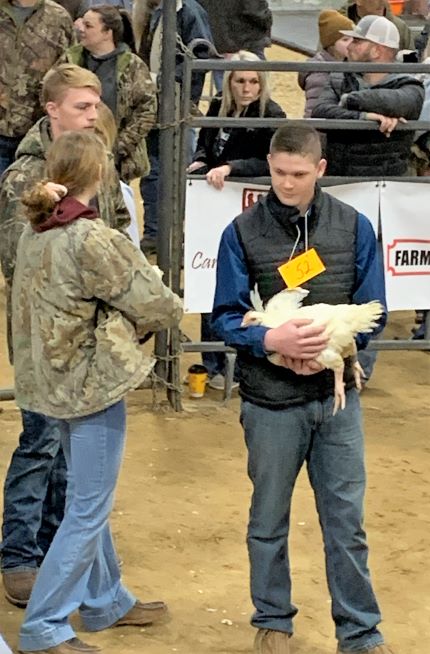 Fourty-two lots of chickens were selected for the Sale of Champions. Youth were told to be sure to have their birds back for the event Saturday. No birds were allowed to be left in cages at the Civic Center. Those who did not make the sale had the option of taking their birds home or donating them in a trailer to Hopkins County Sheriff's Office to be used in meals for inmates.
Poultry are shown after the four other classes or livestock, with first steers, then swine, lamb and goat. After one project (or lot in the case of chickens) are sold in each group, then the sale order repeats. A total of 42 lots of chickens made the sale, NETLA officials reported.
The Sale of Champions begin at 1 p.m. Saturday, Feb. 26, 2022 in the Civic Center Arena. Funds raised will help the youth's families recoup some of the cost of raising the livestock, go toward their next projects and toward future scholarships. A full sale list may be viewed on the NETLA Show Facebook page. NETLA also will accept add-on funding donations to go with purchases to benefit the students; visit the designated tables at the sale for additional information.