Funds From Scrap Metal Deposited At Precinct Barns Benefits County's 11 VFDs
The 11 county volunteer fire departments received funding for tires for their apparatus this week from Hopkins County Commissioners. Each department received $2,000 to apply toward tire purchases at the county rate from an area vendor, thanks to scrap metal turned in by each commissioners.
The county commissioners previously agreed to further help the volunteer fire departments by putting all funding they receive from turning in scrap metal into one account designated to benefit the county's 11 VFDs. The account has accumulated about $30,000 in the past 1 1/2 years, enough funding to give each volunteer fire department $2,000 to apply toward the purchase of tires.
"The Court has implemented a program where they are going to start using the scrap metal citizens turn in to the precincts, whatever precinct your live in. It's a win-win for both parties," Hopkins County Fire Marshal Andy Endsley explained. "If you've got some scrap metal you don't want to have anything to do with and you want to get rid of it, and you want to give it to the county, the county actually takes that money and puts it into a special account for the volunteer fire departments spread out through the whole county – all 11 volunteer departments. It helps them with their tire program."
This will not only help the departments, which are largely dependent on donations and allocations from Hopkins County Commissioners Court, to stretch their funding for other upkeep, repairs and utility costs, but will also make the fire department vehicles safer and allow each to meet state standards. Texas Department of Transportation is now recommending that there be no tires older than 5 years old on any first responder vehicle, according to Endsley.
The fire chief said county officials conducted an audit of each VFD to see what tires were needed the most and in what areas, to help get the tires older than 5 years old on trucks off the road. Each department can use that funding at a designated vendor and receive a discounted government rate; the VFD officers can decide if they wish to put more funding with the county money, if they choose or have it, to completely replace all tires on a vehicle or even out on one end.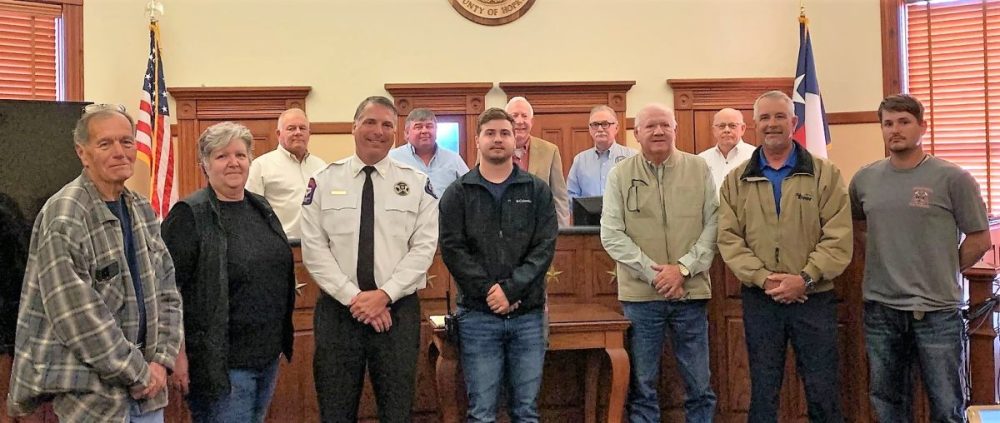 "This is money not taken from the general fund. This money that is donated from people donating their scrap metal from their homes, residence, or wherever they might have it, and taking it to their precinct barn, and they'll take care of it. It's win-win. You get to clean up your yard, on your property, and the money goes towards a great program. We hope to keep this going for some time," Endsley said.
Often, fire departments put four new tires on a fire truck, as well as front steer tires. The volunteer fire departments that only have brush trucks, not engines or tankers, may be able to get a complete set of tires for their truck. The large truck tires, typically even with government pricing, cost between $400 to $800 per tire, according to the county fire chief.
The Arbala VFD Chief said she hopes to get 2 or 3 tires out of that $2,000, maybe even squeeze four from it.
The VFD officers present at Monday's Commissioners Court to receive their tire funding noted the funding is something they've asked for and needed for a while, and is much appreciated.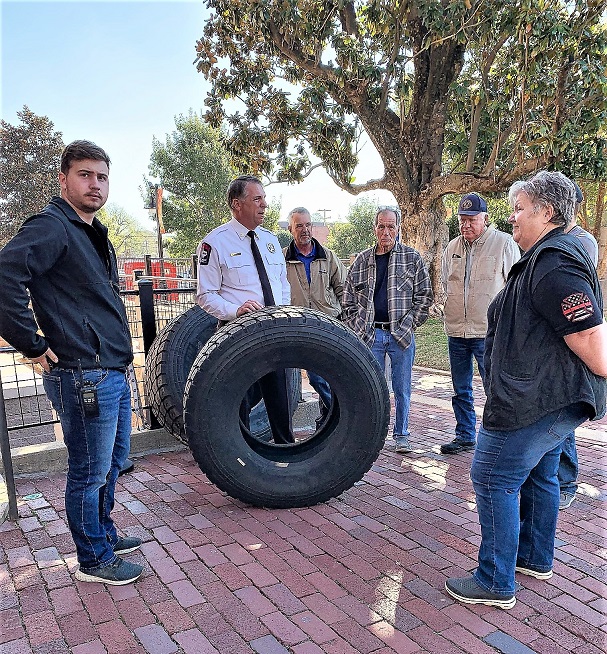 Hopkins County Commissioners Court during budget workshops conducted to shape the county budget meet with the volunteer fire department chiefs and officers to hear how things are going and what their greatest needs are and make requests. Assistance with costs of tires was one of the requests posed more than once to the court. The commissioners opted to use the scrap metal dropped off by residents either during the annual spring clean up days or brought during regular work hours to the precinct barns to help the fire departments instead of putting the funding into the general budget, the county fire marshal said.
The county will be accepting scrap metal, which will be sold to benefit the VFDs, not only during spring clean up but during any regular work day for the county. Metal appliances, without toxic chemicals, can be brought or any other mostly metal item that county residents want to get rid of. The scrap metal must be brought to the precinct barn. Most of the time the precinct crews work Monday-Friday until about 3 p.m., but may not necessarily be at the barn during that entire time as they may be working on site making repairs and doing other work throughout the precinct. To ensure a precinct worker is on hand to accept items, call the courthouse to make arrangements to drop the items off or contact Hopkins County Fire Department at 903-439-6217.
If brought during spring clean up hours, precinct workers will be on hand to receive the items, and to dig through the discarded items to separate the scrap metal form the other trash and debris.
"We'll be doing that again in the spring time, but it will be open any time, that way this program can continue on," Endsley said. "We hope to get the word out. We hope each one of the departments will tell their area out there that they represent that we have a program that is for tires."
In addition to the funding from scrap metal going to the departments to help purchase tires, Hopkins County provides the VFDs with reimbursement for fuel costs, workers compensation and monthly stipends.