Hopkins County United Way 2021-22 campaign workers received another $25,158.42 in campaign donations and pledges over the last week, increasing the total collected after the fifth week of the campaign to $110,441.57. That's leaves a little over $39,500 still to go if HCU to meet the $150,000 campaign goal to benefit 18 local non-profits.
HCUW Campaign Chair Kristy Moseley encourages those who still have donation packets out, to make a final push this week so the 2021-22 campaign can wrap up as scheduled on Nov. 9, with all allocations collected.
Bill Owens contributed another check to HCUW on behalf of Jay Hodge Chevrolet, which contributed $100 to HCUW for every vehicle sold. He reported the dealership had met it's goal of $10,000 for HCUW.
Daniel Tapia with CHRISTUS Mother Frances Hospital-Sulphur Springs could not be at the Nov. 3, 2021, meeting, but reported an additional $1,084 additional pledges coming from the hospital, and anticipated being at the final meeting on Nov. 9 to present funding pledges and donations from the CHRISTUS associates.
In the past, Hopkins County Bankers Clearinghouse has provided the supplies and hosted a burger fundraiser, where people can donate to receive a meal and fellowship with others downtown. The Bankers Clearinghouse then donates the proceeds to HCUW. The Bankers Clearinghouse – which is a collaboration of Alliance, City National and Guaranty bands – is dissolving and opted this year not to hold the fundraisers. The organization this year, not only gave their usual donation, but also very generously contributed remaining balance in the Bankers Clearinghouse account to HCUW.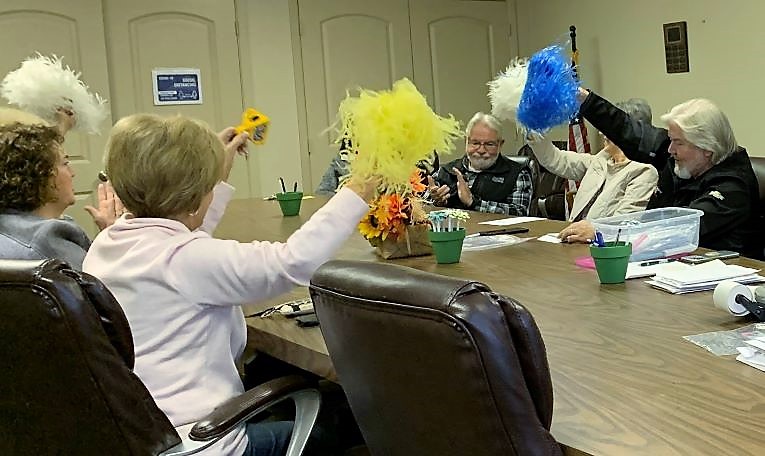 HCUW Executive Secretary Susan Berning noted Atmos Energy Manager of Public Affairs Beth Dattomo is not only a campaign worker for Hopkins County, but is also very active and serves as the United Way Board President y is board president of the for Hunt County.
Berning reported HCUW had received a great pledge and donation from the local Ocean Spray plant, which has been selected as the number one plant, not just domestically but, in all of Ocean Spray.
This week's contributors included several organizations, businesses and individuals who generously gave at the requested goal or above to ensure those 18 agencies, which serve all populations and segments of the community, receive the amount allocated from the 2021-22 campaign. Contributors during Week 5 of the campaign included Jim McLeroy, who contributes not only as a local attorney, but give extra as the city attorney as well; Hopkins County Appraisal; Oliver Ford, Northeast Texas Farmers Co-Op; Farm Country; One Stop Sign Shop; Appraisal Firm of East Texas; County Commissioners Greg Anglin and Mickey Barker, Fire Marshal Andy Endsley, Treasurer Danny Davis and Civic Center staff; District Judge Eddie Northcutt, Juvenile and Adult Probation Offices; Leather and Blades barber shop, a new business; Briley's Barber shop, under new ownership; Wayne Cooper Construction; Highlander Training Center, contributing about 200 percent of goal; Audley Moore Construction, giving about 150 percent of goal; Miller Grove ISD; Como-Pickton CISD, well exceeded goal; Flip's Burgerland; Haystacks/Maak; Robinson Bennett Construction; CANHelp Thrift Store, way over the goal; Broadway Veterinary Clinic; Rock Bar, Rocki Hoops; Sulphur Springs Veterinary Clinic; Yard By Yard; Janeen's Country Cottage; April Showers; Judy Jones 7 Oaks Ranch; Mothers Culture Club; Cumby ISD; Shoe Inn, Fieldhouse Sports; Sulphur Springs Floral; State Farm Julia Wilhite, which includes a generous State Farm Corporate match as well; Financial Solutions; Guaranty Band and Trust, employees and corporate; Tire Town; J-B Weld; and Gregg Price Law Firm.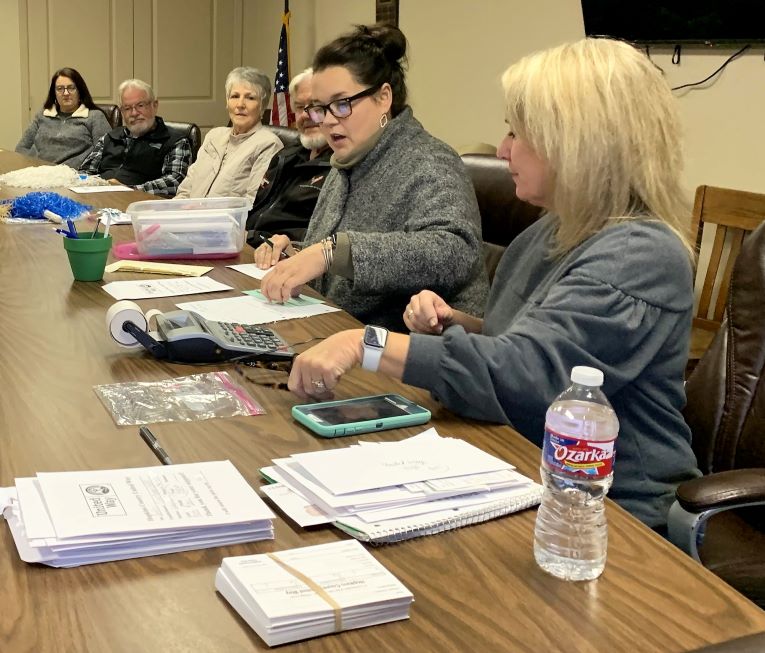 Berning pointed out that donations from several local industries, businesses and supporters who faithfully provide generous donations to HCUW annually have yet to come in, but are expected next week, including contributions still being tallied from Sulphur Springs ISD employees, Grocery Supply Co., Flowserve, Alliance Bank, City National Bank, and several others.
The campaign members brought pompons and bell to the meeting to cheer and ring, celebrating each donation announced, as every penny contributed gets the campaign closer to meeting this year's $150,000 goal, which provide funding to agencies that provide essential services for local residents, including abused and neglected children, domestic abuse victims; food, basic essential and medical assistance for those less financially fortunate in the community, as well as enrichment programs for children and the community.
All campaign workers are invited to attend the final HCUW meeting at 9 a.m. Tuesday, Nov. 9, 2021, where the campaign officers, board and volunteers hope to be able to cheer in celebration of meeting the 2021-22 campaign goal.
Cash or Check donations may also be mailed from individual contributors to HCUW Campaign Headquarters, at PO Box 735, Sulphur Springs, TX 75483. Donations may also be made online via PayPal or debit/credit card by clicking "Make A Donation" link on the Hopkins County United Way website, https://hcuw.org/, or selecting the Shop Now button on the Hopkins County United Way Facebook page
Questions may be directed to Berning by phone call or text at 903-243-4066.