Hopkins County United Way at the annual workers kickoff luncheon provided information regarding this year's $150,000 goal and allocations, as well as dates for the upcoming HCUW 2021-22 campaign workers report meetings. Donation packets were distributed for campaign workers to begin delivering to local businesses to request donations to the 2021-22 campaign.
HCUW will host a luncheon next week for the lead donors to the 2020-21 campaign, which was chaired by Mike Horne. The campaign workers report meetings will each begin at 9 a.m. at the Texas A&M AgriLife Extension office:
Tuesday, Oct. 5
Tuesday, Oct. 12
Tues.day, Oct. 19
Tuesday, Oct. 26,
Wednesday, Nov. 3
Tuesday, Nov. 9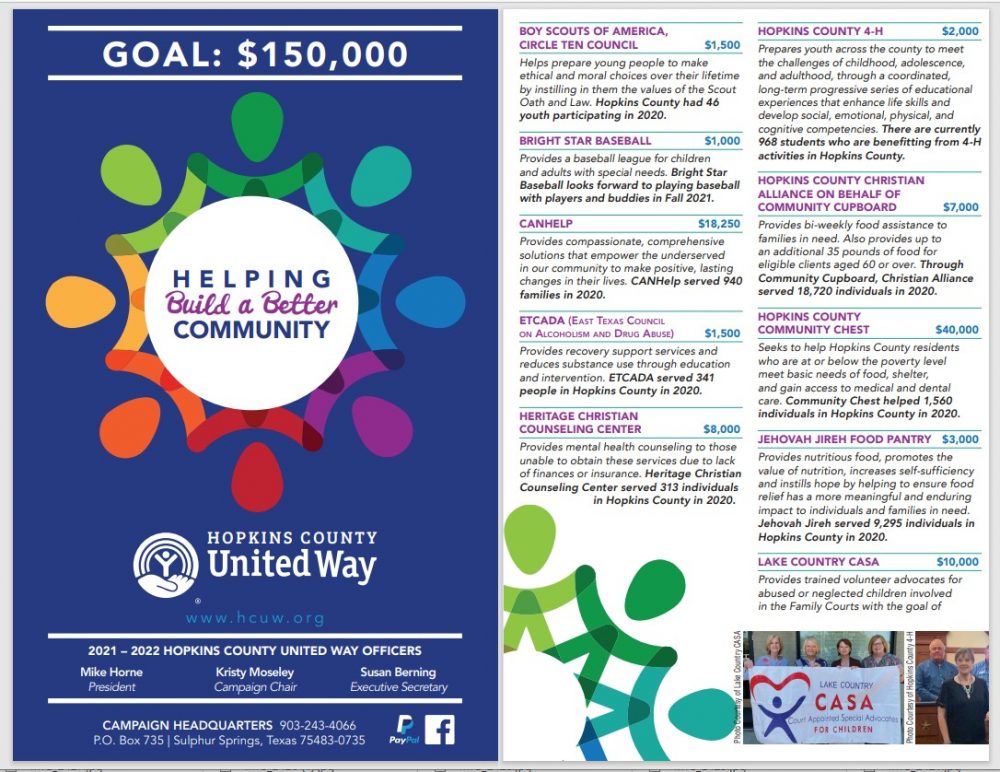 The final date has been designated if the campaign has not wrapped up by then. HCUW 2021-22 Campaign Chair Kristy Moseley said the goal is to try to get all donations in by Nov. 3.
Following allocations meetings held over the summer to hear from agencies previously helped by and who have requested funding from HCUW this year, the 2021-22 HCUW campaign goal was set at $150,000, which will support 18 different local nonprofit organizations. Those organizations. their 2021-22 allocations include:
Boy Scouts of American, Circle Ten Council, $1,500, (-$600)
Bright Star Baseball, $1,000
CANHelp, $18,250, ($10,250)
East Texas Council on Alcohol and Drug Abuse, $1,500, (-$500)
Heritage Christian Counseling Center, $8,000
Hopkins County 4-H, $2,000
Hopkins County Christian Alliance on behalf of Community Cupboard, $7,000
Hopkins County Community Chest, $40,000 (-$14,500)
Jehovah Jireh Food Pantry, $3,000, ($2,000)
Lake Country CASA, $10,000, ($1,000)
Lakes Regional Community Center on behalf of Our Place, $4,000
Meal-A-Day of Sulphur Springs, $8,000 ($1,000)
NETCAC (Northeast Texas Child Advocacy Center, $3,500
SAFE-T (Shelter Agencies for Families in East Texas), $4,000
Shadow Ridge Therapeutic Riding Center, $4,000
Sulphur Springs Symphony League, $1,000
Teen Court, $4,000, ($500)
The Dinner Bell, $4,000 ($1,000)
HCUW also is required to pay 2 percent of the goal to United Way Worldwide to be part of the larger United Way organization. Finally, HCUW allocated $22,250 for administrative expenses including a salary for a part-time secretary, supplies, utilities, annual audit, postage and campaign materials.