More than $8,100 in donations were contributed to Hopkins County United Way during the second week of the 2021-22 campaign, bringing the overall total raised so far to $32,768.
This year's goal is to raise $150,000 to benefit the 18 agencies the funding is allocated to help.
Mike Horne picked up a donation from Century 21 First Group. Hope Smith also dropped off at his office donations from Hopkins County Veterinary Clinic and Hope Smith Interior Design.
Carolyn McKinney had collected all except one of the packets she handed out. Tuesday morning, McKinney received a donation from Hopkins County Abstract, and noted "We appreciate their support so much."
Charlotte Henderson reported she has packets out. While she had no donations yet to turn in, she anticipates going back to collect donation packets; in the mean time, she brought her pompons and cow bell to cheer the each donation which helps HCUW get closer to the goal.
Hillary Young turned in three packets this week containing donations from Keith Bland, M&W Feed and Outdoor Power Products. She still has two packets still out, but anticipates following up on them over the next week.
Dinh Tran turned in a donation from Diversified Storage Solutions, and has a couple of others he plans to stop by to collect soon.
Bill Owens picked up a donation from the new barbecue business in Sulphur Springs, Dickey's Barbecue pit. He also noted that Jay Hodge Chevrolet is once again hosting a giveback this month: donate a bag of Halloween candy and receive $500 toward the cost of a new vehicle. The candy will be donated toward a local organization and jay Hodge will donate $100 to Hopkins County United Way. The deal is good through Oct. 30, 2021. Click here to see a video clip announcing the giveback. Owens said so far the business has had a good month, and contributed a "down payment" donation of $2,500 from Jay Hodge Chevy.
Beverley Owens brought in packets for Mike Jumper, who as of Tuesday had only one donation packet still to be collected. Dr. Daniel Siriphongs, Town & Country Cleaners, Backstory Brewery, Discount Wheeler and Tire, Cody Drug, Wilks Classic Car Wash, Dr. William Longino, Rick's Oil Depot, Freedom Realty and Bell Concrete each generously either gave the goal requested or more.
Lynda Hager too reported a donation from Pilgrim Bank.
HCUW Executive Secretary Susan Berning reported packets collected by John Berning and Tim Glenn included donations from Southwest Dairy Museum; All World Travel; Smith, McDowell & Ginn; and Kiwanis Club. She reported on two special donations as well.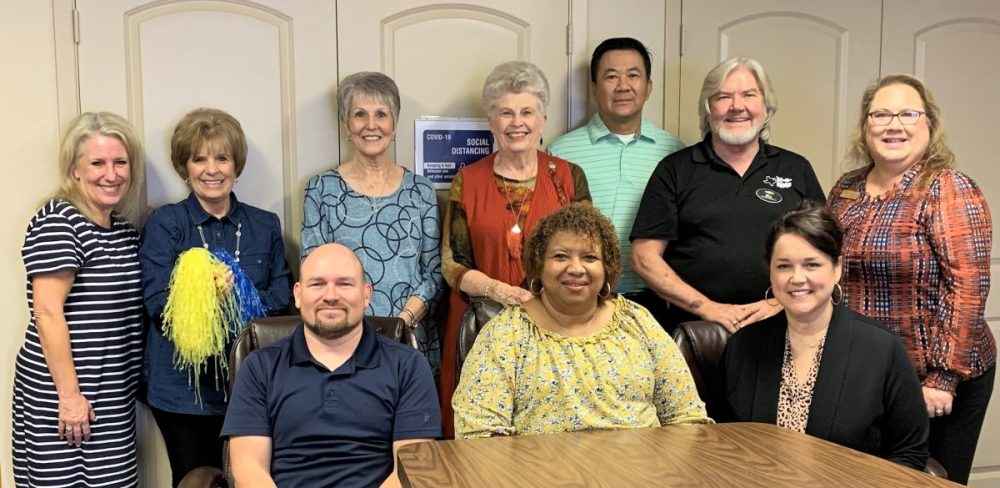 "We have a donation from United Way of Central New Mexico. What that probably means is that there's somebody associated with Hopkins County that works for a company that sends their contributions through that particular United Way," Berning said, noting HCUW also received "a donation from Ian Ashcroft, who has been a contributor and great supporter of our local United Way for years."
"Yes, he's one of a founding board member," Henderson added.
HCUW Campaign Chair Kristy Moseley received donations from Chad's Media and Marlene's Sass & Class.
Berning too offered special thanks to HCUW campaign volunteers such as McKinney who are returning to once again donate their time to United Way and new volunteers such as Young and Tran, for joining the group to help work this year's campaign. Young and Tran also are on the HCUW Board of Directors this year, and Tran also serves on the Budget & Allocations Committee.
Moseley reported that the $8,129.15 collected during the second week of the 2021-22 HCUW campaign, added to donations collected the first week of the campaign, amount to $32,768.15 of the $150,000 goal collected so far.
"Thank you all for working so hard. We'll just continue taking packets and pick up packets. We are looking forward to another great week next Tuesday," Moseley said.
Those who wish may make donations or learn more about Hopkins County United Way and the 2021-22 campaign via the organization's website, https://hcuw.org, and Facebook page.
The next workers campaign meeting will be conducted at 9 a.m. Tuesday, Oct. 19, 2021, at Texas AgriLife Extension Office. Campaign report meetings will be held at 9 a.m. each Tuesday in October, as well as Wednesday, Nov. 3 and Tuesday, Nov. 9, if needed to reach the $150,000 goal to help all 18 agencies allocated funding. Campaign workers who are able are encouraged to attend each week's meeting, even if they don't have additional funds to contribute, to cheer on the new donations which get HCUW that much closer to the goal each week.
Donations may also be mailed from individual contributors to HCUW Campaign Headquarters, at PO Box 735, Sulphur Springs, TX 75483. Donations may be made in cash or by check, or online via PayPal or debit/credit card by clicking the Shop Now button on the Hopkins County United Way Facebook page
To have Moseley stop by a business to speak at the workplace, Questions may be directed to Berning by phone call or text to 903-243-4066.