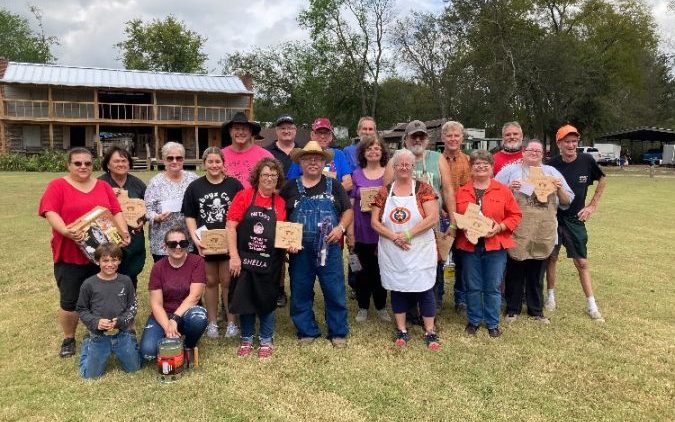 The John Chester Cookoff, an Autumn tradition in Hopkins County, was held on Saturday October 2 in Sulphur Springs' Heritage Park. The number of participants was a little less than expected due to the threat of rain, but organizer Rick Wilson remained undaunted by the weather forecast. Despite an early shower, cooking began by 7:30am, and deliciously fragrant meals were ready for serving by 11am. Prior to serving, judging samples were collected for the six judges, and here's how the 2021 contest turned out.
First Place Overall: Melinda Hitt
Second Place Overall: Donnie and Katie Martin
Third Place Overall: Marjorie Ford
Best Dessert: Don and Carol Barfield
Best Meat: Laney and David Whitlock
Best Vegetable: Rick Wilson and Les White
Best Bread: Coyle and Elizabeth Jones
Best in Pot: Eddie and Sheila Etmus
Rick Wilson sent out his appreciation. "Thanks to our host, the Hopkins County Heritage Park, and our sponsors City National Bank, Alliance Bank, Hopkins/Rains County Farm Bureau and the NE Texas Farmers Co-op for making it possible to hold this fun and historic event for the people of Hopkins County."
Persons new to Hopkins County may ask "what's a Dutch Oven?" Dutch oven cooking pots of various metals were first used in the Netherlands – that's why it's called a Dutch oven – but it is the British who were the first to use cast iron pots such as we have today. This essential pot or cooking oven came in some form to America with the colonists, and no doubt kept many pilgrims alive during those first seasons in the new land. The shape and the size of the cooking ovens has evolved over time. In the United States, the Dutch oven for outdoor cooking has become a shallower pot with shorter legs, helping it hover over the top of a fire, and it's lid improved with a flange or rim that keeps the coals atop the pot from falling into the food inside. The fundamental two-piece design has traveled the world and remains a staple from South Africa to Australia, in many European lands and in American households. Hopkins County's long history of Dutch oven cooking extends from the first settlers in 1850's through the exciting years of the 1980s and 90s when Johnny "Buffalo" Chester cooked for large gatherings of friends over a multi-county area, to Rick Wilson's revival of the skill more than a decade ago.