D6's multi-year expansion project incudes not only relocation of the company's corporate headquarters from Oregon to Sulphur Springs, but will also include another 300,000 square-foot expansion, according to Sulphur Springs-Hopkins County Economic Development Corporation Executive Director Roger Feagley.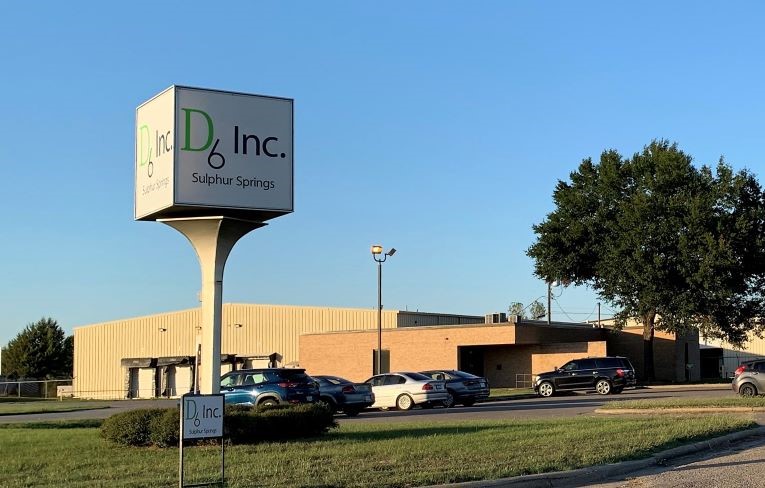 Overall, the D6, Inc., relocation project announced by Gov. Greg Abbott Oct. 15, 2021, is expected to be a $21 million capital investment that will create 231 new jobs. Abbott also announced a $1,432,200 Texas Enterprise Fund grant extended to and a $6,000 Veteran Created Job Bonus offered to D6 to help with the move.
According to Feagley, D6 a few years ago began looking for a place to open a Texas plant to better serve a Paris, Texas business. They found the property known locally as the old Coca-Cola plant, which had to that point more recently housed S&S Commercial operations in Sulphur Springs and bought the property and began operations at the end of 2020.
At least three taxing entities approved incentives to D6 for the $6 million investment, which included an immediate 25,000-square-foot expansion of the building, and plans to expand within 18 months.
Sulphur Springs City Council approved a 10-year Chapter 380 economic development agreement which requires the business to pay all taxes owed up front, and when documentation of terms of the agreement including meeting and maintaining a certain number of employees, the city reimburses a percent of those taxes. The first year, the full amount would be reimbursed, then that amount would be reduced by 10 additional percent each year for the 10 years of the agreement.
Hopkins County Commissioners Court approved an agreement that would provide a tax incentive for the expansion only, while Hopkins County Hospital District Board of Directors approved a tax abatement for the business as well.
The deal is expected to result in local officials being asked in the near future to consider approving additional tax incentives for D6 for the investment which is projected to provide at least 231 jobs which should have a positive significant impact on the Northeast Texas economy. Some people will move with the company to Texas. The rest will be hired locally as needed.
Feagley said D6 officials had been looking to move the business out of Portland, with a desire for a more central location, and Texas and Sulphur Springs seem to fit that bill well. D6 and local officials are working on incentive packages to go along with the move, which is expected to include a two-phase expansion and expected t o begin as soon as possible.
Overall, the business is expected to expand the current operation by 300,000-square feet, with a 180,000-square-foot building to be constructed as soon as the business can get everything in line and another 120,000-square-foot building expansion in three years. The new buildings will be located on the Saputo (old We Pack) property just across from the current facility, on the 10 acres the EDC has near the railroad tracks.
"More and more great companies like D6 are moving to Texas every day because of our welcoming business climate and our young, growing, skilled, and diverse workforce, and I look forward to working alongside D6 and all of our business and community leaders to keep Texas the best place to live, work, and raise a family," Abbott said in the Oct. 15, 2021 announcement of D6 Inc.'s planned corporate relation to Sulphur Springs.
"We greatly appreciate the vision and ongoing support from the City of Sulphur Springs, Hopkins County and the Sulphur Springs-Hopkins County EDC. With the help of all, D6 Inc. will build the first fully closed-loop recycling site for single-use PET clamshells in Sulphur Springs," Abbott said last Friday of the plastic packaging produced by the company.
The economic development agreements for the planned D6 multi-year expansion project would offer tax incentives for D6's continued investment in the local economy, which will provide jobs that pay "higher than the average weekly wage," city and county officials noted at the time of the announcement of D6's planned headquarters relocation.