Pay Scales Raised For Certain Hourly Workers, Paraprofessionals
Sulphur Springs ISD Board of Trustees approved 25 personnel changes as well as employee compensation plans that increases pay scales for certain hourly workers and paraprofessionals.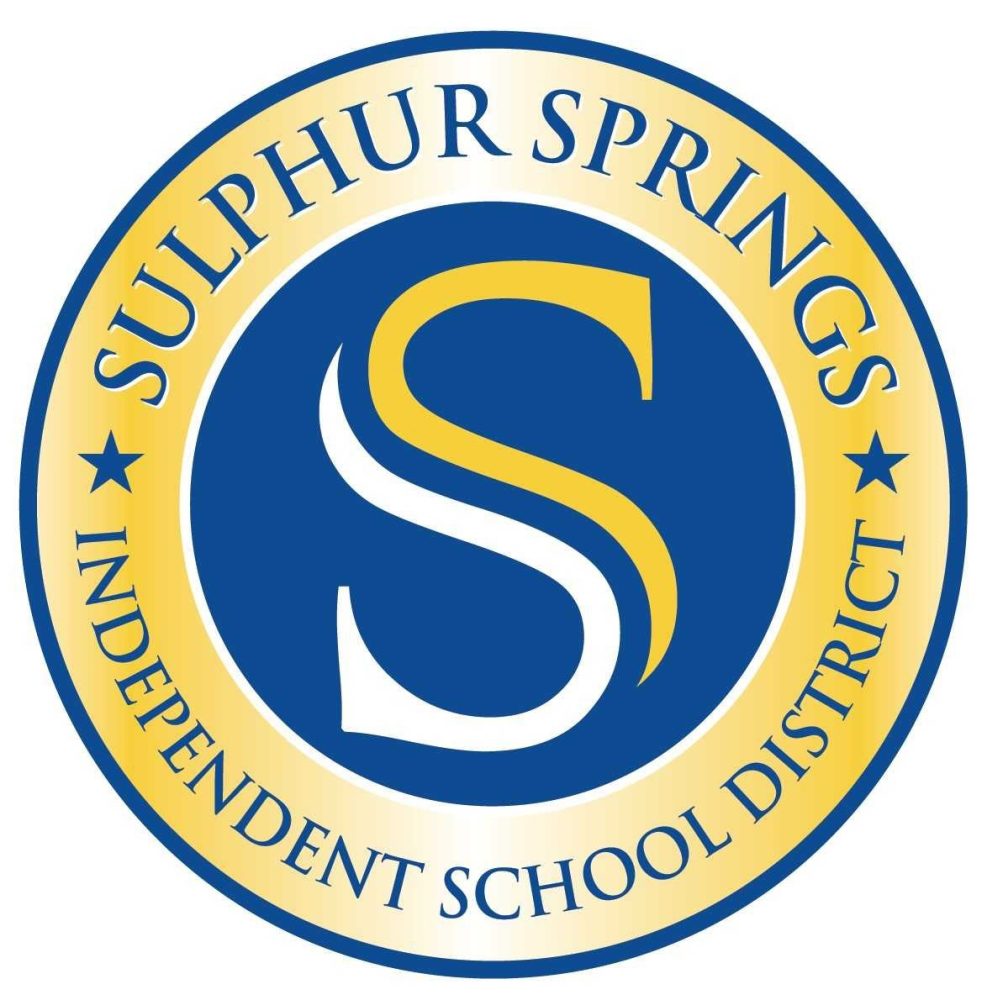 Personnel Changes
SSISD trustees approved four resignations, 13 new hires and eight inter-district personnel changes, which aside from a few paraprofessional and one office spot in the special education department pretty much firms up the district staff for the year.
Christie McCullough resigned as dance teacher and drill team instructor at Sulphur Springs High School. Meredith Dial is moving from a fourth grade classroom at Sulphur Springs Elementary to the high school to teach dance and serve as drill team instructor. Alisa Kulak then was hired as a fourth grade math and science teacher at SSES. Elias Garcia has been employed as a bilingual aide at SSES.
Ambie Tolleson resigned as Douglass Early Childhood Learning Center Head Start 4 aide. Douglass prekindergarten aide Leslie McDowell, Barbara Bush Primary special education aide Amber Harris and Rowena Johnson Primary (former Lamar Primary campus) Title 1 aide Lila Sears will all be stepping up as teachers at Douglass ECLC this year. Harris and McDowell will teach Head Start, while Sears teaches prekindergarten. Carrington Chancellor was hired as a prekindergarten aide at Douglass ECLC.
Kami Satterfield and Corban Jenkins resigned as special education aides at SSHS. Eric Buck in turn will move from Bowie Primary, where he was a Title 1 aide, to be a special education aide at SSHS. Kayla Miller will be moving from Douglass, where she's been a Head Start aide, to become a Title 1 aide at Bowie Primary. Finally, rounding out the list of SSISD staff transferring to Douglass following Monday evening's personnel changes is Tracy Flanery, who is trading Connections classroom at SSHS for an early childhood special education class at Douglass.
Patti Laeding will be returning to the classroom part time to teach English at SSHS. Brandy Griffin too was hired as a SSHS English teacher. Amanda Cochran has joined the SSHS staff as special education aides.
Hired as special education aides at Barbara Bush Primary were Dejarnae Nash and Brandy Rhudy, and at Sulphur Springs Middle School were Luciano Gallo and Kerry Roy.
Rounding out the list of new hires were Harley Kerby, Jady Martin and Logan Scott, as Title 1 aides at Rowena Johnson Primary.
Personnel decisions were voted on by the school board after an executive session Monday night, Aug. 9, 2021.
Rowena Johnson Elementary
Superintendent Michael Lamb, after the meeting reported that the sign officially renaming Lamar Primary in honor of the late Rowena Johnson, who dedicated 50 years toward the education of SSISD students before retiring, has been ordered but has been delayed. The new Rowena Johnson Primary sign is tentatively scheduled to arrive on the first day of classes. District administrators still hope to hold a dedication service to unveil the new sign.
Employee Compensation Plans
SSISD trustees also approved the 11 pages of pay scales for district employees as recommended by administrators. While some appear the same, there are some differences in others. The district, like many across the state, have struggled to hire and retain employees for certain staff, such as child nutrition workers, bus drivers, substitutes and certain paraprofessionals. Administrators recommended increases to those pay scales to make the pay more competitive with other districts in the area or of comparable size.
Assistant Superintendent Josh Williams noted one of the more obvious changes can be found in the hourly worker compensation plan. The starting rate for child nutrition workers increased from a minimum starting pay of $9 per hour to $10.50 with a maximum rate of $16 for child nutrition workers on Pay Grade 1. Rates for child nutrition managers vary by the number of students served at their campus or facility. The rate for child nutrition managers on campuses with 400 or less students ranges from $13-19, with 400-800 students would be $14-20, for 800 or more students would be $15-21 hourly pay.
Williams reported the minimum starting pay for custodial, maintenance, grounds, bus monitors are comparable with all. Custodians too start at $10.50 an hour, bus monitors at pay grade 2 at $11 an hour, maintenance (grounds) in pay grade 3 at $12 an hour and pay grade 4 at $13 starting (the same as child nutrition managers on campuses with 400 students or less).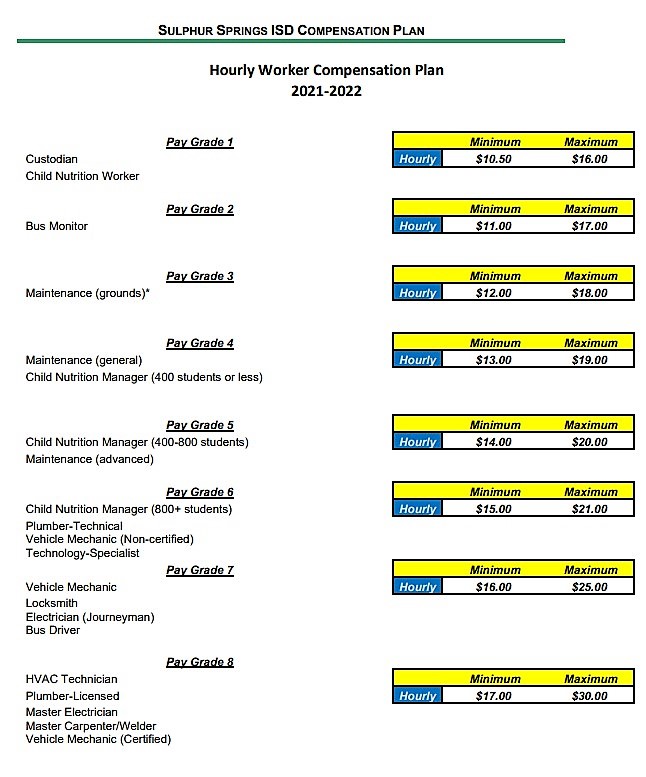 Another change noted by Williams was in compensation scales for paraprofessionals. Looking at the scale listed in blue and gold, with two different pay scales.
"The pay scale 1 is what used to be Pay scale 2. That's where a lot of paraprofessionals are. The old Pay Grade 1 was for a subset of paraprofessionals at Douglass. We found that was an antiquated practice with what they were doing every day and were being paid less because the kids were smaller," Williams said. "So we moved the old Pay Scale 2 to Pay Scale 1."
Williams noted that the gold pay scale on the right is 5 percent greater than Pay Grade 1. This is designated for paraprofessionals who work in the classroom environments where they potentially face physical peril. The overall cost to the district to change the paraprofessional pay scale is $40,000.
Another change not reflected in the pay scale presented Monday night to the SSISD trustees is an increase in substitute pay.
"Not only this year, but last year with COVID, we're competing with districts in the county for substitutes. Different schools do it different ways. We are going propose increasing short term substitutes from $70 a day to $80 and long term subs from $80 to $90. That brings us up to par with other districts around us," Williams said.