School starts Thursday, Aug. 12, at Miller Grove ISD. Several activities are planned to help students and their families gear up for the new school year.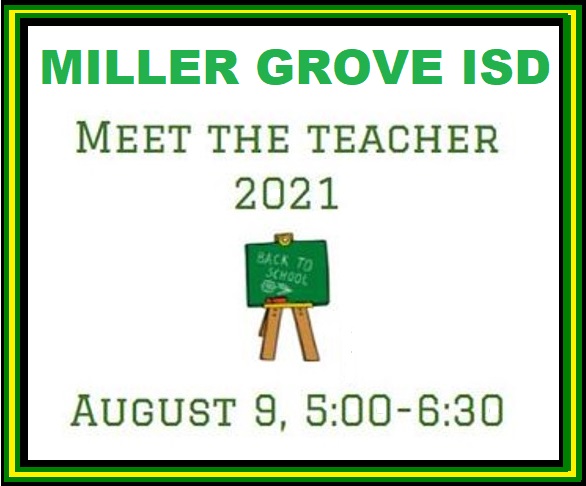 Meet the Teacher will be conducted from 5 to 6:30 p.m. Monday, August 9, for all grades. Elementary students can drop off school supplies and meet their teacher. Junior High and High School students will be able to pick up schedules and meet their teachers. Students taking college classes will need to meet with Mrs. Hudson. There will be free hot dogs and ice cream provided by PTO in the Hornet's Nest and families are welcome to tour the new Multipurpose Building. Also, if parents/guardians haven't completed online registration for each child who will be attending Miller Grove ISD this year, new or returning, they are asked to do so online before the start of school.
Tuesday night the junior varsity and varsity volleyball girls will host Trinity Christian starting at 5 p.m.
The bell to start classes rings at 8 a.m. Thursday, Aug. 12, for all students. Parents who have yet to pick up supplies for their students may download lists of supplies, by grade for MGISD students in pre-kindergarten through sixth grade, on the designated link on the main page of the school website https://www.mgisd.net/.
Also on Thursday, the varsity girls team will travel to Princeton for a volleyball tournament; the time has yet to be announced.
Looking ahead, the FFA Back to School Hamburger Supper will be Thursday, August 19, at 6 p.m.
Students and parents should keep in mind the school dress code when shopping for school clothes and before children head out the front door for school.