Polly Swatsell, Pamela Johnson and Linda Christian received the Retired Senior Volunteer Program "Presidential Award." To qualify for this prestigious award, individuals have to volunteer 4,000 hours of their time.
Polly Swatsell volunteered for Meal A Day for many years driving the Como/Pickton Meal A Day meal delivery route. She can be found volunteering her time and talents all over Hopkins County, including with the Hopkins County Health Care Foundation and the Hopkins County Chamber of Commerce.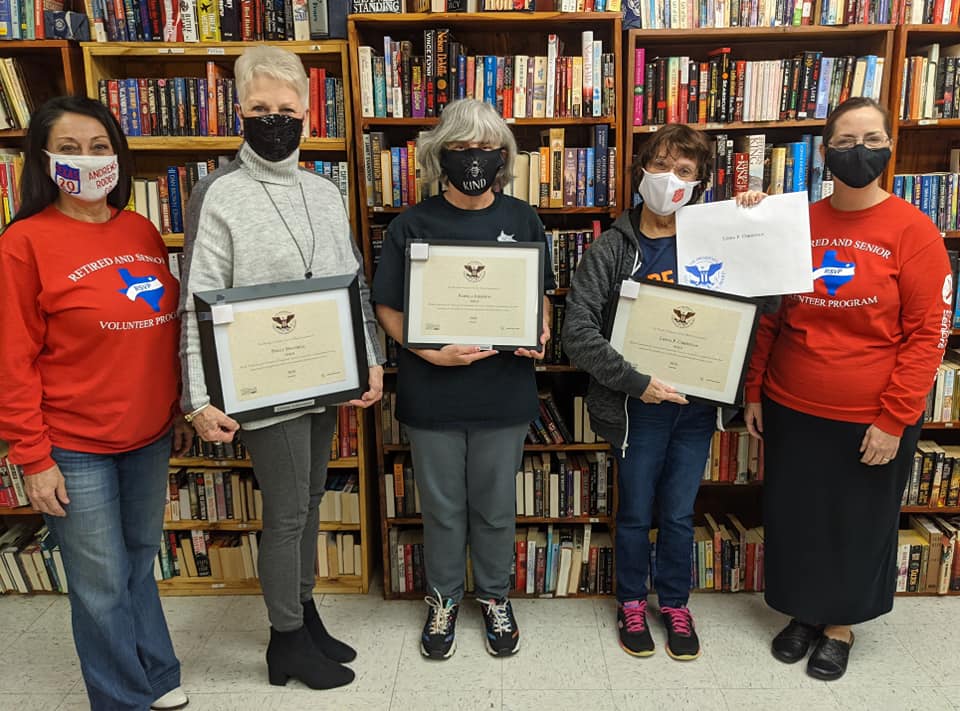 Pamela Johnson is a long time Meal A Day Volunteer, driving the Como/Pickton Meal A Day Route and helps in the kitchen whenever she is needed. She also meets the North Texas Food Bank Truck every week and picks up food for Meal A Day. She volunteers with Hopkins County Historical Society, and loves working at the Museum during special occasions. She is an Army veteran and also volunteered her time working at military funerals with the Hopkins County Military Coalition until her health forced her to retire. She still works very hard in spite of her Multiple Sclerosis, working hard not to let it get her down.
Linda Christian volunteers her time each week preparing and serving the meal at the Dinner Bell. She volunteers her crocheting talent making lap blankets, shawls, hats and cute animals for cancer patients, hospice patients and children who are in the hospital. She can also be found every year in front of Walmart ringing the Salvation Army bell during the holidays.
Congratulations to the women who so generously donate their time to serve others in the Hopkins County community.
---
The Sulphur Springs Senior Citizens Center is a place where Senior Citizens age 50 and over can have a good time with old friends and make some new ones. Meal-A-Day is just one service the center provides. The coffee pot is always on and a smile is on each face. The SCC has a full library with all different kinds of reading books that can be taken, read and returned. Take as many as you like and bring some of your books in to share with others. Click here to find more information for seniors citizens.