Texas Department of State Health Services' Dec. 3 COVID-19 update provided both good and bad news for Hopkins County.
While the number of new COVID-19 cases was four times higher on Thursday than on Wednesday, the patient count in the hospital COVID unit declined for the third consecutive day. No new COVID-19 deaths were reported for Hopkins County, but there also were no new recoveries on Thursday either. There were also fewer molecular tests conducted at the Jefferson Street site Wednesday, according to the Hopkins County/Sulphur Springs Emergency Management Dec. 3 COVID-19 update.
COVID-19 Case Counts
As was predicted for 1-2 weeks following Thanksgiving, the new case count spiked 7 days after the holiday. The 44 new lab-confirmed positive molecular COVID-19 cases reported Dec. 3 is the most new cases reported in a single day since October. HC/SSEM reported 77 new COVID-19 cases on Oct. 19 and 42 on Oct. 21.
While new cases across the state have declined the last two days from what appears to have been a record high of 15,182 new cases on Dec. 1 to 14758 on Dec. 2 and 13,857 on Dec. 3, new cases have spiked in Hopkins County this week, going from 1 on Monday and Tuesday to 11 on Wednesday and 44 Thursday. That makes 888 Hopkins County residents who have received positive molecular COVID-19 tests since March, including 771 residents who have recovered from the virus and 54 who died from COVID-19.
The active case count in Hopkins County appeared to be headed in the right direction Wednesday, decreasing from 90 Tuesday to 19 Wednesday due to the 80 recoveries reported on Wednesday for Hopkins County, the 44 new cases reported Thursday increased the active case count to 63, the DSHS COVID-19 Case Counts dashboard showed on Dec. 3.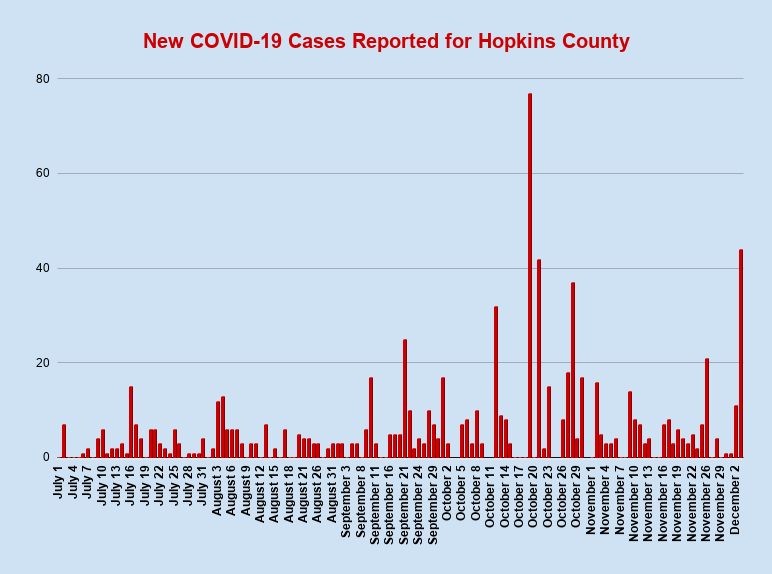 Hospital Reports
The patient count in the COVID-19 Unit at CHRISTUS Mother Frances Hospital-Sulphur Springs has slowly declined this week, dropping from 25 patients Monday to 23 on Tuesday, 21 on Wednesday and 20 Thursday, according to HC/SSEM's Dec. 3 COVID-19 update.
According to DSHS, the overall percent of COVID-19 hospitalizations out of the total hospital capacity in Trauma Service Area F declined below 15 percent for the first time in six days from 16.3 percent on Wednesday to 13.8 percent on Thursday. That resets the daily count from five consecutive days above the 15 percent mark, so no additional COVID-19 restrictions such as reduction of business occupancies from 75 to 50 percent or closings are needed for TSA F.
TSA E, which includes the Dallas/Fort Worth area, however, marked the seventh consecutive day in wich COVID-19 hospitalizations reached or exceeded 15 percent or more: 15 percent on Nov. 27, 15.6 percent on Nov. 28 and Nov. 29, 16.1 percent on Nov. 30, 16.4 percent on Dec.1, 15.8 percent on Dec. 2 and 15.6 percent on Dec. 3.
The total COVID-19 percentage of hospital capacity in TSA-I, which includes El Paso, hasn't dropped below 30 percent since Oct. 23 and hasn't been below 15 percent since Oct. 11.
The total COVID-19 percentage of hospital capacity hasn't been below 15 percent in TSA J (Midland/Odessa) since Nov. 16 and for TSA M (Waco) since Nov. 23, TSA T (Laredo) since Nov. 13.
According to the DSHS Testing and Hospitals Dashboard, there were 363 available hospital beds, 6 available ICU Beds, 63 ventilators and 148 lab-confirmed COVID-19 patients in hospitals in TSA F on Dec. 3.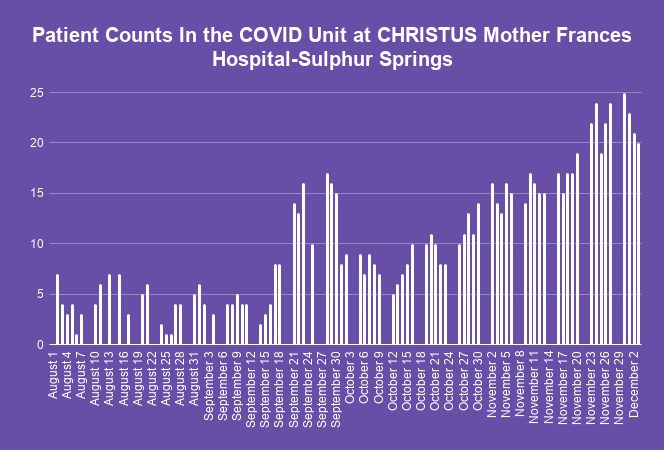 HC/SSEM Testing Report
Hopkins County/Sulphur Springs Emergency Management officials in the Dec. 3 COVID-19 update reported there have been a total of 4,733 COVID-19 tests performed at the free testing site since it opened on Sept. 25. That means 84 additional tests were conducted on Dec. 2. That's 505 molecular COVID-19 tests conducted at 128-A Jefferson Street in the last 7 days.

Free testing continues to be offered inside the Red Cross building (former Fidelity Express building) weekdays from 9 a.m. to 6 p.m. in December. Testing is available for anyone, but registration must be completed by an adult age 18 or older in advance online at www.GoGetTested.com to schedule the oral COVID swab.
Those testing should bring the number with the QR code sent sent upon completion of registration along with a photo ID to 128-A Jefferson St. at the designated time. This is not a drive-through location. The COVID-19 test will be performed inside the building.
HHS Nursing Home Reports
Texas Health and Human Services in the Dec. 3 COVID-19 nursing facility report showed only one change from the previous day: one additional resident at Carriage House Manor had received positive COVID-19 results on Nov. 19, increasing the active resident case count at the facility to six.
The only other active COVID-19 cases reported for Sulphur Springs nursing facilities on Nov. 19, the most recent data available, were employee cases. There continued to be two active employee cases at Carriage House Manor, five at Rock Creek Health and Rehab, two at Sulphur Springs Health and Rehabilitation and one at Sunny Springs Nursing and Rehab on Nov. 19, according to the HHS report.