Hopkins County/Sulphur Springs Emergency Management officials received notification that 7 additional county residents have received positive molecular COVID-19 results since their last report on Friday, according to the Nov. 16 COVID-19 update.

Since there have been no new recoveries in a week, the active case count has continued to rise over the last week to 136 on Monday, the highest active case count in the last 11 days.
Cumulatively, 758 Hopkins County residents have received positive molecular COVID-19 results since March, including 622 residents who have recovered from the virus, HC/SSEM reported in the Nov. 16 COVID-19 update.
In the last 2 weeks, there's been very little change in the breakdown among age percentages of county residents who have had COVID-19. In fact, the only change was that 13 percent of the COVID-19 patients in Hopkins County through Nov. 14 have been age 41-50 years, 1 percent more than on Nov. 1, and a 1 percent dip for ages 61 and older. But, the category for adults ages 61 and older was still the highest at 32 percent.
All the rest were unchanged: children ages 1-10 account for 3 percent of overall COVID-19 payments, adults ages 21-30 for 13 percent, ages 31-40 for 10 percent and ages 51-60 for 14 percent.
Another 159 molecular tests were conducted at the free testing site at 128-A Jefferson Street on Friday and Saturday, Nov. 13 and 14. That makes 3,452 tests performed at the testing site since it first opened on Sept. 25, HC/SSEM reported in the Nov. 16 COVID-19 update. Free testing will continue to be offered from 9 to 6 p.m. Mondays-Fridays and 9 a.m. to 5 p.m. Saturdays in November. Register online at www.GoGetTested.com for the oral swab test.
Also, Texas Department of State Health Services reported another 112 Hopkins County residents received positive antigen COVID-19 test results over the last week, identifying those as 112 probable cases, with 76 additional "probable" recoveries. Since June 23, DSHS has been notified of 668 positive antigen results for Hopkins County residents, with 516 reported as probable recoveries, leaving 152 probable active cases. That's 26 more "probable" active COVID-19 cases among Hopkins County residents this week than were reported on Nov. 9.
The patient count in the COVID-19 unit at CHRISTUS Mother Frances Hospital-Sulphur Springs had increased by two to 17 patients again on Monday, for the second time this month. There were also 17 patients on Nov. 10.
Texas Health and Human Services on Nov. 16 reported 1 additional resident COVID-19 death at Sulphur Springs Health and Rehabilitation on Nov 2, the most recent nursing facility data available from the state. Five additional employees at SSHR were reported to have tested positive for COVID-19 from Oct. 30-Nov. 2.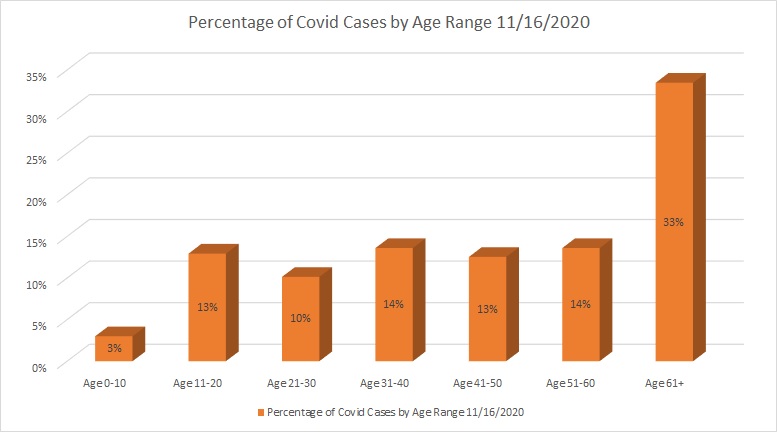 ---