Texas Department of State Health Services' Dec. 23 COVID-19 Case Counts dashboard showed 10 new COVID-19 cases and 27 recoveries for Hopkins County. Hopkins County/Sulphur Springs Emergency Management officials in their Dec. 23 COVID-19 update reported a high hospital COVID Unit patient count. Texas Health and Human Services on Dec. 23 reported three additional COVID-19 nursing home fatalities.
COVID-1 Case Counts
Two new confirmed COVID-19 cases were reported Wednesday afternoon for Hopkins County. That makes five Hopkins County residents who received lab-confirmed molecular tests this week, 213 this month and 1,045 cumulatively since March, according to the DSHS case counts.
Eight additional new probable cases were also reported on Dec. 23, increasing the total so far this week to 23, and this month to 141 new probable cases. Cumulatively, that's 1,064 probable cases reported since the state began tracking the data. DSHS defines probable cases as are those in which an individual either tests positive through an antigen test or has a combination of symptoms and a known exposure to someone with COVID-19 without a more likely diagnosis.
On the other hand, 27 Hopkins County residents were reported to have recovered from COVID-19 on Wednesday. That makes 74 recoveries reported so far this week and 1,930 recoveries, from all cases types, since the state began recording the data.
The additional recoveries offset the 10 new cases Wednesday, decreasing the active case count from 128 on Tuesday to 111.
Hospital Reports
Hopkins County/Sulphur Springs Emergency Management officials in the Dec. 23 COVID-19 update reported 28 patients in the COVID unit at CHRISTUS Mother Frances Hospital-Sulphur Springs for the second day in a row. That's the highest patient count reported thus far by local officials for the COVID unit at the local hospital.
The COVID-19 patient count increased from 159 on Tuesday to 166 on Dec. 23, accounting for 15.57 percent of the total hospital capacity in Trauma Service Area F, which includes the hospitals across Northeast Texas including CMFH-SS.

The staffed bed count for TSA F decreased by six to 1,066 and staffed inpatients beds decreased by six, while total hospitalizations increased from 620 to 627.
While there were 12 available ICU beds in TSAF on Dec. 23 (four more than on Tuesday) and 79 ventilators (two more), only 347 hospital beds were available in TSA F (13 less).
Testing Data

The local emergency management officials also reported 6,352 COVID tests have been performed at the testing center located at 128-A Jefferson Street since the facility opened on Sept. 25. That's 104 additional molecular tests conducted at the location on Tuesday, Dec. 22. That makes 538 tests conducted in the last seven days on-site, including 287 in the last 2 days.
DSHS reported a total of 13,048 COVID-19 tests have been performed in Hopkins County through Dec. 22: 10,864 molecular (viral) tests, 1,051 antigen tests and 1,133 antibody tests.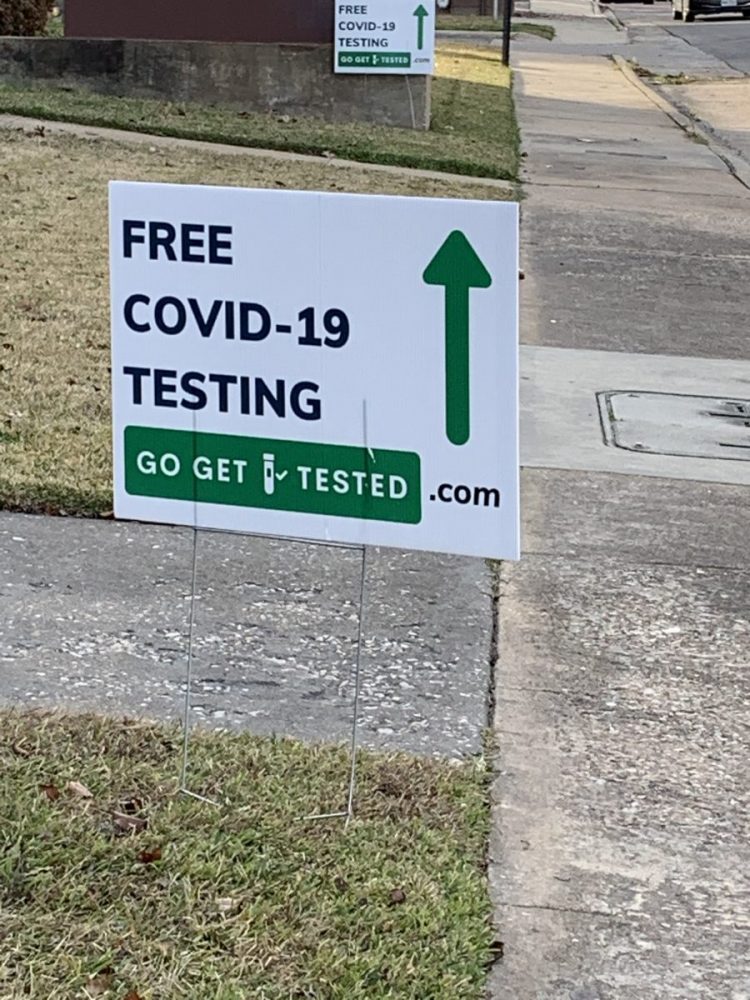 Free molecular testing continues to offered inside the Red Cross building weekdays from 9 a.m. to 6 p.m. and from 9 a.m. until about 5 p.m. on Saturdays through January, emergency officials reported last week. Online registration at www.GoGetTested.com is required, however. Testing is available for anyone, regardless of address or age. Children should be registered and accompanied by an adult.
Those testing should refrain from eating, drinking or using tobacco products for 20 minutes to an hour prior to arrival at the free testing center. A photo ID and the number sent electronically to the registrant is also required at the time of testing.
COVID-19 Vaccine
According to DSHS, eight people have received the first dose of the COVID-19 vaccine on Tuesday, three more than on Monday. Three sites have been approved to receive doses of Moderna vaccine.
CHRISTUS Mother Frances Hospital-Sulphur Springs on Wednesday was still awaiting to receive the Moderna vaccine for distribution to front-line healthcare workers in the area. The initial 400 doses (plus 200 doses headed to their clinic) will be offered to not only the front-line workers employed by CHRISTUS but also other clinics and medical offices in our area that are not owned by CHRISTUS. All first responders in our area will be included in this initial phase as well, the hospital's CEO told KSST Wednesday afternoon.
Representatives for Brookshire's Pharmacy, the first non-hospital affiliated outlet approved to receive the vaccine in the Sulphur Springs area, on Monday said the pharmacy was scheduled to get their first doses by Thursday for "front-line healthcare workers." Those making an appointment to receive their first dose will have to have documentation proving they are in this group. With only 100 doses being received this week, it is unclear how many doses the pharmacy will receive in future weeks. They do know that they will receive 100 of the "second dose" in approximately three weeks for those that receive the 100 first doses this week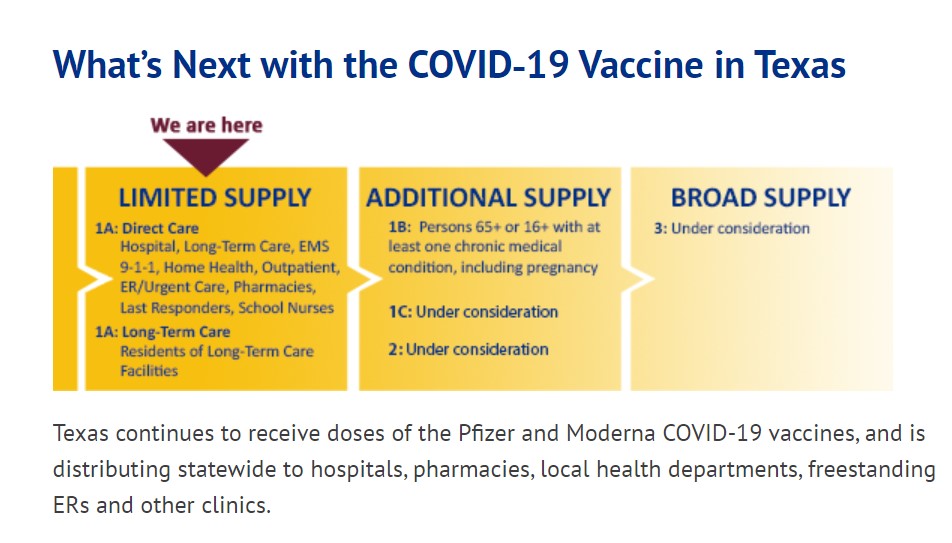 HHS COVID-19 Reports
Texas Health and Human Services is reporting three additional COVID-1 deaths and more than a dozen additional novel coronavirus cases Sulphur Springs nursing homes.
Carriage House Manor was reported on Oct. 8 to have one additional COVID-19 patient death, for a total of 26 COVID-19 fatalities for the facility since March. One staff member received a positive COVID-19 result as did two additional residents, and two residents of Carriage House Manor had also recovered from the virus on Dec. 8, according to the Dec. 23 DSHS nursing facility report.
Rock Creek Rehab reported five additional employees had received positive COVID-19 results, increasing the active case count among employees to 11. Four additional residents of RCHR had tested positive, for a total of 22 employees who actively had COVID-19 on Dec. 8. While the facility had reported no patient recoveries, two residents had died from COVID-19 on Dec. 8, according to the Dec. 23 HHS nursing facilities report.
Neither Sulphur Springs Health and Rehab nor Sunny Springs Health and Rehab had any active cases on Dec. 9.
There were no active cases at Sulphur Springs assisted living facilities as of Dec. 9 nor were there active COVID-19 cases at licensed child care centers, school-age programs, and before- or after-school programs in Hopkins County on Dec. 22, according to HHS reports.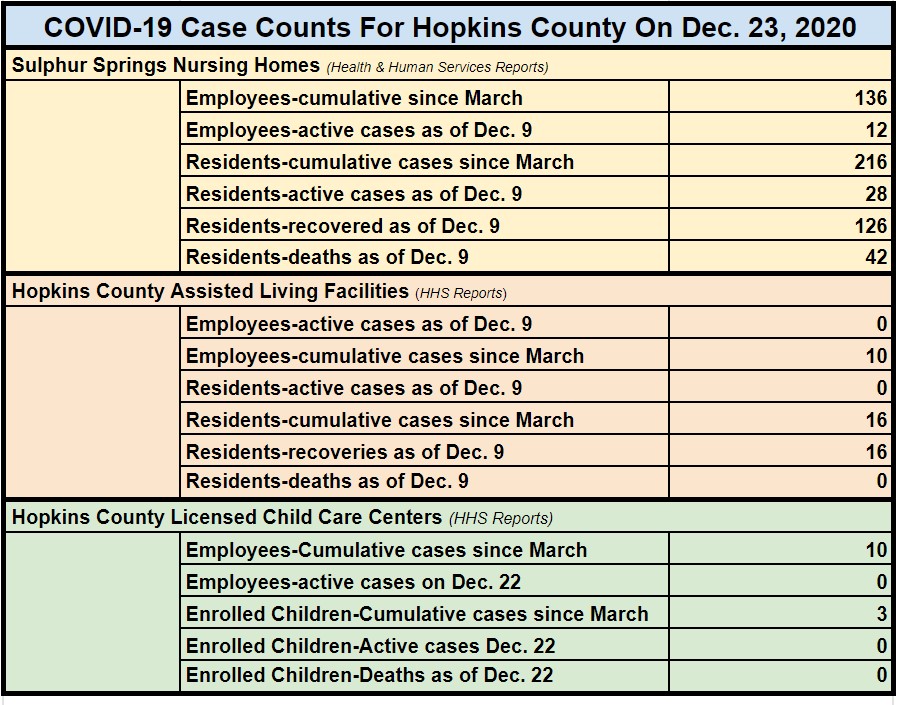 ---