Hopkins County residents recovered from COVID-19, half as many new probable cases were reported and fewer COVID-19 tests were conducted at the free testing site on Friday than Thursday. However, one more COVID-19 positive on molecular tests was also reported, the patient count in the COVID-19 unit at the local hospital rose and one additional Hopkins County fatality was confirmed, Texas Department of State Health Services and Hopkins County/Sulphur Springs Emergency Management reported in Dec. 18 COVID-19 updates.
Dec. 18 COVID-19 Case Counts
The DSHS Dec. 18 COVID-19 Case Counts dashboard showed 25 additional Hopkins County residents as of 5:45 p.m. Friday had received positive COVID-19 results from molecular testing. That's 49 new lab-confirmed cases in the last 2 days, 63 this week and 201 so far this month. That's more than the total for all other months except October, when 323 total cases were recorded. December is ahead of even October's pace, however, as only 103 new cases had been reported through the 18th day of October, according to case counts reported by HC/SSEM officials. Overall, 1,033 Hopkins County residents have received lab-confirmed COVID-19 positive molecular test results since March. That's a composite positivity rate of 5.55 percent, according to the DSHS dashboard.
Three additional probable cases were also reported in the DSHS Dec. 18 COVID-19 dashboard, that's three fewer cases on Friday than on Thursday, for a total of 78 new probable cases since Sunday and 1,024 since DSHS began tracking probable case data in June.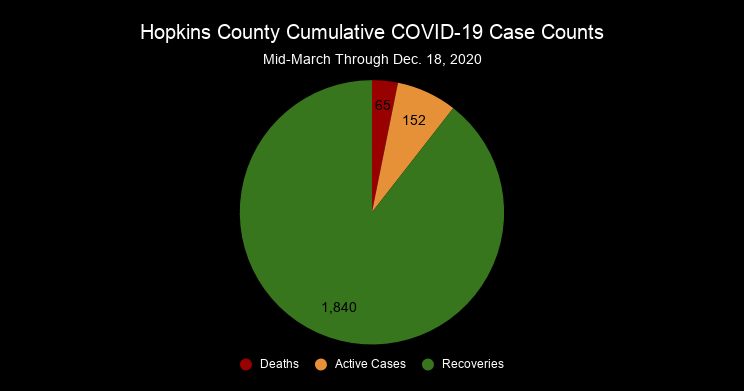 Twenty of the Hopkins County residents who received positive COVID-19 test results were reported to have recovered from the virus on Friday. That's four consecutives in which recoveries were reported. So far this week, 220 county residents have recover from the virus. This month, 1,146 recoveries have been reported, but that number includes probable case recoveries not previously reported. When the state began providing daily counts by testing type on Dec. 11, 810 probable recoveries were included in the total. Cumulatively, including all testing types reported, 1,840 Hopkins County residents are reported to have recovered from novel coronavirus 2019, according to the DSHS Dec. 18 COVID 19 Case Count dashboard.
Another Hopkins County resident has also been confirmed by death certificate to have died from COVID-19, increasing the total to 65 Hopkins County fatalities, giving the county a fatality rate of 6.29 percent among Hopkins County residents who have been confirmed by molecular testing since March to have the virus for the virus and 3.16 percent of all cases, confirmed and probable.
Those changes increase the overall count from 145 active Hopkins COunty cases on Thursday to 152 on Friday. That's the fourth day in a row the active case county has risen, but is still 15 less than on Sunday and 31 less than on Tuesday.
Testing and Hospital Reports
HC/SSEM in the Dec. 18 COVID-19 update reported 5,885 molecular COVID-19 tests have been performed at the free testing center at 128-A Jefferson Street since the Red Cross building sometimes referred to as the old Fidelity Building opened on Sept. 25, including 71 tests on Thursday, 545 so far this week and 1,354 this month.
Cumulatively, DSHS reports a total of 12,554 COVID-19 tests have been performed in Hopkins County, including 10,495 molecular tests, 958 antigen tests and 1,101 antibody tests.
Free testing continues to be offered from 9 a.m. to 6 p.m. weekdays through January and from 9 a.m. to 5 p.m. Saturdays at 128-A Jefferson Street. Registration is online only at www.GoGetTested.com. Anyone can be tested, even children, provided an adult registers them and accompanies them to the test.
HC/SSEM also in the Dec. 18 COVID-19 update reported 20 patients in the COVID Unit at CHRISTUS Mother Frances Hospital-Sulphur Springs on Dec. 18, up from 17 on Dec. 17.
| Type of Test | 12/14 | 12/15 | 12/16 | 12/7 | 12/18 |
| --- | --- | --- | --- | --- | --- |
| Molecular (Viral) Tests | 10,204 | 10,298 | 10,375 | 10,397 | 10,495 |
| Antigen Tests | 889 | 902 | 935 | 938 | 958 |
| Antibody Tests | 1071 | 1075 | 1,087 | 1,087 | 1,101 |
Cumulative COVID-19 tests counts by day for Hopkins county
The Dec. 18 COVID-19 Test and Hospital Data dashboard, however, showed 145 lab-confirmed COVID-19 patients were in hospitals across Trauma Service Area F Friday, five less than on Thursday, making up 13.15 percent of the total hospital capacity, a 0.62 percent decrease overall.
TSA had 1,003 total staffed hospital beds, which includes most of Northeast Texas including Sulphur Springs and Hopkins County. That's 85 less staffed beds on Friday than on Thursday. Total hospitalizations in TSA F increased by three to 643, and staffed inpatient beds rose by 14 to 1,011.
Overall, there were only seven available ICU beds spread among hospitals in TSA F, one less than on Thursday and four less than on Wednesday, but still two more than on Dec. 10-12.
TSA F also had 63 ventilators available, six less than on Dec. 17 and nine less than on Dec. 14.

---