Texas Department of State Health Services reported several increases in COVID-19 counts on Dec. 11, including one COVID-19 fatalities, seven new cases confirmed by molecular testing and daily "probable" cases since Monday's weekly update. Overall, the combined antigen and molecular data doubled the total number of recoveries Hopkins County has reported. Hopkins County/Sulphur Springs Emergency Management's Dec. 11 COVID-19 update also showed a fewer patients in the hospital COVID unit and fewer tests performed at the free testing site on Thursday.
Hopkins County Case Counts
Seven Hopkins County residents had received positive COVID-19 results from molecular testing by 5 p.m. Dec. 11, for a total of 30 new molecular cases reported so far this week and 111 new molecular cases so this month. Overall, that makes 943 Hopkins County residents who have been confirmed by molecular test since March to have novel coronavirus 2019, according to the DSHS Dec. 11 COVID-19 Case County dashboard.
The new report shows Hopkins County has had a total of 963 probable cases, those identified through antigen testing or a combination of symptoms and a known exposure without a more likely diagnosis. That's 40 more antigen probables than DSHS reported Monday, Dec. 7, to HC/SSEM in the weekly antigen probables update. The DSHS County Trends report, however, shows 39, new cases from Dec. 8-11: 15 on Tuesday, three on Wednesday, one of Thursday and 20 new positive antigen "probable" cases on Friday. The chart notes, however, that one one of the 81 older probable cases reported by labs to DSHS on Friday was in Hopkins County, which increases the total number of antigen probable cases reported in the last four days to 40.
While new molecular and probable antigen cases were reported separately by DSHS, the state agency combined all COVID-19 cases confirmed and probable when reporting county recoveries. DSHS on Thursday reported 810 of the 936 residents who had tested COVID-19 positive on molecular tests had recovered from the virus. On Monday, DSHS reported 773 of the 923 antigen positives had recovered from the virus. On Friday, DSHS reported twice as many total recoveries on Friday as the 810 molecular recoveries reported Thursday. That means combined from all confirmed and probable cases, 1,620
of the combined 1906 positive COVID-19 results received by Hopkins County residents. 1,620 were reported as recovered on Dec. 11.
The active case count also soared Friday, from 150 probable active antigen cases on Monday and 66 people confirmed by molecular test to be COVID-19 positive on Thursday, to a combined 225 active cases Dec. 11. That's only nine more active cases Friday than those combined antigen and molecular totals .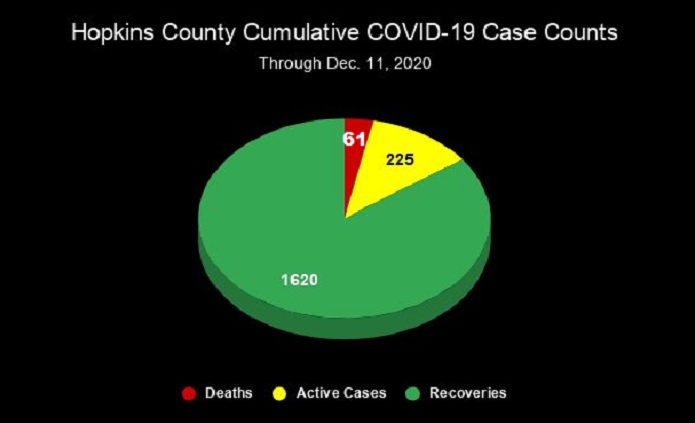 COVID-19 Testing
The Dec. 11 COVID-19 update from Hopkins County/Sulphur Springs Emergency Management showed in the Dec. 11 COVID-19 update that 88 molecular COVID-19 tests were conducted at the free testing center on Thursday, that's 11 fewer tests conducted performed Thursday than on Wednesday and 32 fewer than on Monday, but 37 more than on Tuesday at 128-A Jefferson Street in Sulphur Springs. That makes 468 tests conducted over the last week, 769 oral swab tests performed during the first 10 days of December and 5,300 since the Red Cross building was outfitted to serve as a free testing site on starting on Sept. 25.
According to the DSHS Dec. 11 COVID-19 testing dashboard, 11,776 total COVID-19 tests have been conducted for Hopkins County: 9,918 molecular tests, 822 antigen tests and 1,036 antibody tests.
Free molecular COVID-19 testing continues to be offered Monday-Friday from 9 a.m. to 6 p.m. and Saturday from 9 a.m. to 5 p.m. through the end of December.

Testing at the free center on Jefferson Street is available for anyone, but registration must be completed by an adult age 18 or older in advance online at www.GoGetTested.com to schedule the oral COVID swab.
Those testing should bring the number with the QR code sent to them upon completion of registration and a photo ID to 128-A Jefferson St. at their designated time. This is not a drive-through location. The COVID-19 test will be performed inside the building.
Testers will be asked if they have consumed anything by mouth in the 15-20 minutes prior to arrival. Those who have will be required to wait the requisite time before testing to better ensure a more accurate result.
The Local Health Authority nurse recommends people getting the oral molecular swab test from the free state testing site refrain from eating, drinking, smoking, vaping, chewing gum or brushing their teeth for at least an hour prior to the test. Doing so, she reports, will make a difference in the outcome of the test.
Hospital Reports
HC/SSEM's Dec. 11 COVID-19 update also showed two less patients were in the COVID unit at CHRISTUS Mother Frances Hospital-Sulphur Springs on Friday than the 23 cases reported on Thursday, which mirrored Dec. 1, 4, 7 and 8. The least number of patients in the unit so far this month has been 20 on Dec. 3.
The DSHS Dec. 11 COVID-19 Testing and Hospital dashboard also showed 124 lab-confirmed COVID-19 patients were in hospitals in Trauma Service Area F, down from the 7-day high of 166 on Dec. 10. Thus, the percent of COVID-19 hospitalizations of total Area F capacity dropped from 15.36 percent Thursday to 11.27 percent on Friday.
The last time COVID-19 COVID hospitalizations was less than 12 percentage was almost a month ago; on Nov. 15 COVID-19 hospitalizations made up 11.9 percent of total hospital capacity at all hospitals in TSA-F.
Trauma Service Area F has 1,009 total staffed inpatient beds on Dec. 11, 19 more than on Dec. 110, but 6 less than on Dec. 6 and only five more than on Dec. 9.
A total of 612 hospitalizations were reported from TSA-F on Friday, 8 more than the day before, but less than the 632 hospitalizations reported Dec. 4, 612 on Dec. 5 and Dec. 9.
While there were fewer COVID patients, there were also fewer ventilators available in TSA-F. On Dec. 11, 59 ventilators were available throughout the service area, 5 less than on Dec. 8 and Dec. 10, 11 less than on Dec. 9, four less than on Dec. 7 and 3 Less than Dec. 4 and Dec. 5.
There continued to be only 5 available ICU beds for the second consecutive day, which is one less than on Dec. 6 and Dec. 9, three less than on Dec. 5 but two more than on Dec. 8, in Trauma Service Area F.
TSA-F had 397 available hospital beds Dec. 11, 11 more than on Thursday, but one less than on Dec. 7.
| TSA-F | 12/7 | 12/8 | 12/9 | 12/10 | 12/11 |
| --- | --- | --- | --- | --- | --- |
| Total Staffed Hospital Beds | 1078 | 1072 | 1095 | 1081 | 1,100 |
| Available Hospital Beds | 398 | 395 | 383 | 386 | 397 |
| Available ICU Beds | 4 | 3 | 6 | 5 | 5 |
| Available Ventilators | 63 | 64 | 70 | 64 | 59 |
| Lab-Confirmed COVID-19 Patients in Hospital | 152 | 157 | 157 | 166 | 124 |
| Total Hospitalizations | 589 | 586 | 621 | 604 | 612 |
| Total Staffed Inpatient Beds | 987 | 981 | 1004 | 990 | 1009 |
| Percent Capacity | 14.1 | 14.85 | 14.34 | 15.36 | 11.27 |
Hospitalizations in Trauma Service Area F
COVID-19 Fatalities
The DSHS Dec. 11 COVID-19 Case Counts Dashboard on showed 61 COVID-19 fatalities for Hopkins County. That means one additional Hopkins County resident has been confirmed by death certificate to have died from COVID-19. The latest death is reported to have occurred on Sunday, Dec. 6. That makes three Hopkins County residents who have died in December from COVID-19, including one each on Dec. 1 and Dec. 2.
DSHS also reported one additional fatality each for Lamar and Red River Counties on Friday. A 76th COVID-19 fatality has been confirmed in Lamar County and a 19th fatality in Red River County.
In the 8-county area surrounding Hopkins County, only one other county has had more residents died from COVID-19: 67 COVID-19 fatalities have been confirmed for Hunt County, according to the DSHS Dec. 11 COVID-19 dashboard.