The Texas Department of State Health Services' Dec. 14 COVID-19 updates showed two new confirmed Hopkins County cases and five additional probable cases over the weekend, while Hopkins County/Sulphur Springs Emergency Management officials reported a new record patient count in the hospital COVID unit Monday and provided an update on weekend testing at the free testing center.
Dec. 14 COVID-19 Case Counts
The new case count slowed a bit last week, with 59 Hopkins County residents receiving positive COVID-19 results from molecular testing and 58 considered to be "probable" cases Dec. 8-14. That's down from 81 new molecular cases and 100 probable cases reported Dec. 1-7. However, last week's numbers are still higher than those from Thanksgiving week, Nov. 23-30, when 35 new molecular cases and 47 probable cases were reported.
Over the weekend, two new cases were confirmed by molecular testing, for a total of 140 Hopkins County residents who have received lab-confirmed positive molecular COVID-19 test results so far this month and 970 cumulatively confirmed molecular positives since March. That's 2.62 percent of the overall Hopkins County population who have received positive molecular COVID-19 test results since the pandemic began.
DSHS reported one more probable case on Sunday, Dec. 13 and four on Dec. 14, for a total of 977 probable COVID-19 cases reported since June 23.
The overall active case count for Hopkins County was 273 on Monday, Dec. 14, according to DSHS. This number has been steadily climbing from 225 active cases on Dec. 11, the last day any new recoveries were reported for Hopkins County. The total combined number of recoveries, both confirmed and probable cases, has been 1,620 for four days.
According to the HC/SSEM Dec. 14 COVID-19 update, DSHS at noon today reported 21 of the active cases were diagnosed by molecular testing and 66 by antigen testing. According to DSHS to be considered a "probable" case a person has either tested positive through an antigen test or has a combination of symptoms and a known exposure to someone with COVID-19 without a more likely diagnosis. Texas uses the probable case definition adopted by the U.S. Centers for Disease Control and Prevention.
Dec. 13 COVID-19 Testing Data
HC/SSEM's Dec. 14 COVID-19 update showed a total of 5,445 molecular tests have been conducted at the free testing center since it opened on Sept. 25 through the weekend, including 145 tests performed Friday and Saturday, Dec. 11–Dec. 12. A total of 503 oral swab tests were conducted last week, 58 less than the previous week, and 914 so far this month.
Free testing will continue to be offered at 128-A Jefferson St. in Sulphur Springs Monday-Friday from 9 a.m. to 6 p.m. and Saturdays from 9 a.m. to 5 p.m. in December. Registration is required at www.GoGetTested.com for a free test.
According to the DSHS Dec. 14 COVID-19 Test and Hospital Data dashboard, 12,164 of the 13,689,460 COVID-19 tests performed across the state through Dec. 13. Broken down, that's 10,204 molecular tests, 889 antigen tests and 1,071 antibody tests conducted in Hopkins County from March through Sunday, Dec. 13.
Dec. 14 Hospital Reports
The CHRISTUS Mother Frances Hospital-Sulphur Springs COVID Unit had 26 patients, the most HC/SSEM officials have reported in their Monday-Friday updates. The most previously reported for the COVID unit was 25 patients on Nov. 30. The last time the COVID unit was reported to have less than 20 patients at one time was on Nov. 25, when 19 were being treated in the COVID Unit.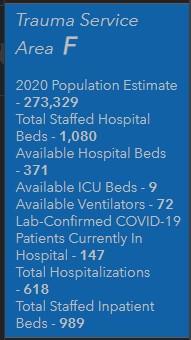 COVID-19 hospitalizations amount to 13.61 percent of the total hospital capacity in Trauma Service Area F. This percentage has increased over the last three days from 11.27 on Dec. 11 to 11.61 on Dec. 12, 11.92 on Dec. 13 and 13.61 on Dec. 14.
In TSA F, there were 1,080 total staffed hospital beds on Dec. 14 (60 more than on Dec. 12), 147 lab-confirmed COVID-19 patients (17 more patients), 618 total hospitalizations (95 more) and 989 total staffed inpatient beds (40 fewer patients). Available in TSA F hospital on Dec. 14 were a total of nine ICU beds, four less than on Dec. 13; 72 ventilators, 9 more; and 371 hospital beds, 35 less than on Dec. 13.
HHS Reports
Texas Health and Human Services on Monday reported four active resident cases and one additional resident COVID-19 death at Carriage House Manor on Nov. 30, the most recent data available in the Dec. 14 nursing home report.
Rock Creek Health and Rehab had three active employee and 14 active resident COVID-19 cases on Nov. 30, according to the HHS Dec. 14 nursing facility report.
Sunny Springs Nursing and Rehab reported only one active employee case 2 weeks ago, while Sulphur Springs Health and Rehab had no active COVID-19 cases on Nov. 30.
No active cases were reported at the assisted living faculties in Sulphur Springs on Nov. 30, according to the Dec. 14 assisted living facility report. The licensed child care centers, school-age programs, and before or after-school programs were reported to have no active COVID-19 cases among either employees or students on Dec. 13, HHS reported Monday.
---