A group of dedicated local individuals were recognized Thursday for their service and impact as Texas A&M AgriLife Extension Master Wellness Volunteers.
The MWV program allows individuals who have a passion about health and wellness to share that passion with others via worksite wellness programs community events and other means.
Collectively, had donated more than 760 hours to help Extension by the end of October, and have continued to add to those hours by assisting with preparation, hosting and assisting during Extension programs this month.
The volunteers, in addition to be being recognized on Thursday, also were happy to talk about the various Extension programs, featured in displays at the Extension Office, during a Leadership Advisory Board recognition reception. The reception replaced the annual banquet due to COVID-19.
Among the Master Wellness Volunteers recognized with certificates of achievement for their invaluable hours of service this year are:
Patsy Neal – 290 volunteer hours
Pat Connally – 168.25 volunteer hours
Joan Brennan – 85.5 volunteer hours
Marjean Allen – 68.5 volunteer hours
Susie Faltesek- 65.25 volunteer hours
Wendy Johnson- 56.5 volunteer hours
LaTarra Giles-20.5 volunteer hours
Sylvia Millsap-6.5 volunteer hours
Nell Shipp-2.5 volunteer hours
"These hours are as of Oct. 31. Many more hours of volunteer service have been contributed in November," said Johanna Hicks, Texas A&M AgriLife Extension Family & Community Health Agent for Hopkins County.
Each Master Wellness volunteer commits to 40 hours of training to obtain knowledge and skills to live a healthier lifestyle and encourage others to do the same. Upon successful completion of the training, Master Wellness Volunteers then commit to giving back 40 hours of service to Extension.
Not all have gotten in their 40 hours yet, due in part to COVID-19 precautions, shutdowns and restrictions, but Hicks said, there are still some events coming up later this month and next month that will offer plenty of volunteer opportunities.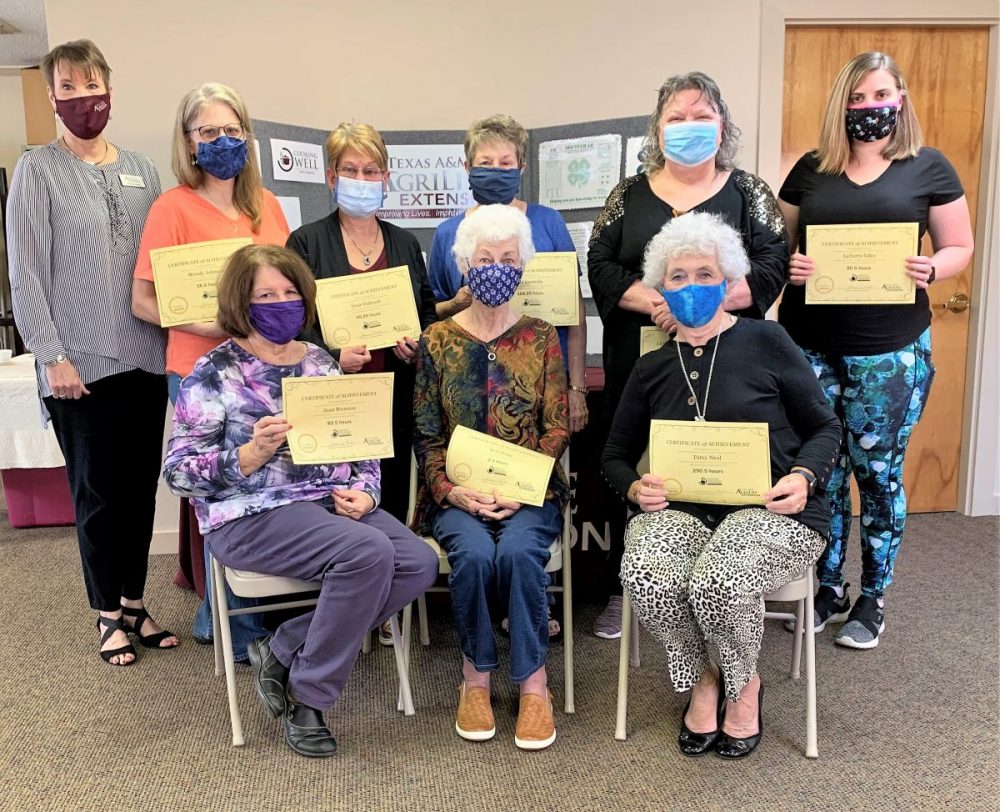 Other projects the Master Wellness Volunteers have assisted with include 4-H Food project kits, diabetes series, back-to-school drive-through fair, Christmas Joys holiday program, many hours of mask-making and many other tasks.
"I tell you, COVID had not stopped my volunteers one bit. Actually, I think some of them have worked even harder, preparing project kits, holiday program stuff, and other stuff. For that, I am truly grateful," Hicks said.
Hicks said a lot of the hours put in by the MWV went to mask-making. Others, like Giles managed to put in over 20 hours, even with 2 small girls in the home. Neal has been involved in many programs, including working in the 100 degree temperature for several hours during the back to school fair.
Some of the Master Wellness Volunteers have been with the program several years, others are new to the program. Veteran MWV Shipp especially enjoys helping with the TwoGether in Texas marriage education workshop, typically held a 2-4 times a year depending on interest and scheduling. Shipp helps set up for the luncheon hosted in conjunction with the session and enjoys talking with the couples attending,, Hicks noted.
"I love to come and help," said Shipp. "I don't drive anymore so somebody has to come and get me, but I love to stay busy."
Marjean Allen said she took loves volunteering her time as a Master Wellness Volunteer. She says she too enjoys staying busy with MWV program.
"I just want to thank you ladies so much from the bottom of my heart, because without y'all we could not have the impact that we have here in the county. Not only are your volunteers, but I consider you my friends. I think we've developed some pretty close relationships. I even went on a quilting cruise with a couple of my volunteers that I consider friends. I do thank you very much," Hicks said. "Thank you, thank you, thank you, from the bottom of my heart."
Each MWV received a certificate of appreciation denoting her volunteer hours.
The Extension Supporter of the Year is scheduled to be recognized during the 9 a.m. meeting of Hopkins County Commissioners Court Monday, Nov. 23.
The next Master Wellness Volunteer training session will begin in January. Registration is open at http://agrilife.org/mwv through Jan. 14, 2020 Sessions are from 9 a.m. to 4 p.m. The first session will be Jan. 19 and the final session on March 3, with an online study in February. There is a $75 registration fee, reduced to $25 for college students.
For more information about the local Master Wellness Volunteer program and upcoming training or any other Extension program, contact the Hopkins County AgriLife Extension office, 903-885-3443, 1200-B West Houston Street. MWV applications are also available at the Hopkins County Extension Office. Additional information about the state program can be found online at https://agrilifeextension.tamu.edu